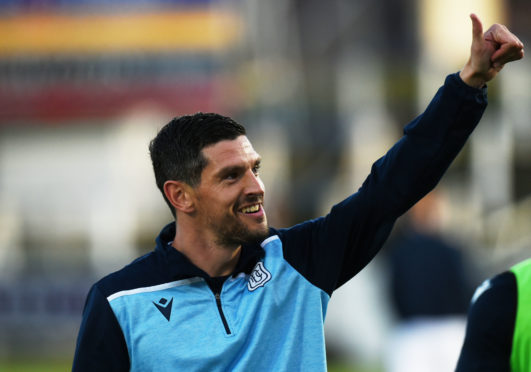 It's Dundee derby week again. Eric Nicolson and Ian Roache take a detailed look at the second clash between Dundee and Dundee United of the season, as well as St Johnstone's revival and Forfar's search for a new manager.
Both teams are going into Friday night's derby on three-game winning runs. Has one side impressed you more than the other?
EN: Dundee's best result came at the start of their three – the away win at Ayr. I covered that one and it felt like a real turning point. They hadn't previously looked capable of digging out a result like that at a tough venue. That set a high bar but I think United went above it with another game I was at – Saturday's 3-0 in Inverness. Forget the previous derby, that was the stand-out Championship result of the season so far.
IR: I was sitting at Dens on Friday night after their win over Morton thinking that they were now in the better shape of the two city clubs going into the derby. That was mainly because I thought United would struggle up at Inverness but the Tangerines certainly proved the doubters, myself included, wrong. I agree with Eric that the win over ICT is the pick of the six results, with Dundee's victory at Ayr a close second. Crucially, the Tangerines have proved they can win well away from Tannadice after all their away-day blues.
What changed for United on Saturday?
EN: The aggression. They played like a team that had been stung by the accusation that they were becoming a soft touch away from home. Inverness had a couple of good chances but United had more hunger and it's been a while since we've said that on the road.
IR: Some of the "soft centre" stuff came from me, I have to admit. That is because I had seen the midfield with my own eyes against Alloa and Queen of the South. Other than Calum Butcher, the dig just was not there and I stand by my analysis of those two losses. That said, I'm glad to see it back in the side and confidence among those midfielders will be sky-high for Dens.
Who deserves to be singled out for United?
EN: I could have gone for Paul Watson or Ian Harkes but I'm going to choose Nicky Clark. He was so precise on the ball on Saturday and Lawrence Shankland will love having him for company. They work very well together. Louis Appere is also regaining his early-season form. Sorry, you asked for one and I gave you four!
IR: I'll go elsewhere and suggest goalkeeper Benjamin Siegrist, who had just signed a new deal the day before. That save to stop a goal from James Keatings was crucial. United have suffered from jittery goalkeeping at Dens in the past – I give you Eiji Kawashima – but the big Swiss could be a calming influence on Friday.
Do you think Robbie Neilson will pick the same starting line-up?
EN: Absolutely. None of the Inverness XI deserves to be left out. Neilson may be toying with the idea of bringing Mark Connolly back in but I think it would be too much of a risk and a needless one.
IR: Had Watson not played so well up north then Connolly would have come back in but I think it will be same again, with the returning Irishman on the bench. It is a bit of tricky one for Neilson, though, with Dundee's attacking players offering a different physical challenge to the ICT frontmen.
What has clicked for Dundee of late?
EN: Graham Dorrans' growing influence is the easy answer but I think Kane Hemmings is almost having as big an effect. It's taken a while but the player we all remember from last time looks like he is back. It was very clever management by James McPake to name-check Hemmings even though he didn't score at Ayr and his displays against Alloa and Morton have vindicated the Dundee boss.
IR: Dundee's midfield suddenly looks calm, composed and experienced. Dorrans is their special one and I would expect him to get some, ahem, close attention from the United players. He might be marked as heavily as Lawrence Shankland is on the other side. There is a danger of over-reliance on him to create but like the Tangerines they are not a one-man team.
Will the 6-2 have a bearing on this contest?
EN: It will in terms of the motivation of the Dundee players and it will if United score first because old scars could be re-opened. Other than that, these matches tend to take on a life of their own.
IR: I am taking a trip to football cliché land and returning with a souvenir T-shirt emblazoned with the message: "The first goal is crucial." United are hard to stop when they get ahead as we saw on August 30 but, on the other hand, an early strike for the Dens men and the demolition derby will be forgotten. I do think that Tannadice defeat had a long-lasting impact on McPake and his players but I am also sure they are over it now and quietly confident that this will be their night.
I suspect you'll both agree that Dundee's need for a win is greater but would both managers be OK with a draw?
EN: I think they would. A six-point gap isn't too big for Dundee to manage at this stage of the season and, though neither will say it, I suspect both bosses would accept a point.
IR: Hmmm, disagree with my colleague here. I think United would be reasonably satisfied with a point but Dundee probably need to win. I would add that I think both teams will go for it, probably with the Tangerines trying to pick off the home side when given space.
Where are the key battle areas?
EN: If United can restrict Dorrans' influence they will fancy their chances and it is the same for Dundee and Shankland. I'm really looking forward to Robson and Appere v McDaid and Kerr. Goals from back post crosses could decide the game.
IR: The key battle area will be Dundee's defence versus Shankland. If the United striker scores they usually win the game. Also, the Tangerines will do something to counter Dorrans, although I'm not sure it will stretch to a man-marking job. The visitors will have confidence in themselves to dominate that area even with Dorrans in there.
It isn't just the Dundee clubs enjoying a revival. What about St Johnstone?
EN: It's been a while since we could say that Saints have got what they deserve but that has finally happened in their last two matches. They are a historically streaky team in the Premiership and I expect it to be three in a row when Hibs come to McDiarmid on Saturday.
IR: It has been case of Keep the Faith in Perth and nothing to do with celebrity St Johnstone fan Stuart Cosgrove's love of Northern Soul. The reason we all have been reluctant to write off Saints is because they have shown in the past that they have resilience and it's the same story again.
Forfar are looking for a new manager. Thoughts?
EN: My first thought is Jim Weir needs the time to get fit and healthy again. My second thought is he is one of the best part-time managers out there and his successor will do well to get close to Weir's achievements. Forfar have a big decision to make because League One is very strong this season. I wouldn't go for a rookie.
IR: There is also a long queue of people looking for managerial jobs and I'm sure Forfar will get a lot of applications. I agree, though, that they can't take too long because they need to get up that table.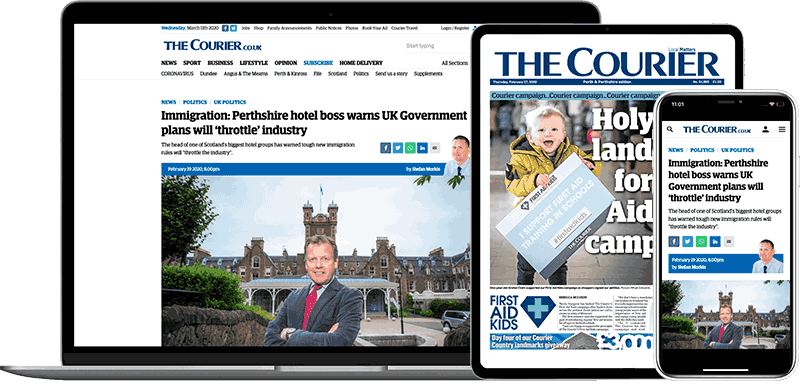 Help support quality local journalism … become a digital subscriber to The Courier
For as little as £5.99 a month you can access all of our content, including Premium articles.
Subscribe