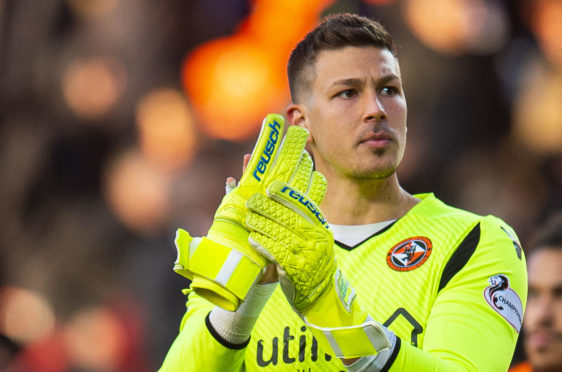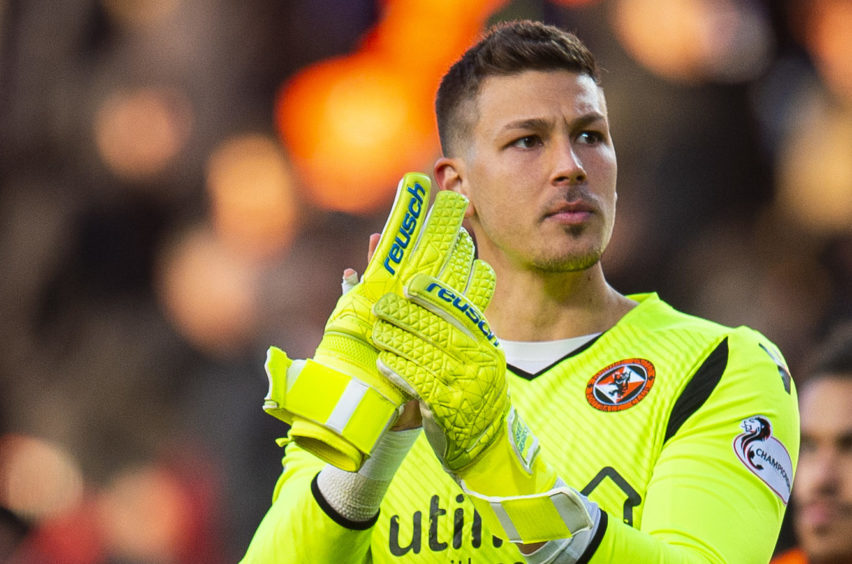 He fell short of a club shut-out record held by the legendary Hamish McAlpine at the weekend, but Benjamin Siegrist will take the first steps towards having another crack it when Dundee United travel to Morton tonight.
Mark Reynolds' own goal against Alloa stopped the clock at 475 minutes of football without conceding for the Swiss shot-stopper.
Had he kept another clean-sheet at Tannadice, this evening would have offered up an opportunity to go past the McAlpine milestone of 615 goalless minutes in 1977.
But a clean-sheet is still at the front of Siegrist's mind, even if a piece of club history isn't……yet.
"I was proud of the run of clean-sheets," he said. "It was a result of a lot of hard work from everyone.
"The emphasis is on clean-sheets because it gives us a better chance of winning – not to beat any records.
"It took one of our guys to score to end the run….. I gave him (Reynolds) a dirty look!
"He had to stretch to try and head the ball because he didn't know what was behind him. It's one of those freaky goals."
Siegrist added: "Keeping clean-sheets is a joint effort.
"It starts with the way we analyse the opposition and the game-plan we come up with to combat them. Then it continues at the top of the pitch with the way we press.
"I would have taken the credit for the run but I know that it's all about team-work!
"The rest of the team wanted the record as badly as me but it wasn't something we talked about. We just wanted to get another clean-sheet to increase our chance of beating Alloa.
"Now we'll try to start another run on Tuesday."
Given United's flawless home form, Tannadice wins are expected these days. Saturday's 2-1 victory over Alloa turned out to be a bit more problematic than plenty that had gone before but was just as satisfying.
"The team showed great character against Alloa," said Siegrist.
"We battered them and couldn't do much more.
"It was important for us that we scored just before half-time. There was no panic and the flow of the game went our way. We scored at good times and nobody could have complained if we had scored three, four or five.
"Looking at the table after the game certainly made me smile.
"There was a little bit of rust, maybe.
"You would expect a bit of that after not playing for three weeks.
"But we trained well and made sure we stayed on top of our game and the way we saw the game out speaks for itself."
United have been in the Championship for long enough, and have played David Hopkin sides often enough, to know what's coming their way in Greenock.
"They've got most of their points at home," said Siegrist. "Every game presents different challenges for a keeper – it might be more about coming for crosses. With other teams it can be about shots and coming for through-balls.
"We'll prepare well and be ready for it.
"I've learned that anybody can beat anybody in this league. We respect every opponent but the main thing is the belief we have in ourselves.
"Turning round a one goal deficit, which we've done before, shows the spirit we have in this squad. We don't panic and we believe that our pressure will pay off in the end."
Manager Robbie Neilson, who is likely to be without Peter Pawlett and Cammy Smith, said: "They've had their struggles away from home but at home they've been very, very good. That's where they've picked up the majority of their points. They've beaten a lot of good teams down there.
"They play to their strengths. They've got a physical team and generally have two up front. It will be a different game to the Alloa one.
"It doesn't matter whether you're top of the league – anytime you go to Morton you know you'll get a hard, hard game.
"It will be a battle to win second balls and set-plays and try to bring our quality to the game."