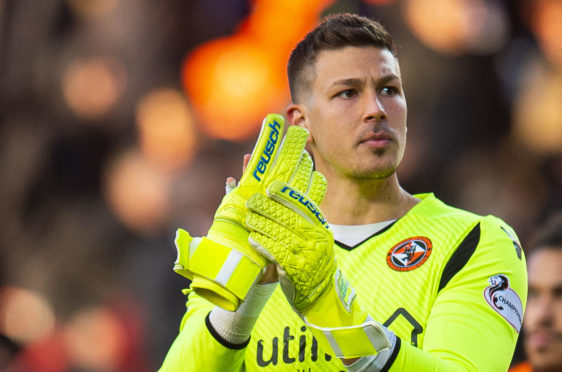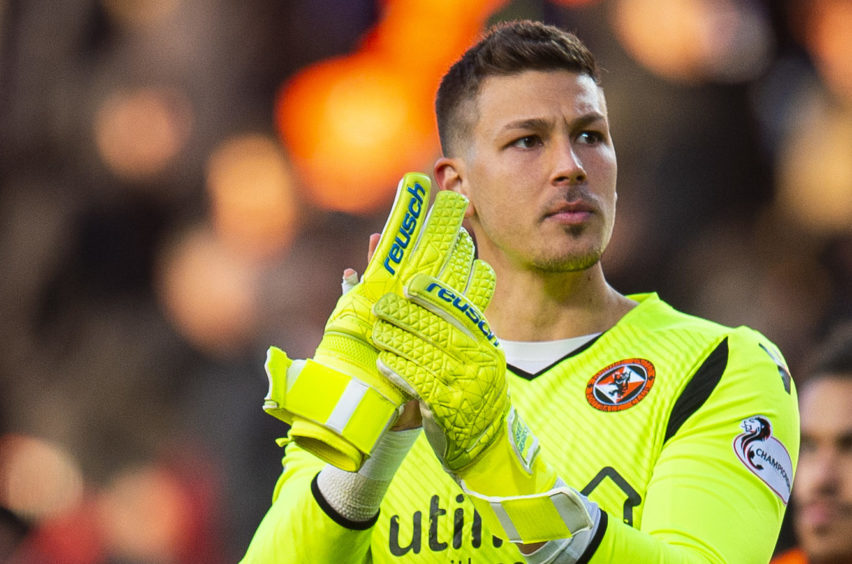 Dundee United goalkeeper Benjamin Siegrist believes they will make amends for their Palmerston pasting when they return to Dumfries today.
In a season of so many highs, the Tangerines hit a real low point on October 19 when they lost 4-0 to Queen of the South.
It was a performance that placed a big question mark over their title credentials.
Following on from a defeat away to Alloa, suddenly you were left wondering if Siegrist and his colleagues had what it takes to go up.
They have answered the doubters in spectacular style since the defeat from the Doonhamers, winning nine games in a row then drawing the derby 1-1 against Dundee at Tannadice eight days ago.
Now the big Swiss goalie feels it is time to make up for that horror show.
Siegrist said: "It was one of those games where we just didn't perform for whatever reasons.
"But we are definitely looking forward to going back there to make amends.
"We can't deny it was a bad result so we have to do everything in our power to get the three points this time.
"We got criticism afterwards but there is always going to be criticism if you do not play well.
"It was just one of those games where we weren't at it so we will definitely go there and make sure we do everything we can to put us in the best position to get a good result.
"To do that we need to do the things we have been doing well so far this season which have been hard work, outrunning people, putting in our tackles, making sure we defend well and being ruthless in front of goal."
One person who made that day particularly difficult for Siegrist was Queens striker Stephen Dobbie, who scored twice.
The United keeper knows he will have to be policed considerably better this time around.
He said: "I have seen Dobbie play over the years, even when he was at Swansea.
"He only needs half a chance and he scores so we will have to make sure we stop him.
"They have other players who can score but the way their team is set up a lot of their goal threats come from him."
Something else that may cause a problem for Siegrist is the plastic Palmerston pitch.
He said: "Their Astroturf is a bit older, which means the ball sits up. That makes it unpredictable when you try to gather the ball.
"Your first touch may not be as good as it would be on a normal pitch but we have tried our best to prepare on artificial pitch here.
"It is not the same thing but it is similar in many ways.
"Queen of the South play there all season so they are obviously more used to it than other teams that play on grass.
"So it is a challenge to every team that has a grass pitch to go there but we don't make any excuses.
"We have played and won there before so we just have to do our job."
United go into the game having ended their long winning run with a home draw against their local rivals.
The Tangerines weren't at their best against Dundee but they still came out of last weekend as winners, with the loss for Inverness at home to Arbroath meaning their lead at the top of the Championship stretched to 14 points.
Siegrist said: "We obviously set out to win the derby but they had other plans.
"However, it definitely shows how far we have come that we felt there was a little bit more in it for us.
"If you can't win these matches then you just have to make sure you don't lose them, which is what we did.
"We probably should have been a little bit better with our passing but, after the weekend, it turned out to be a good point.
"It was also another great night at Tannadice with a superb atmosphere. The team and the fans are bonding really well.
"I think they can appreciate that we fought for 90 minutes and a draw was probably a fair result."
Sitting in the Tannadice stand were scouts from all over the country, with United manager Robbie Neilson subsequently suggesting they may not just have been there to watch star striker Lawrence Shankland. Indeed, Neilson dropped the names of Liam Smith, Jamie Robson and Siegrist himself as possible targets.
However, the big number one batted that suggestion away.
He said: "I am not interested in any transfer talk.
"That is the manager's problem, I suppose.
"I just want to focus on winning the league and I am happy here.
"They showed trust in me to bring me here and to lead the team from the back so I definitely want to repay the management.
"If I didn't want to stay, I wouldn't have signed a long-term contract.
"I definitely want to be part of the club and want to help build something here.
"So it (transfer talk) hadn't even crossed my mind until you asked the question.
"It helps that I am playing regularly but at the end of the day I have to keep up my performances as much as anyone otherwise I will be out of the team so there is no resting on laurels.
"We haven't achieved anything yet so I am fully focused on this game, this season and hopefully being part of a promotion-winning team.
"There are a lot of games to play and work to be done so no one is getting carried away even although we have a little bit of a cushion.
"Hopefully, we will get over the line."