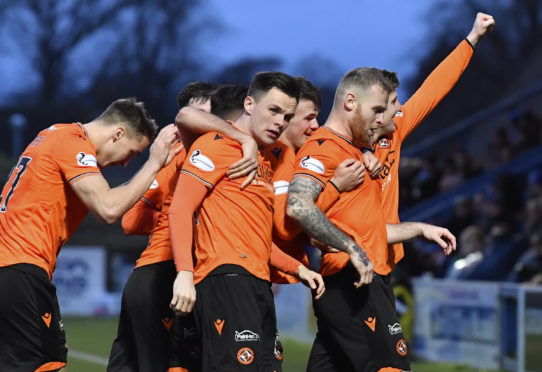 One man's time-wasting is another man's street-wise football.
And Dundee United defender Mark Connolly makes no apology for being part of a team that executed the latter.
Queen of the South manager Allan Johnston was unimpressed with the "falling down" and "rolling about" of the Tannadice men as they protected their narrow lead at Palmerston.
But United weren't a circus coming to town. They were a side showing once again that they know how to "do a job", as Connolly put it, and move on to the next opponent on their relentless drive towards Championship glory.
Johnston said: "We probably expected a wee bit more from the league leaders in terms of trying to play. It was one after another falling down and trying to waste time.
"The referee has to deal with that. Eventually after half-an-hour he booked the keeper for taking an age but he could have done that 15 minutes earlier.
"People pay money to watch the game and they don't want to see players rolling about on the ground, wasting time. It was a bit of a frustrating game for everybody but I suppose that's the league leaders."
However Connolly, who certainly had a good excuse for his own second half injury, responded: "If they had been 1-0 up against us they would have slowed things down. I genuinely had cramp. I've not played in months!
"I was speaking to Stephen Dobbie and I was saying: 'Listen mate, I'm genuinely cramping up here'.
"But listen, you have to be street-wise.
"You have to do everything you can to win this league. We have got the result and they will be frustrated at part of the game. But we came here to do a job and we've done that. We've got three points to take back up the road."
That Connolly wasn't the only one making a rare start and United still won was a statement about the quality and size of their squad on a day that Queens couldn't even fill their bench.
"Some of the boys have not had a lot of games," said the Irishman. "Adrian (Sporle) hasn't played loads, Declan has been at Cove and he was fantastic.
"It shows the depth we have.
"There were question marks over how we would do today. This is a tough place to come and we kept a clean sheet and won the game. The last time we were here we lost 4-0 and that was difficult and disappointing. So we are delighted to get the win and keep that gap."
Connolly's wait to get a start sums up how well United have been performing at the back. Paul Watson and Mark Reynolds have been effectively undroppable.
"It's been really long and really tough," said the former Kilmarnock and St Johnstone man. "It's my first start since the derby in August but my last 90 minutes was against Partick Thistle (on August 9) which is a long time ago.
"So I'm just delighted to get the opportunity to start again. It's good to be back in the team.
"I spoke with the manager and I understood that I just had to bide my time. All I could do was work as hard as I could and look after myself physically and wait for my chance.
"Thankfully I've come in today and I felt I did OK and I got my first goal for Dundee United, which was nice.
"It's been a frustrating time personally but the team has been winning matches so that's been brilliant. There are highs and lows. But it's just good to be back and get a good win at a tough venue like Palmerston.
"We have got such a good squad that it can change all the time. I have to be prepared and ready – thankfully I was today."
Scoring more goals is on Connolly's wish list for the rest of the season.
"Definitely," he said. "I feel I am aggressive from set-pieces.
"I've been sitting on the bench for a long time and watching Clarky's deliveries and some of the balls he has been putting in have been fantastic. He looked at me in the dressing room before the game and said: 'Get on one of them today!'
"Thankfully that one got us the three points. I'm buzzing."
Despite their huge 14-point advantage at the top of the division (20 over Dundee), you won't find any complacency in the United dressing room.
Connolly said: "Do we feel we are certs for the league? Absolutely not. We've just got to keep getting results.
"We just need to make sure we keep doing the business because we've got difficult games coming up. We need to win our games and not worry about what everyone else is doing.
"The manager has changed the mentality of this football club. Over the years we have struggled but this season we are going in the right direction. We've still got a long way to go but hopefully we can be successful."