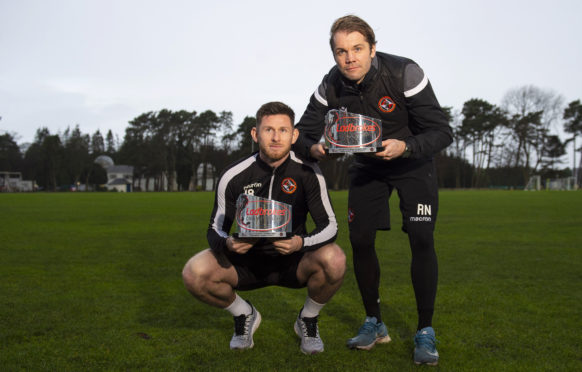 Robbie Neilson has revealed that the biggest thing he has learned about his job is how you could be just five games away from the sack.
The award-winning Dundee United boss was speaking as he collected his third Ladbrokes Championship manager of the month award.
When you consider he was celebrating a prestigious hat-trick and the fact that his side lead the league by 14 points it may seem a strange confession to make.
However, Neilson insists that, in his line of business, it is important never to get complacent or think you know everything.
You must always be wary of the dreaded tap on the shoulder.
That is sage advice, administered to him from Down Under by veteran gaffer Alex Smith, one of his predecessors in the Tannadice dugout.
Neilson, who was joined in a double award celebration by player of the month for December Calum Butcher, explained: "I speak to Alex quite regularly, even though he is over in Australia now.
"Indeed, I spoke to him only last week and Alex always talks about how when he started off as a manager you got five years to build a team.
"Now, though, that has changed and, as he says, you get five games.
"You cannot slacken off in any way.
"You must push for every single detail to be covered, every training session monitored and ensure everyone is at it each day.
"You soon realise that as a manager you are dispensable," added Neilson.
"It can happen quite easily that, if things don't go well for a number of weeks, you are the one who gets the bullet.
"So you have to realise that you can't take your foot off the gas at all.
"Every game is important. It doesn't matter if you're 10 points ahead in the table or 10 points behind.
"Whether you are top or bottom of the league, you just have to win."
Neilson took the opportunity to reflect upon his spells as manager at both Hearts, who romped to the Championship title in 2015, and English team MK Dons, which wasn't such a success.
The Tannadice boss said: "You do reflect and look back a bit and see how you did
in certain aspects.
"Although we had a good season at Hearts, there were bits where you think we could have maybe done better.
"I think we have to make sure here that we continue to be relentless and that the training is right every day, and that the demands are there.
"People are talking externally about doing this and that but it's only us who can affect what happens come Saturday.
"I loved it there. I had great support in Anne Budge and Craig Levein. There was also  Stevie Crawford, who was exceptional having been at East Fife as a manager and is now a manager in his own right at Dunfermline.
"I was lucky that I had good people around about me at Hearts and I have that here at
United as well.
"As for MK Dons, it was a big learning curve for me," added Neilson.
"When I went down there, I really enjoyed the first 10 months but the last four were very difficult.
"It is about how you handle things and what you could have done better.
"Also, if you ever get into that situation again, you ask yourself if you would do things
differently
"There are probably a lot of things that have changed in my managerial style from that time.
"I think I have changed as a person as well."
As for his award for December, which will sit alongside the trophies for September and November, Neilson said: "It's a good reflection on the players.
"At the end of the day, they are the ones who go out there and put the work
in.
"I am delighted for Calum Butcher as well.
"At times, he is an unsung hero for us.
"He is so important to the team and we miss him when he is not there.
"He probably deserves more of these awards," added Neilson.
"The forward players get all the credit so it's good to see Calum getting some for what he does.
"He definitely gives us the physicality in midfield that we need, especially at this time of the year when the games aren't of the greatest quality.
"With the weather and the pitches the way they are just now, you need people in there who are going to do the hard yards for you."
Meanwhile, United will be without defender Jamie Robson for a few weeks after he suffered a face knock in the win over Queen of the South.
Also, Saturday's match at Partick Thistle will come too early for Paul McMullan but Ian Harkes might return at Firhill.