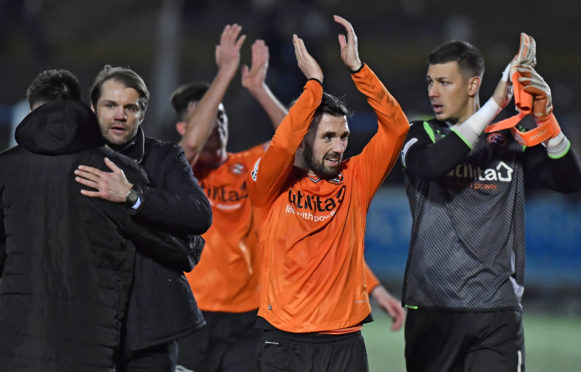 It might be a new year but it felt very much like the old one for Dundee United and Dundee. Ian Roache and Eric Nicolson analyse the weekend's football.
Another win for Dundee United. Robbie Neilson and his players won't be losing any sleep about Queen of the South manager Allan Johnston's time-wasting comments, will they?
IR: I'm going out on a limb here but something tells me Johnston isn't a United fan. He appears to enjoy the occasional niggle when it comes to the Tangerines. Again, I'm guessing, but I imagine Neilson will have lost 0.00000001 seconds of kip over those comments.
EN: The referee could have added 15 minutes of stoppage time and still United would have won this game. With the rare exception of the recent derby, the Tangerines have perfected the art of protecting a lead. Johnston should have been more concerned with the shocking marking for Mark Connolly's winner.
What did you make of Declan Glass coming straight into the starting line-up?
IR: It was a massive and enthusiastic "welcome back" to United for Glass and a bold move by the manager, which paid off handsomely with an accomplished performance from the player.
EN: A lot of United youngsters have been given a first team chance since the club were relegated and Glass is near the top of the list of ones who have impressed me. The loan system has worked perfectly to top-up his natural ability with some physical, lower league football. He looked very comfortable with the ball and very comfortable in this team.
Mark Connolly got a game as well. Who do you think will be the two centre-halves at Firhill on Saturday?
IR: To be fair, Connolly has been pretty patient awaiting his first start since regaining fitness. It was overdue. Neilson has a decision to make but I would not be surprised if the Mark Reynolds-Paul Watson pairing lines up against Partick.
EN: I've got a feeling Ian's right. I wouldn't want to break the news to Connolly, mind you but that's what Neilson gets the big bucks for!
Nobody is suggesting United are a one-man team anymore, that's for sure. What do you make of Lawrence Shankland's form?
IR: He hasn't had a barn-storming game since picking up the thigh injury while on Scotland duty. He has still been contributing but I suppose when you hit the heights he has done then people expect more week in, week out.
EN: He didn't miss any chances you would expect him to finish on Saturday and continues to link-up the play nicely. The goals will be flowing again soon.
Have Dundee now become the most unpredictable team in the country?
IR: Dundee are like a box of chocolates, you never know what you're going to get. That performance against Inverness was painfully frustrating. Given the choice of watching that first half again or tuning into The Masked Singer, I think the horrendous ITV "show" would edge it. How the Dark Blues fell from the heights of the Tannadice derby display to the low of the ICT game is hard to fathom.
EN: There have been more nuts than strawberry creams for the Dens faithful in that box of chocolates, that's for sure. What I would say is that they are not alone in being Jekyll and Hyde in that league, though. You've got second top Inverness being berated by their manager one week for being turned over by part-timers Arbroath (for a second time) and then playing like a side that should be title contenders seven days later. And what about Dunfermline? Win three in a row, lose four in a row. There is a reason Dundee United are miles ahead of the rest.
If they struggle at home to Inverness, is the same likely to happen when Ayr come to Dens on Saturday?
IR: Manager James McPake faces a daunting challenge this week to get the players ready for that one. They have come back from a bad defeat before but no one who was at Dens last Saturday will have any enthusiasm for this match. It is hugely important, though, as the Dark Blues can get back into third with a win or slip five points behind Ayr with a loss.
EN: Talking Football's New Year resolution should have been: 'I must stop asking the lads to predict a Dundee scoreline'. Of course good Dundee could turn up but this game does worry me a bit. On my way back from Dumfries I listened to a very upbeat Mark Kerr on the radio. He sounded like a man who thought his team was about to go on a decent run of form.
There seems to be a Graham Dorrans January transfer saga developing. How do you see it ending?
IR: Dorrans didn't seem himself against Inverness but he wasn't the only Dundee player who let the game pass him by. He may have had other things on his mind. McPake appears to be confident of keeping him but we'll see.
EN: It's close to a 50-50 call but I think he'll decide to stay. I'm guessing Dorrans doesn't need the money after the years he has spent in England and at Rangers and he knows he'll play every week at Dens, which has to be his priority. The summer should be his time to reassess, not now.
John Nelms and Tim Keyes addressed the supporters in the match day programme. There was an update of sorts on the proposed new stadium. Has it moved things forward at all?
IR: At best it was reassurance that they still intend to push on with a project that is already behind schedule. I have confessed to being sceptical about the whole thing but it will be nice to be proven wrong when the first spade goes into the ground.
EN: The short answer is no, it hasn't moved things forward.
We haven't had a chance to reflect on St Johnstone's unbeaten December. The start of a sustained move up the table for Saints?
IR: Let's hope so. The away wins against Hearts and Hamilton were the stars of the show but the month was good overall. New year, new Saints?
EN: This does appear to be a solid foundation. I've now seen Saints play all the bottom half teams and they are better than most of them. You won't see a more one-sided draw than the Ross County game. A word of caution though – they remain one defensive injury away from that solidity being tested and I'd be more content if there was another striker brought in. Outgoings should enable that to happen.
Saints have announced that they will be giving Rangers and Celtic fans three stands at McDiarmid for the rest of the season. What's your take on that one?
IR: The singer Jessie J once said that: "Ain't about the uh cha-ching cha-ching, ain't about the yeah b-bling b-bling." However, it certainly is. Saints are maximising their income stream. One of the most interesting things to come out of this move is that fewer home fans attend matches against the Old Firm than ones against other opposition. There will be many and varied reasons for that. There will be season ticket holders who feel they should keep "their" seat but I can understand why St Johnstone have decided to go down this route.
EN: You work with somebody for over two decades and now find out he's a Jessie J fan! What I have known for a fair few of those years is that Saints supporters – probably like fans at other provincial clubs – find Celtic and Rangers games a turn-off. All in all, it's an experience to be endured rather than enjoyed. The club have taken the right decision (but perhaps should have timed it with the unveiling of a January recruit).
The winter break will soon be over. Has it been worthwhile?
IR: This mild weather is almost mocking Scottish football. I was recently up the hills and it was a stroll in the sunshine with not a snowflake in sight. You shouldn't laugh but I will do so if the Premiership returns in time for a big freeze.
EN: Scrap it. The fact that the teams come back to a packed fixture list negates the value of a couple of weeks off.