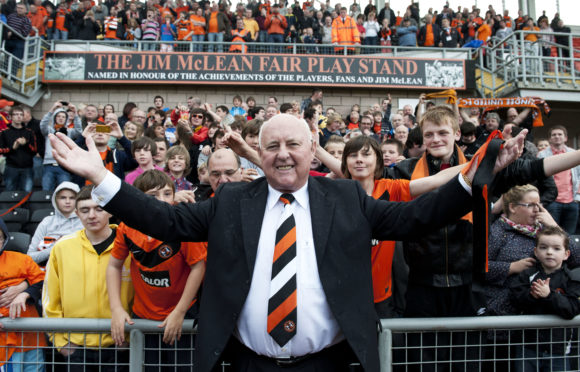 Michael Alexander goes behind the scenes of new play Smile at Dundee Rep which gives a fresh insight into the life and times of former Dundee United manager Jim McLean.
It is regarded as one of the most infamous moments in the history of Dundee United.
The day when on October 14, 2000, former manager Jim McLean, by then chairman of the Tannadice club, punched BBC TV sports reporter John Barnes live on air following a depressing 4-0 home defeat by Hearts.
To this day, it is still the first thing that comes to mind when many people think of the Dundee United legend.
But does the unfortunate incident, which ended McLean's 29-year association with the club, overshadow his unprecedented managerial legacy?
Does it detract from a remarkable journey that saw him lead the Terrors to two league cup trophies, the premier league title, numerous Scottish Cup finals and a succession of European adventures that the tangerine army of the 1980s could barely have dreamed of?
Whether your memories of Jim McLean are of a football visionary, a tactical genius or of a greetin'-faced moan, the question is not shied away from in Smile, a new piece based on the life of the legendary football icon that runs at Dundee Rep from Tuesday February 18 until Saturday March 7.
Jim McLean, who will soon be immortalised in a fans'-funded statue at Tannadice, might not always be regarded as one of Scottish football's best-loved characters.
But often mentioned in the same breath as other great Scotland-forged managers such as Bill Shankly, Jock Stein and Sir Alex Ferguson, he will always be described as one of the most respected.
While boss of Dundee United, 'Wee Jim' did something that no-one thought possible, and turned a provincial football club into a genuine, European force. Yet it was not without cost.
Smile, written by Philip Differ (Only an Excuse?) and directed by Sally Reid, reveals for the first time the complexities and contradictions, the highs and lows, and the triumphs and regrets of this unique individual.
Described as a "funny, moving and surprisingly honest" new play, it celebrates the memories of a "difficult yet inspirational man" while ultimately revealing a Jim McLean many never knew – a Jim McLean that the creative team hope will make you smile.
The rehearsal room at Dundee Rep is decked out with an old TV, a couple of chairs and a football to look like an old fashioned living room when The Courier is invited to spend a couple of hours with cast and crew 'behind the scenes'.
Veteran actor Barrie Hunter, who plays Jim McLean, has just been running through the reputational legacy scene with acting colleague Chris Alexander when he takes time out to chat about his own perception of McLean and to talk about how closely involved the McLean family have been in signing off the script.
"In the '80s when he was obviously at the height of his glory days with Dundee United, I was in Glasgow," said Barrie, 53.
"I wasn't a mad crazy football fan, but I followed it and always watched the results and saw reportage of Jim along the way.
"Anyone who had any interest in football at all was aware of the extraordinary things that were happening at Dundee United with this team that he'd obviously built without a lot of money.
"Obviously the proof is out there winning the league, the amazing runs in Europe, the Barcelona victories and all that kind of stuff. You talked about Sturrock and Narey and all the players in the team, but Jim McLean was always at the centre of it."
A wealth of archive footage and interviews – now widely accessible on YouTube – provide a comprehensive chronicling of Jim's time at Dundee United between 1971 and 2000. They have helped Barrie explore the public persona of the manager. But who was the 'real' Jim McLean?
Barrie emphasises that when he and director Sally Reid talked about how to represent Jim, it was never going to be an 'impersonation'.
The aim was to try to capture the essence of his public persona while also trying to get an insight into the private man that remained much more hidden.
But to get to know the private side of the man, who has resided for the past few years in a Broughty Ferry care home, the creators of Smile have been supported by Jim's family including his wife Doris, who came in to meet the cast during their first week of rehearsals. She has also had a number of private conversations with the writer and director.
"During the first week of rehearsals, Doris came along and joined us and we were able to just gently chat to her really," revealed Barrie.
"We were careful we didn't want to 'interview' her per se. But it was just great to get a little insight into the man behind the myth I suppose. Obviously, she's not going to want to – and rightfully – tell us anything too close, too personal.
"But we just got a bit of an insight that behind the public persona, there was a man with a warmth to him and a sense of humour."
By calling the play Smile, it's a tongue in cheek wry nod to McLean's grumpy public persona and the reputation he had amongst his players as a deadly serious hard task master who demanded and got results during the Dundee United glory days of the 1980s.
But what struck Barrie and the cast/crew when they embarked upon a recent research tour of Tannadice was that the more photographs they unearthed, the more they found of him looking happy, smiley and cheery – images which they think many people have "conveniently forgotten" along the way.
At the time of this interview, Barrie hadn't met Jim, who is now 82 and suffers poor health. The possibility of meeting him at the care home has been discussed, he said, but at the end of the day, it would be down to the family to decide whether that would be the "right or proper thing to do".
Cast and crew are conscious that it's a "huge responsibility" to perform a play about a man who's still alive and who will most likely not be able to attend the play himself.
While keen to represent an "honest" version of Jim, Barrie describes their relationship with the family as a "duty of care" and would never do anything to betray that.
However, he admits he will be feeling "pressurised" with a lot of Jim's extended family planning to attend the play's preview night. He also revealed one option might be for Doris to show a filmed rehearsal of the play to Jim at the care home.
Barrie added: "I think what I've learned about Jim more than anything else is the fact that there was a side of levity to him that I think a lot of people didn't realise. Everyone I've met in Dundee and the area seems to have a Jim McLean story. It's lovely. 'I didn't know him too well but he was a funny man', folk say.
"He also divided the camp a lot. But I think what has heartened me enormously is when people do talk about him, they talk about him with such love and fervour. Some of these people we have spoken to are people in their 60s/70s, who go all dewy eyed and misty talking back to the glory days. "It's amazing to see that a man and his connection to what he made happen at that club has had such a long standing effect on the fans and anyone who was round at that time."
The main role played by Chris Alexander, 40, in Smile is a character called Jimmy. He presents characters from Jim's past to provide a catalyst for reflections on what Jim feels he has and hasn't achieved over the years.
It's the first time Chris, who has acted for 20 years, has performed at the Rep.
But the Aberdeen supporter, who grew up watching images of The Dons v Dundee United 'New Firm', said it had been "an eye opener" to learn more about the human side of Jim McLean.
"A lot of people remember the John Barnes thing," he said.
"As soon as you say 'Jim McLean' they'll say that which is the sad thing. Nowadays people Google it and that's the perception they have. But that's what makes it such a tragic story. This guy had lived this life and done all these things that people don't know about – and then all that's kind of wiped out, dismissed, because you've got an image of someone  on television making an a*se of it."
Perth-raised director Sally Reid, 38, who is also an Aberdeen fan, hopes Smile will "dilute" the infamous John Barnes interview in peoples' memories.
Her dad was recently clearing out his collection of old football programmes and she thinks she might even have been at Jim McLean's final game as manager as a 12-year-old in May 1993 when Dundee United lost 1-4 to Aberdeen at Tannadice.
The play's journey of discovery and redemption includes a scene when McLean's conscience challenges him on the 'what if' scenario of fans 'making' him do a lap of honour after the "embarrassing" defeat.
But the Glasgow-based former St Ninian's Primary and Perth High School pupil, who makes her main stage directing debut with Smile, said that as well as reflecting the shirt sleeves physicality and character of McLean's football management, she had Doris in particular to thank for helping get across the "softer side" of the man – a task she believes is easier to "bring out" as a female director.
"Doris speaks so passionately about him as a person out-with football and Philip's taken all those stories and re-imagined the person within a construction that's not an impersonation," she said.
"I think having the family so closely involved in it has settled any sort of perception that we are doing anything slanderous or making something up.
"They've been very much involved and have signed off the script and the story that we are telling. There's a real comfort in that.
"We are certainly giving the fans stories that they will know and treasure and the memories that are attached to that for them.
"But also for non-football fans coming to a show about a complex person and the sort of struggle with that and the psychology underneath: I think we can recognise somebody that we all know in Jim, and it transcends football and Dundee United.
"Although we are setting some of it in his memory, it's not a play about dementia. But we are sensitive to it being where he is personally at the moment."
*Smile runs at Dundee Rep from February 18 until March 7: www.dundeerep.co.uk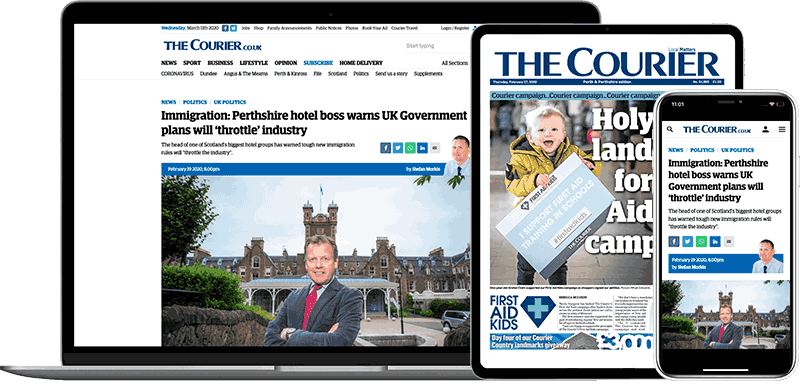 Help support quality local journalism … become a digital subscriber to The Courier
For as little as £5.99 a month you can access all of our content, including Premium articles.
Subscribe