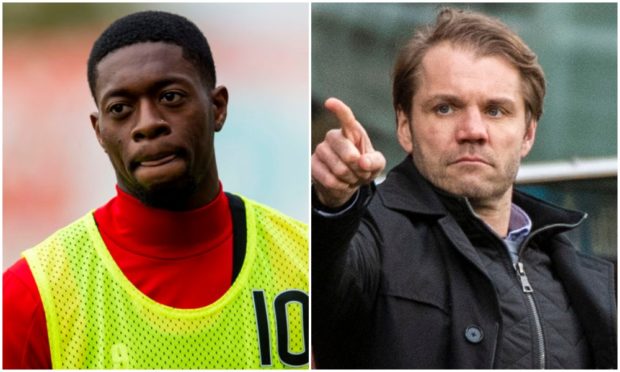 Rakish Bingham has been signed to inject pace into the Dundee United front line.
And manager Robbie Neilson believes the short-term recruit could prove to be a vital weapon to combat packed defences as the Tangerines close-in on the Championship title.
A weekend without a game has allowed the former Hamilton frontman to be integrated into the United squad, and travelling fans may get the first sight of him in action at Alloa tomorrow evening.
"Rakish missed two or three weeks of training when he came out of Doncaster but he will train this week and will be available for Friday," said Neilson.
"He gives us a good option.
"We were looking for pace up front and we've managed to get it.
"We lost a few players in the window. A couple left and we have a few injuries so now.
"There are games when there are teams are sitting in against us and making it difficult.
"That is why we need to make sure we have pace, especially in the wide areas, to get in behind."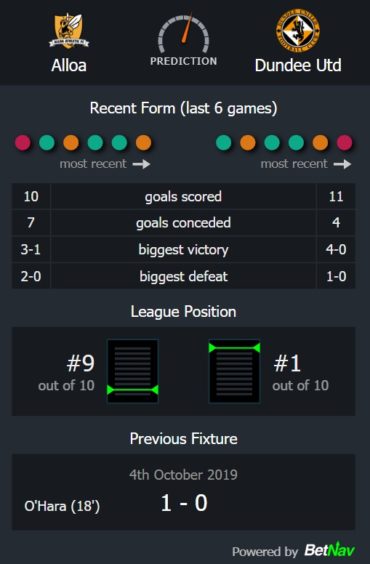 Louis Appere is available for tomorrow while Paul McMullan has recently returned to training and is building up his fitness. He is unlikely to feature.
United could come up against a familiar face in the Alloa team, with Scott Banks having been sent to the Indodrill on loan shortly after Crystal Palace signed him from the Tangerines.
"I saw wee Banks came up but I don't think he was involved in their last game," said Neilson.
"Scott is a very good player and we were disappointed to lose him. We know the assets he has got and it will be interesting to see if he plays or not.
"Initially, he has to go and develop. The physicality of England is a shock to everyone when they go down there, at all levels.
"There is no doubt he has ability but the first process will be adapting to England.
"I am not sure what his situation will be at Alloa whether he is training there or flying back and forward.  In the summer it will all be about adapting."
On the challenge Alloa will present, Neilson said: "It is a tough game but it is a difficult game for any team going down there.
"We had a poor result their earlier in the season and also last season so we know how difficult it will be.
"These are the games we need to win if we want to go and win a title.
"I am looking forward to it. These games on a Saturday when there is no real build-up or atmosphere it can be difficult but we have the television, the fans will be there and it should be a good game."
United's last game was a rare defeat and the free weekend after that 1-0 loss to Arbroath has provided an opportunity to refocus.
Neilson said: "It is all about setting targets for ourselves.
"We had a good chat last week about where we want to be, whether that's scoring goals or defensively.
"We are in good positions in both regards and we have set targets to get to. Other teams have previously set points totals when they have been in this league.
"It is important we look forward and not behind us and we set a good total.
"I think it is important you have targets. It is about driving the boys forward."
Neilson wouldn't say if getting past Hearts' total of 91, when he was boss in their promotion season, is a target that has been talked about in the dressing room.
He said: "There are a lot of different aims but the Hearts' one will be difficult because we got a lot of points that season, but we also know it is do-able.  It is important that you set targets that are achievable."