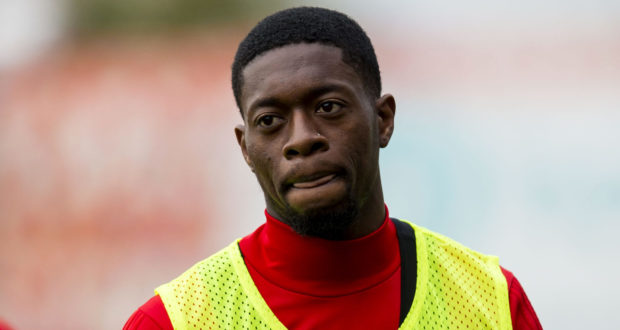 Dundee United's Rakish Bingham believes it is a blessing that they have such a quick turnaround of games.
The Tangerines suffered a dismal defeat at Dunfermline on Saturday, never getting out of first gear as the Pars ran out comfortable 2-0 winners.
It was one of those occasional terrible performances from United in an otherwise excellent season.
The good news, according to Bingham, is that they have a quick opportunity to get it out of their system when they travel to Somerset Park to play Ayr United tonight.
Robbie Neilson's men can't perform much worse than they did at East End Park so improvement can surely be expected despite it being another challenging away fixture.
Bingham said: "I do prefer having the quick turnaround.
"In fact, we were all saying that in the dressing room after Saturday's game.
"There is no time to dwell on it. The result has happened now.
"We are not pleased with it but you take the negatives and try to turn them into positives.
"It was not the result we wanted and it was not the performance we wanted.
"We have to dust ourselves off and go again at Ayr," added the Englishman.
"You have days like that at times but we are really disappointed with ourselves because we know we can do so much better, especially coming off the Inverness win.
"We do want to play good, stylish football but I felt on Saturday that we didn't get to play our stuff.
"The conditions were tough but credit to Dunfermline for getting on the front foot and putting us under pressure.
"We couldn't quite deal with that but we know what we have to do to put it right at Ayr.
"For us now it is case of reviewing the performance and improving at Somerset Park. We have to move on."
United were backed by a 2,490-strong support at East End Park, all of whom were let down by their team.
Bingham wants to repay them by beating the Honest Men, saying: "It is all about putting it right for the next game and that's all we can do for ourselves and the fans.
"We had a brilliant turnout at Dunfermline and they really were there in big numbers.
"If you are a fan spending money to go to games you want to see your team perform. Unfortunately, we didn't do that for them.
"They are disappointed and we are disappointed too.
"We do have a chance to put it right and we intend to take it.
"We do owe the supporters – most definitely.
"For us now it is case of reviewing the performance and improving at Somerset Park and we have to move on."
United's lead over second-placed Inverness stands at 18 points, while Ayr are a further point behind in third. Both clubs have two games in hand on Neilson's men.
Especially after a display like Saturday's, you sense there is still a lot of hard work ahead of the Tangerines to get over the line.
Bingham agrees, adding: "There are still 10 games to go so we are nowhere near finished yet.
"For us, people can say the league is done but that's not the way we, the players, are looking at it.
"We don't see it like that at all and prefer to go game by game.
"You look at Liverpool in the English Premier League. They lost to Watford and you don't sense that they think it's done yet.
"They are going match to match and that's what we are going to do too.
"The focus is on the next game and we will take it from there."