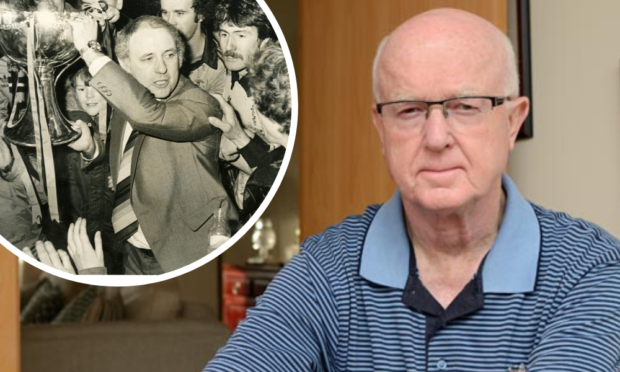 Commentating legend Archie Macpherson is reflecting on the moment Jim McLean's devotion to Dundee United faced the ultimate test, shortly after his finest hour at Tannadice.
The year was 1983 and, a few months earlier, United were crowned league champions.
Archie – briefed on the issue by late Celtic manager Jock Stein – says: "The word was that he would be going to Rangers but it didn't happen.
"His heart was at Dundee United."
We speak on the phone just hours after it's confirmed the broadcasting doyen is coming to Dundee Rep Theatre for an in-conversation event with journalist Graham Spiers on Saturday, March 21.
He's in brilliant form, with talk of McLean, the City of Discovery and Scottish football's last great era evoking a plethora of Macpherson memories.
The former Scotsport host also expresses his fears about football club ownership in today's game.
Yet it's McLean's Tannadice reign – recently captured on stage in Smile, a play written by Only an Excuse? creator Philip Differ – that truly fascinates him.
"He was extraordinary," Archie recalls. "Very difficult to deal with at times as well.
"I'd split it into two bits – he was brilliant on football, a real educator.
"You could sit with him and he'd open up a Pandora's box of revelations about players in terms of tactics and players.
"He could speak very dourly but he was a fascinating man. He opened up things superbly. He was an eye opener.
"Jim in many ways was a modern manager, someone who considered how every aspect of life impacted on football.
"He was in step with all the modernisers, including [Sir Alex] Ferguson and Stein.
"He was part of that cadre of new football people. Of course, there was a love-hate relationship with the media.
"I was an outsider in the sense that I was from Glasgow – I drove up and did the commentaries.
"I went everywhere around Europe with United as well. The local press had to deal with him on a daily basis and, at times, he thought everyone was his enemy to be perfectly honest.
"But that was Jim – he loved football and he loved Dundee United.
"United were on top of the world at that stage. What was happening at Tannadice was an extension of what happened with Stein and [Willie] Waddell at Celtic and Rangers.
"This was a so-called provincial club pulling themselves up by their boot laces to a renowned place in European football."
Astonishing results for the country's top teams on the continent – including United emerging victorious in both legs of their 1987 UEFA Cup quarter-final with Barcelona – gave Archie a false sense of optimism.
He adds: "When I look back on it now, you say to yourself, these clubs – Celtic, Rangers, Aberdeen and then Dundee United – created the impression that this would happen to us every five or six years.
"I thought we'd get there fairly regularly. I thought, 'We'll get more of that,' but we haven't."
He sympathises with United's great Dens Park rivals, left in the shadows for most of the McLean era.
Archie – on duty when AC Milan pitched up in Dundee in 1963 to face Bob Shankly's Dark Blues in the European Cup semi-final – says: "They were totally overshadowed during the period I was commentating.
"I was a newcomer to the BBC for the Milan game at Dens Park. I was doing radio at that stage.
"Thereafter, Dundee went into decline and we didn't cover them as much as Dundee United. United simply stole the show."
Decades on, the commentator has concerns about the financial demands of being at the summit of the Scottish game.
St Johnstone chairman Steve Brown last month warned fans to brace themselves for heavy losses, with his father Geoff – who rescued Saints from going bust in the 80s – asking: "Do you know anybody who's looking to take over a football club?"
Meanwhile, in Scotland's second tier, Dundee last week posted a £1.8 million loss with United revealing a £3.7 million loss and a wage-to-turnover ratio of 133% last October.
Archie says: "Even more so than in the past, it's a real struggle for teams to break through.
"United have had their problems but it looks like they will be back in the top division.
"But it's always going to be tough. There might be people who still love the game and want ownership. That, hopefully, will never die out.
"I know Geoff Brown and I've known him for a long time. I can understand what he's saying.
"You feel you can't do anymore. If you get that feeling, it's probably best to move on.
"They're having to face up to the difficulties of having a relatively small support.
"Attendances at McDiarmid Park really should be greater. They're giving three stands to Rangers and Celtic and that in itself shows the difficulty."
The rigours of modern football remind Archie, a Better Together campaigner during the 2014 independence referendum, of those associated with the world of politics.
He adds: "It's exactly the same. The passion generated from the political field and the football field are identical. There's no hiding place."
To book tickets to the In Conversation with Archie Macpherson event, call the Dundee Rep Theatre Box Office on 01382223530 or go to dundeerep.co.uk