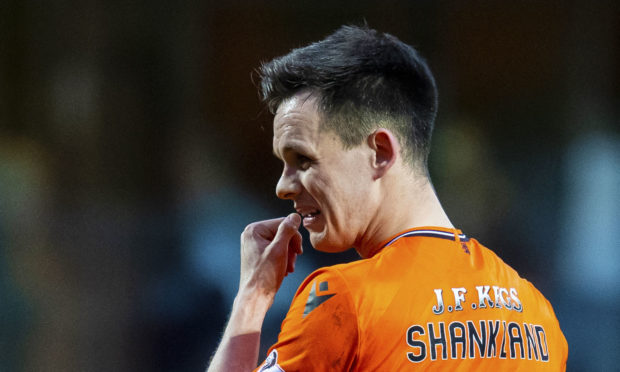 Not so long ago, you could compare Dundee United to superstar sprinter Usain Bolt as they left the rest of the field in their wake.
More recently, though, they have resembled a tired marathon runner, still confident they have enough in the tank to reach the finishing line before the others but definitely feeling the pace.
It is an odd position in which United find themselves.
They have a fabulous lead at the top of the Championship yet there is an uneasy feeling about Tannadice just now – caused by some dodgy results and a slump in their performance level.
Instead of an exciting, lightning-quick dash to the tape this is more of a hesitant, uncertain, slow walk to glory.
It is a shame that some of the gloss is coming off what has been, for the vast majority of the time, a terrific season for the Tangerines.
You imagine the struggles – Saturday's 1-1 home draw with bottom club Partick Thistle was one of those – will all be forgotten when the flag is finally unfurled as it surely still will be.
However, their form is frustrating their supporters, and manager Robbie Neilson will be desperate for better from his players for the final few weeks.
They can still do it. They can still win the league in style.
However, they need to rediscover their early-season self-confidence and flair.
United boss Neilson still feels it is possible.
He also made the point that if you sprinkled their recent results throughout the season then it would make more sense. In other words, United's long winning run was out of the ordinary and maybe things are just righting themselves now.
Neilson explained: "I was disappointed not to take three points but at this stage of the season I think we can take a point and move on.
"What has happened is that we had a brilliant period when we won a lot of games on the bounce.
"That is unsustainable throughout the season. No team in the world will win every league game in a season.
"You go up and down during a season. We had a sustained period when we were up there.
"We have come off that a wee bit but we can get up there again.
"It is important that we keep doing the right things in training, working hard and the form will come back again. It always does.
"It is important that we don't panic."
Another reason Neilson feels there is better to come from his players is the arrival of spring.
He feels the winter-ravaged pitch at Tannadice did not help his side against the Jags.
He added: "It wasn't one for the purists but if you look at the other results in the league then you can see that it's difficult for teams at this time of year to get free-flowing football.
"The pitches are bobbly and dry, while you have teams battling for their lives or for titles so there is a lot of pressure on games.
"When you look at the bigger picture, though, we have gained another point at the top of the league and have eight games to go.
"We have to look at these positives.
"You know, probably over the next couple of weeks the pitch will come back to growth and it's getting seeded this week."
After a bright start from Thistle, the hosts took the lead on 19 minutes with a terrific goal that was born in the USA.
American midfielder Dillon Powers nearly burst the net with a right-foot strike from outside the box that was his first counter for the club.
The Jags should actually have gone ahead on nine minutes when they broke two versus two after some slack play from United.
Zak Rudden carried the ball goalwards before playing a pass into the path of ex-Tannadice striker Brian Graham, whose shot was superbly saved by keeper Benjamin Siegrist.
On 52 minutes, though, the Jags drew level from the penalty spot.
Bannigan converted the kick – despite a decent dive by keeper Siegrist – after Thistle's Robson was brought down by United centre-half Watson. It was a no-brainer for referee Mike Roncone.
The Tannadice men pushed forward in search of a winning goal but were ultimately left frustrated – a familiar feeling in recent times.
Powers' goal did help lift the mood a bit and Neilson is satisfied that the midfielder is finding his feet.
The United gaffer said: "It was some finish.
"He has been hiding that really well, has Dillon!
"We have played him a wee bit deeper but when he played in America he was, at times, higher up the pitch.
"He has shown he has the quality and I was really pleased with him because he has had to adapt to playing this type of football.
"For the first few weeks it was 200 miles an hour for him and he was thinking: 'What's happened here?'
"Now he is starting to compete in there and there is no doubt he has quality."
There is also no doubt that United, overall, have quality and it would be nice if they could show more of it between now and the end of the season.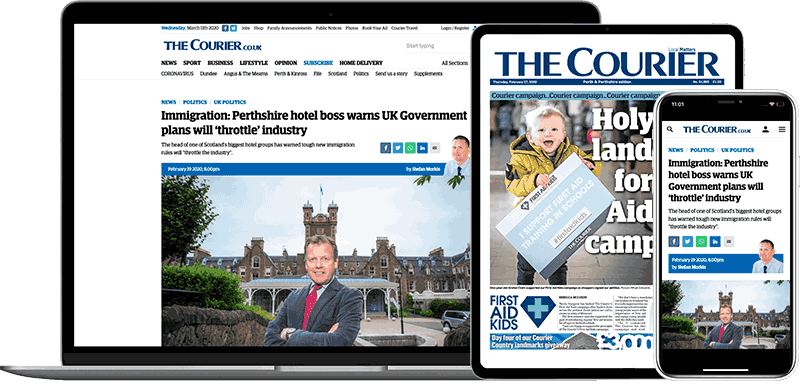 Help support quality local journalism … become a digital subscriber to The Courier
For as little as £5.99 a month you can access all of our content, including Premium articles.
Subscribe