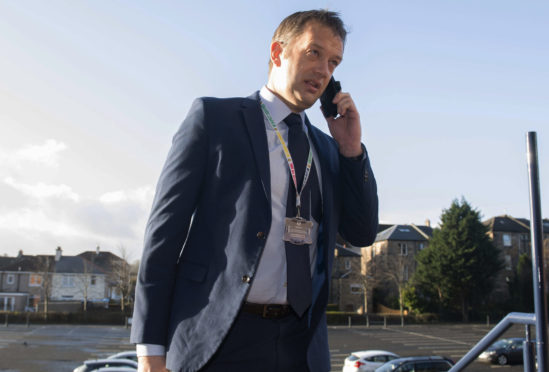 Uefa's day of conference calls concluded with Euro 2020 becoming Euro 2021, Scotland's play-offs to qualify for those finals pencilled in for this June and the can being kicked down the road for domestic football.
As widely predicted, the European governing body have provided breathing space for the club game to get 2019/20 finished.
They have expressed their hope, with a now Euro-free summer, that can be done by June 30. But they have also left the door open for that end-point to be extended.
In an ideal world, Scotland will play Israel (and Norway or Serbia) that month but there is every chance the coronavirus pandemic will have other ideas.
SFA Chief Executive Ian Maxwell isn't holding out much hope, that's for sure, describing the prospect of Scotland v Israel at Hampden as "difficult to envisage".
The potential debate and divide in Scotland over whether to make an incomplete season null and void, or confirm Celtic, Dundee United, Raith Rovers and Cove Rangers as champions, may still have to take place.
Uefa aren't taking a stance on that and, even though they have set up a working group with league and club representation to "examine calendar solutions", it remains odds against that they would put their head above the parapet to do so.
The Uefa statement said: "Uefa today announced the postponement of its flagship national team competition, Uefa Euro 2020, due to be played in June and July this year.
"The health of all those involved in the game is the priority, as well as to avoid placing any unnecessary pressure on national public services involved in staging matches. The move will help all domestic competitions, currently on hold due to the COVID-19 emergency, to be completed.
"All Uefa competitions and matches (including friendlies) for clubs and national teams for both men and women have been put on hold until further notice. The Uefa Euro 2020 play-off matches and international friendlies, scheduled for the end of March, will now be played in the international window at the start of June, subject to a review of the situation.
"A working group has been set up with the participation of leagues and club representatives to examine calendar solutions that would allow for the completion of the current season and any other consequence of the decisions made today.
Uefa President Aleksander Čeferin said: "Uefa tabled a range of options so that competitions can finish this season safely and I am proud of the response of my colleagues across European football. There was a real spirit of co-operation, with everyone recognising that they had to sacrifice something in order to achieve the best result.
"It was important that, as the governing body of European football, Uefa led the process and made the biggest sacrifice. Moving Euro 2020 comes at a huge cost for Uefa but we will do our best to ensure that the vital funding for grassroots, women's football and the development of the game in our 55 countries is not affected.
"Purpose over profit has been our guiding principle in taking this decision for the good of European football as a whole.
"I would like to thank the European Club Association, the European Leagues and FIFPro Europe for their great work today and for their cooperation. I would also like to thank from the bottom of my heart the 55 national associations, their Presidents and General Secretaries, and my colleagues from the Executive Committee for their support and wise decisions.
"The fine detail will be worked out in the coming weeks but the basic principles have been agreed and that is a major step forward. We have all shown that we are responsible leaders. We have demonstrated solidarity and unity. Purpose over profit. We've achieved this today."
Decisions on slots in the calendar for other Uefa competitions, such as the women's Euros and the Club World Cup, both currently scheduled for 2021, have not yet been made.
On the potential June Israel play-off for Steve Clarke's Scotland side, Maxwell said: "We will take advice from the medical teams, liaise with Uefa. Whether we can get the game played in June will be up for debate. We'd like to think so, but it's probably unlikely at this point."
Meanwhile, Maxwell said it will be impossible for the Aberdeen v Celtic and Hearts v Hibs Scottish Cup semi-finals to be played on April 11 and 12. They will be suspended alongside the rest of the domestic game and "rescheduled as soon as possible".