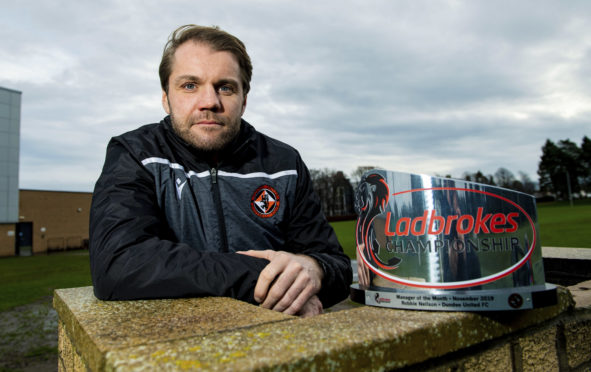 Dundee United manager Robbie Neilson insists his side's recent stuttering form is more down to Championship rivals parking the bus rather than complacency.
The Tannadice outfit still enjoy a 14-point lead over Inverness at the summit even though they have only won one – last month's 2-1 success over Caley – of their last seven league outings.
The suspension of the SPFL due to the coronavirus has put United's title aspirations on hold for now, with the Neilson's team still to fulfil eight games.
But Neilson admits he is not overly worried by recent results.
He said: "I think it's more teams coming to Tannadice, sitting in and being happy to take a point.
"Even going to away games, it's been difficult.
"Earlier on the season we would go away from home and teams would have a go but now they're sitting in and killing the game right from the start.
"Teams are giving us the respect because we're top of the league and in the position we're in."
United won ten games from 11 outings between the end of last October and January and Neilson concedes maintaining that form was unrealistic.
He added: "That was great, and it gave us that gap to the rest of the teams but it's very difficult to sustain that throughout the whole season and our form recently has not been at that same level, which has been difficult to get to.
Upbeat Dundee United chief Tony Asghar insists the Tangerines will come through the coronavirus crisis.
"But we've matched everyone else in the league when you look at the form guide.
"Most of the teams are of the same form in the last ten games."
Neilson, meanwhile, admits he plans to recommence squad training on April 13 in the hope the players will be preparing for the restart of their season.
United have already made it clear that they do not want to be handed the title on a technicality as major doubts surround whether the campaign can be completed.
The players have been given programmes to follow on their own with the government advising against group gatherings in a bid to halt the spread of the potentially fatal illness.
But Neilson is keeping his fingers crossed the season will restart.
He said: "The first part was the uncertainty of what was going to happen and how long we were going to be off for.
"The first couple of days, we were unsure.
"We brought them in and then and let the have days off.
"We were going to bring them in on Monday then in the last couple of days we've realised that there is not going to be football played until at least the start of May.
"We've given the boys a week off then they'll have two weeks of conditioning work, which they will do themselves.
"They've got programmes and they send the data back to us but most of the players look after themselves nowadays.
"We're coming back on the 13th of April, so that will give us over three weeks off and just over three weeks to build back into hopefully the start of the season."
Using the current standings to determine title winners and relegations has been suggested as a potential option should coronavirus write off the reason of the season.
However, former Hearts head coach Neilson insists his preference would be to play all 36 games.
He added: "There's bigger things happening than talking about league titles with the health of everyone in the nation but from our perspective we would like to get the league completed.
"We would like to finish all the games but ultimately we'll do what we're told to do by the officials."
Neilson, meanwhile, insists he is bracing himself for further interest in 28-goal striker Lawrence Shankland when the summer transfer window opens.
JIM SPENCE: Dundee and Dundee United are both backed by apparently wealthy owners while St Johnstone have money in bank…can they continue without cost-saving measures?
The Scotland international attracted attention from English sides Sheffield United, Queens Park Rangers and Stoke City in January.
Neilson, speaking to BBC Sportscene, added: "We know when a guy scores 20, 30 goals for you there is going to be interest.
"We don't have to sell him and for us it's trying to keep a hold of him for as long as we can and enjoy him while he's here.
"If you look at the last three or four seasons, he's scoring 30-odd goals a season and he has that stock.
"It's not just one type of, it's all kind of goals.
"There will be a lot of people interested. We're in a position where we don't have to sell but we understand that there will be teams interested in him."