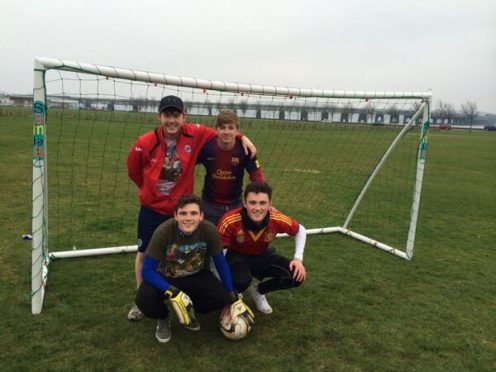 Four pals in a public park. It's a photograph that has taken on a life if its own.
Go back to it every once in a while and you'll find a new narrative to weave into it.
When first the picture appeared on social media six years ago it perfectly captured the youthful heartbeat of a fearless Dundee United team that was enthralling supporters and the wider football public like no other since the Jim McLean glory days.
A few months later it had a £5 million pound watermark – the sum of money that was brought into Tannadice by selling the one wearing the goalie gloves and the one in the Barcelona top. Two of the most talented players in Scotland.
All too soon, when the club began spiralling into peril on and off the pitch, it became a painful reminder of an era at United that had promised so much but had been allowed to fritter away.
Then last May, is was emblematic of how far and how fast one of the group had journeyed now that he was a Champions League winner and considered by many to be the best in the world in his position.
And today?
You couldn't wish for a more appropriate image to encapsulate the rudimentary love of football that housebound millions across the planet are longing to channel again.
Four pals in a public park. Andy Robertson, Joe McGovern, John Souttar and Ryan Gauld.
It may have been an overcast afternoon at Dundee's Riverside that day in 2014 but for one of the quartet, the memories couldn't be clearer.
"It was just a case of us having a day off and we were bored," said Gauld. "I can't remember the exact price but I think we put in 20 quid each and bought a big seven-a-side goal and went to see if any of the other boys who were in digs wanted a game down by the Riverside.
"We managed to get a wee four on four going. It's the sort of thing we'd all love to do at the moment. You do take wee things like that for granted until times like just now."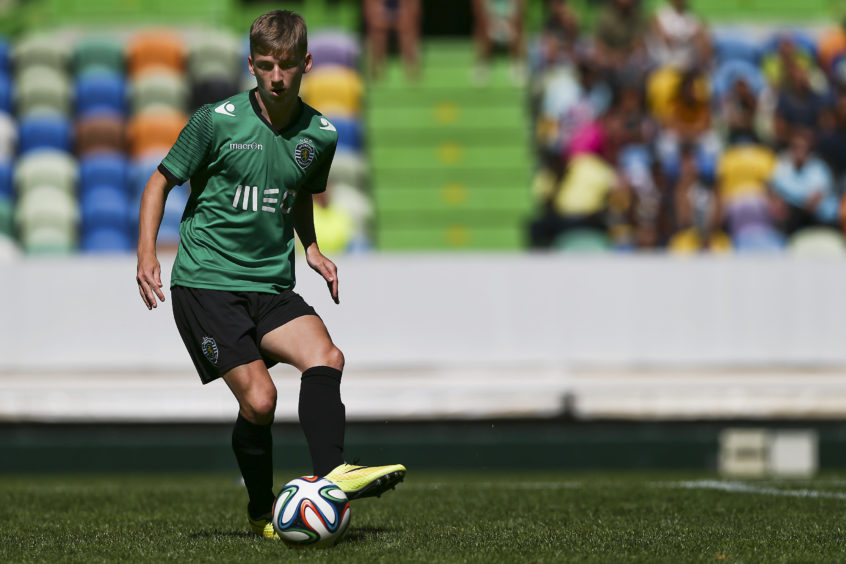 There are worse places to spend a lockdown than under a Vilamoura sky, with spring sunshine and memories of a recent career-spike to bask in.
Those who chose to characterise Gauld as the big money flop of the batch of young stars who got a move out of Tannadice a few years ago are being forced to reassess.
Pre-pandemic, the 24-year-old, free of injury at last, was showing his class in Segunda Liga with Sporting Clube Farense of the Algarve. The team's top scorer with nine in the league, Gauld has recently been voted player of the month by his Portugese peers.
Farense are second in the table, two off the top and six ahead of third. If the current campaign resumes, they are likely to secure promotion to Primeira Liga. A null and void abandonment would appear to be the biggest threat but that hasn't been talked about.
"They're not looking too far ahead as far as the leagues are concerned," Gauld explained.
"Our lockdown started a week earlier than in the UK. It was the middle of March – the 16th I think. Our last match was the week before. Portugal isn't anywhere near as bad as Spain thankfully, even though the countries share a border. Hopefully it continues that way.
"But it would be unrealistic to try and put a date on getting started again yet. I think they're going to look at it again at the end of April.
"We're second in the table and normally that would get you up automatically – it's the top two who are promoted.
"Obviously there's a bit of uncertainty just now. We want to play the season to a finish but I would hope that the null and void option isn't on the table. It would be unfair. More than 70 % of the season has been played. You can't just scrap that."
The pause in the season is still recent enough to almost be spoken about in the present tense rather than the past and the same is true of Gauld's impressive individual form.
"Things are going really well for the team and for me personally," said the 24-year-old.
"We didn't start the league brilliantly and lost two of the first three. But we picked up and my goal-scoring statistics have been the best of my career. It's the most I've scored in a season.
"I've even scored my first hat-trick!
"It's definitely the longest I've stayed fit. It's the first season I've not had any sort of muscular injury. I missed the first three matches with a broken rib but since then there haven't been any issues.
"I've been playing 90 minutes pretty much every week, which is what I've needed.
"The fact that I've been fit for so long has definitely helped my form.
"It's been an important time to play well and score goals because I've helped get the team into the position we're in in the league.
"I've not felt this important in a team for a long time. I've been captain a few times as well – which is another first in my career. It's been a brilliant season personally and hopefully it will end well collectively for the club."
When Gauld was breaking through at Tannadice there was a prevalent mindset in the game that players of his skill-set and physique performed to best effect centrally. Not anymore. Often the chief creative influence in a side, the go-to man, is deployed wider and that has been the case with the former Sporting Lisbon man this season.
"We play 4-3-3 or 4-4-2 and I'm normally on the left," he said. "That's suiting me well. Because of the way we play, it's not out-and-out wingers in the wider positions. I'm not like Gary Mackay-Steven in our United days! I'm coming inside and getting involved in linking up play, which suits me perfectly.
"It's a role you're seeing more and more across Europe. You get more freedom. When we've got the ball I've got the licence to go and find it rather than hanging out on the left. When you're coming in and out of the spaces it's harder for opposition teams to defend against.
"I've got more variety to my game now. I've learned more roles. I've played in the middle, right, left and behind the striker. Tactically in all of them I feel comfortable. It's definitely good for me to have that flexibility."
There aren't many Scottish players who choose continental Europe for their first big career move and there are even fewer who put down roots. There was a half-season loan return to the Premiership with Hibs but a longer footballing stay in his home country isn't likely to happen anytime soon.
"It was a shame that an injury killed any momentum I could have got when I was at Hibs on loan," he said. "It didn't allow me the chance to get going and do what I was hoping to do, which was get a run of games and do what I've done this season in Portugal.
"Farense have helped me out a lot and given me this opportunity to play every week which is what I've been missing for the last few years. I've got another year on my contract after this and I feel like I owe it to them and to myself to play for them in the top league next season.
"Hopefully I can prove a point then, I suppose.
"I've loved living here from when I first came over.
"I'm not saying I wouldn't like to try something new but I played all my youth football in Scotland, then with the first team in the top league at Dundee United. And I went to Hibs, which didn't really work out. It wouldn't be my top choice to go back again but you can never rule it out. And United are my team in Scotland, so I could never say never to going back there some day.
"If an opportunity came up to play in England and it was the right club and manager, I would certainly consider that. It would need to be the right style of football for me, though."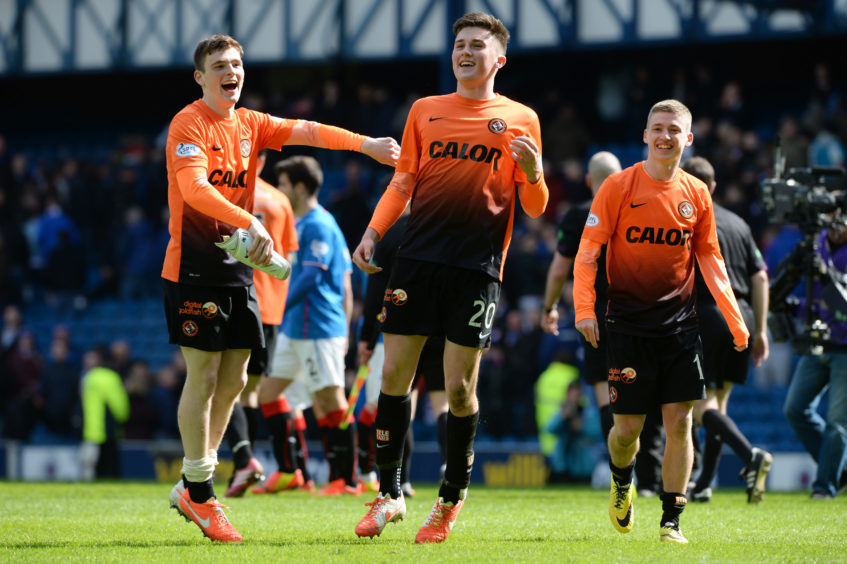 A high bar has been set to get into the Scotland set-up as a midfielder since Gauld was last involved in the Gordon Strachan era but catching the eye in Primeira Liga will make him hard to ignore.
"I'm still young," said the former under-21 international. "I'll never give up on the dream of playing for my country. I don't think any player would. It's something we all want to do when we start our careers. I'm no different.
"I just need to focus on what I'm doing -continuing to play well and score goals – and that will take care of itself.
"Obviously, doing that in the top division here would send out an even stronger message. This is one of the best leagues in Europe. Tactically and technically the football is very good in Portugal."
So three of the Riverside Four playing in a Scotland team together is still a realistic possibility?
"I'd still like to think so," said Gauld. "I still keep in touch with Andy and John, more so John, but Andy now and again as well. It's always good to hear about how they're doing.
"John has been really unlucky with injuries and has done his Achilles again. But as soon as he's back fit and playing, he'll be in the national squad. He deserves to be. And obviously Andy is the captain now. Yeah, a reunion with Scotland would be alright, I suppose!"
It would certainly be worthy of another photograph.
EXCLUSIVE: Farense promotion would bring Ryan Gauld's dream of joining ex-Dundee United team-mates Andy Robertson and John Souttar in Scotland squad closer