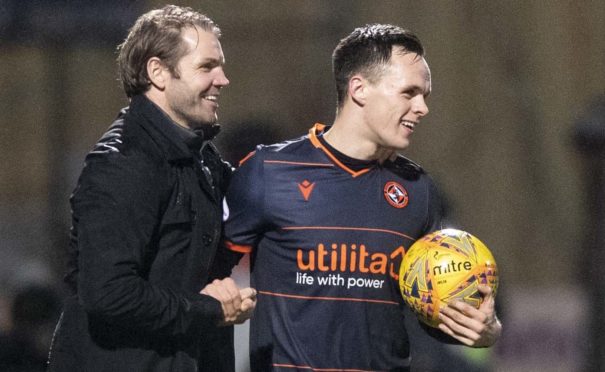 Dundee United manager Robbie Neilson has speculated that the financial impact of the coronavirus on football might help him hang on to Lawrence Shankland.
The Tangerines' star striker, whose 28 goals in 33 appearances fired his team to the Championship title, is expected to have a queue of clubs lining up to buy him this summer.
However, Covid-19 has literally been a game-changer and cash won't be as readily available as before, even in the deep pockets of England.
That might give United a better chance of keeping Shankland for their tilt at the top flight, even though Neilson acknowledges he still has a fight on his hands to persuade the frontman to stick around.
The Tannadice boss said: "I would like to sign Lawrence up on a longer contract but you have to be a realist as well.
"Will the financial situation in football help us keep him? Possibly but nobody really knows at the moment.
"The game is going to take a hit everywhere but until it settles down we won't know where people are financially.
"People will always want to buy goalscorers so there will be interest in him but it all depends on what level.
"It will depend on what happens down south because that's where he will likely go.
"There will be interest in him but it all depends whether it's from the right clubs or not."
Neilson stressed again that United, despite the massive implications of the shutdown, do not need to let him leave unless an offer for him is too big to turn down.
Indeed, their league-winning gaffer has already been on the phone and social media trying to convince Shankland to give the Premiership a go with the Tangerines.
"We are not in a position where we need to sell him and believe when we have spoken to him the best thing for him is a season in the top flight," added Neilson.
"He's got into the Scotland squad as well, which has raised his profile and the club's profile too.
"I believe he will score in the top flight and that will increase his value even more."
Neilson was at pains to stress the pivotal role played by Shankland in successfully ending four years of frustration and disappointment in the Championship.
"Lawrence has been magnificent for us since he came in," he said.
"If you want to win a title you have to have the best defence in the league and you have to concede fewer than 30 goals.
"That is what we have done and you also need a striker who will score you at least 20 – and he has done that then bettered it.
"Other players have pitched in with eight, 10 and 12 but you always need that one striker.
"We did well to get him and the investment the chairman Mark Ogren put in has been very important.
"It has been everything we hoped for and more."
Tannadice sporting director Tony Asghar, likewise, has not given up hope of keeping Shankland.
Asghar said: "We will be carrying out a recruitment process to get players of the calibre to play in the Premiership.
"We hope to make a statement that we will not just come back down because United fans won't accept us being a yo-yo club.
"I think since Lawrence has come here, there has been debate about what level he's at.
"He hasn't played in Premiership – I know he was a young player at Aberdeen – so this is his chance to show people he is one of the top strikers in Scotland without a doubt.
"Teams will always show an interest in players who have scored a lot of goals.
"We, though, would love to keep Lawrence here and would love for him to continue his journey with us in the Premiership.
"You never know what can happen in football and Lawrence would be pivotal to how we would return for pre-season.
"He has bought a house up in Dundee so maybe next season we will be talking about Lawrence scoring goals in the Premiership."