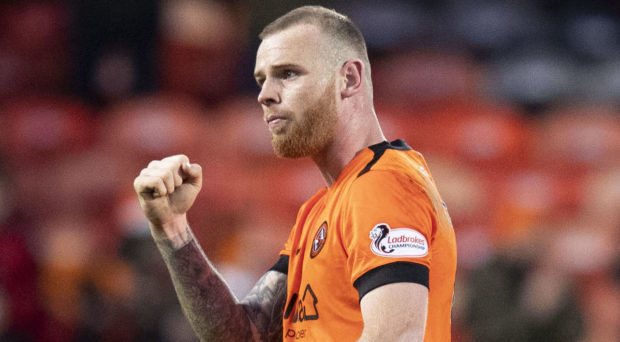 Dundee United defender Mark Connolly has revealed the enormous pride he will feel when he finally gets his medal draped around his neck.
Connolly was forced to celebrate the Tangerines' title success at home due to the coronavirus crisis.
That has left the Irishman dreaming of the day when he collects his gong to mark finishing top of the Championship – the very first time he has been promoted.
United plan a massive party when the lockdown is lifted and football is back.
When that happens, Connolly will be a Premiership player and it will be a day that he will cherish.
"This is my first promotion and will be one I will remember," he said.
"When I moved over from Ireland as a young boy my aim was always to win the league, wherever that was.
"You want to look back when you have finished your career and look at your medals, whether that is through the league or a cup.
"Thankfully, I have managed to do it with Dundee United.
"I know when I eventually get my medal that I can look back with pride knowing I played my part in a great squad winning the league.
"We all knew as players and fans that it was going to be very difficult to finish the season.  A decision needed to be made so the clubs who needed the money got what they needed.
"It wasn't the way myself and the rest of the players imagined we would win the league.
"For us, the uncertainty is now over. We know what is happening and we are champions.
"It was a case of waiting for a decision and thankfully it has ended with us being champions.
"Now I hope all the clubs can get through this and be back enjoying football again."
Connolly revealed the "surreal" way he discovered that he was a title winner.
He said: "I was sitting at home after I had done a spin session in the garage.
"My brother texted me to say that he had seen something on the internet about us being champions.
"I texted back to say I had seen so many of these and I would wait until it was official.
"I went out for a walk with my daughter to an area beside our house where she likes to climb trees.
"I then got a call to say it was official we had won the league and it was up on the SPFL website," added Connolly.
"My girl was up the tree and I shouted up to her that we had won the league so it was a surreal moment.
"She wouldn't even let me go back to the house to tell my wife. I had to wait about another 45 minutes to let her play before I got back home.
"My wife was on the phone to one of her friends when we got back and she didn't even know. We then had a glass of champagne and a wee celebration."
Like many of us during the lockdown, Connolly has upskilled in terms of his use of technology and social media.
Indeed, it was this new-found cyber-wizardry that enabled him to "join" the league-winning shindig.
He said: "I hadn't heard of Zoom before in my life but we had a Zoom party with the team later.
"We had a quick power hour, where we had a shot or beer regularly.
"There was music playing and we were all having a joke and a laugh.
"I don't know what time I finished up but my daughter woke me up on the couch at 6am the next morning.
"That was how I celebrated.
"We would all have loved to meet up and have a chat as a team because we have a really close group of lads.
"We all missed that but it was good to have the Zoom chat to speak to them all.
"I just look forward to the day where we can meet up and have a big party with the boys."
Connolly is adamant that, despite the unprecedented manner of their success, United are worthy winners.
He said: "I feel we deserve to be champions because we have been top of the league from day one and there has been a lot of hard work and effort been put in from everyone this season at the club.
"We always maintained we wanted to finish the season and to do it in front of the fans but these circumstances nobody has seen before and it has just been crazy for everyone.
"We are just thankful we are champions and we can look to be back in the Premiership next season."
Dundee United Supporters' Foundation defend themselves in wake of chairman Mark Ogren's decision to cut ties