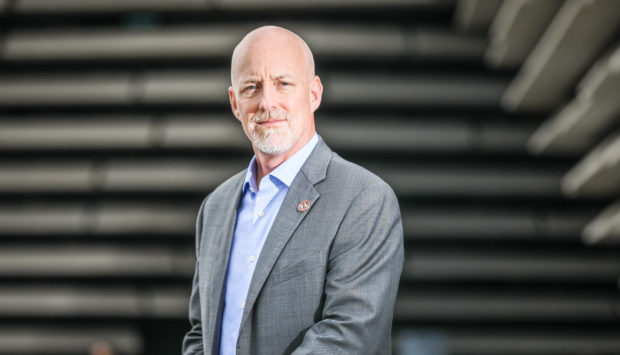 The Dundee United Supporters' Foundation have defended themselves in the wake of club chairman Mark Ogren's decision to cut ties with the fans' organisation.
In a message to members, DUSF said they "remain astonished" at the statement released by Tangerines' chief Ogren last week, in which the American said he would no longer be dealing with them.
Summing up what they deem to be a deeply unfair characterisation of their position, the foundation laid out exactly how they had proposed to send £100,000 United's way.
There were two options – the first an Investment Proposal and the second a Loan Proposal – but both were knocked back by Ogren.
The DUSF insisted: "The club referred to 'unreasonable demands' in their statement.
"However, we consider that our proposals and counter proposals were fair and reasonable regarding our potential donation/investment or a possible loan.
"Our objective was to protect our members' interests whilst also enabling us to assist the club.
"We have also had to ensure we discharge our duties as directors of a private company limited by guarantee by showing prudence and due diligence before recommending the release of a six-figure sum of members' money."
DUSF then confirmed their two proposals were:
The Investment Proposal
1) "An advance of £100,000 of foundation funds to ensure the club's short-term liquidity. This funding would be transferred to the club within two-three days following a positive ballot result. In return for this investment, the club will provide 1,000 shares to the foundation."
2) "The club would acknowledge that this advance would be used for an academy campus project at Gussie Park which we proposed should begin to be developed with(in) 12 months of the commencement of season 2020-21."
3) "A statement and video message from the chairman (Ogren) and board would be made to members prior to the ballot in order to gain support for the proposal."
4) "In the event of a positive ballot, the club would support and promote future membership of the foundation and would work in partnership with the foundation to develop a package to enhance the benefits of foundation membership."
5)  "If no works were commenced on an academy campus project within the 12-month timeframe, then the £100,000 would remain with the club and in return the foundation would retain ownership of 1,000 shares in the club."
6)  "During season 2020-21, if a detailed academy campus project plan was received the foundation members would be invited to take part in Ballot Two on the detailed plans within the proposal and on extending the agreement beyond the one-year emergency funding to a three-five year future funding partnership. These plans will contain an assurance that any future sale of the academy campus would result in the foundation retaining some protection of their investment."
The Loan Proposal
1) "An advance of £100,000 as an interest-free loan, being repayable within 24 months after the loan was advanced (subject to a positive members' ballot)."
2) "The loan would be secured against a physical building asset currently owned by the club."
3)  "The club would provide a supporting statement/video message from the chairman prior to a ballot to help secure a positive voting outcome."
Dundee United boss Robbie Neilson speculates financial game-changer might help them keep Lawrence Shankland for Premiership campaign