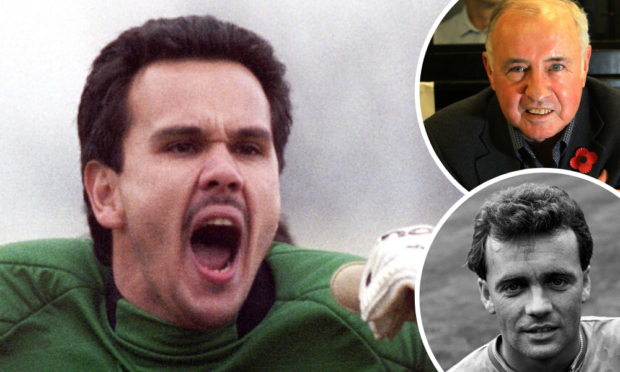 Former Dundee United star Sieb Dijkstra laughs as he reflects on his peacekeeping role during a dressing room scrap between Steven Pressley and Erik Pedersen.
"I had to pull them off each other – it was getting bad," he tells The Courier.
"Eric had a go at Steven, Steven had a go back and it flared up and I had to come in between them.
"These things do happen. It's good because the emotions need to come out."
Andy McLaren would agree. He recently told the Football Daft podcast how the Tangerines No 1 lamped him on the team bus as a prank backfired.
The Dutchman says: "I can't remember which game it was, Hibs or Hearts away.
"On the way back to Dundee I was having a nap and Andy pulled a trick on me.
"I was in a deep sleep. I woke up and went a bit mad on him and poured a bottle of water on his head.
"He was a funny guy, always making jokes. Nice guy.
"He was always looking out for the atmosphere of the team, him and Dave Bowman.
"They were the jokers. It's normal (the fights) – it happens everywhere.
"I had a great time at Dundee United. I was there two and a half seasons and I feel like I was there for 10 years."
The ex-United and Motherwell keeper – now goalie coach at Fortuna Sittard in his homeland – is in great form during our trip down memory lane last month.
Dijkstra, 53, has fond memories of his time in Scotland.
He adds: "Sometimes I miss those moments when I look back."
The dad-of-four, raised in the town of Kerkrade, arrived at Well from Roda JC in August 1991.
The Steelmen were managed at the time by Tommy McLean, who also took Sieb to Tannadice five years later after a £350,000 move to QPR in England's top flight didn't work out.
Cue an unquantifiable number of hairdryer treatments and a style of management worlds away from the keeper's football upbringing in the Netherlands.
Dijkstra said: "He could be really hard on you. I can't count the times he shouted at me.
"But he was one of the reasons why I settled in quite well in Scotland and later at United.
"It was a different approach from what I was used to in Holland. Every coach is different in his approach. I'd never experienced any coach like that.
"He'd go mental if it wasn't going well."
Coincidentally, a United hero from the Jim McLean era, one who had played in the 1987 Uefa Cup final, stood in his way at Fir Park.
He says: "Billy Thomson was the first-team goalkeeper. He was really good and had played for many years for United.
"It was hard for me to dislodge Billy. But I got the breakthrough when Billy got injured badly against Dundee, broken ribs.
"I got my chance. For the next six or seven games, Tommy kept me in.
"That year I got voted Player of the Year by the fans. It happened so quickly.
"I didn't think that would happen. I got attention from press and media."
With his thick mop of black hair and trademark moustache, which now blends into a fuller, more evenly-spread display of facial hair, he remains one of the most recognisable faces in recent Scottish football history.
Dijkstra, half-Indonesian on his mum's side, is regularly reminded of his time on these shores by supporters on Facebook and Instagram.
"I'm really flattered by it," he says. "A lot of them say to me, 'I remember when you played – I was little, I was eight years old and was starting to fall in love with the game'.
"That's always really nice to hear. I think I've always been myself. I always took time for my fans.
"I also had the black hair and the moustache – I looked different.
"My performances were not bad at all so I think it's a combination and that's why people remember fondly of me."
Dijkstra looked up to former Netherlands No 1s Piet Schrijvers and Jan van Beveren as a kid but, like many Dutch youngsters, his ultimate idol was the late great Johan Cruyff.
He adds: "I wasn't a typical goalkeeper or a standard goalkeeper.
"Maybe I was a bit eccentric. I came for nearly every cross I could come for.
"With the back pass, I liked to take some risks too. I just waited and waited. I think the crowd liked it.
"I never panicked. I played as an outside player at Roda for example at training sessions. That helped me.
"Most of the goalkeepers now can play football."
As he discusses the importance of today's kids honing their skills, talk soon turns to one of Scotland's most technically-gifted footballers of all time, Davie Cooper.
Dijkstra was at QPR in March 1995 when his close pal and former Motherwell team-mate died aged 39.
The Rangers legend – who scored six times in 22 appearances for Scotland – suffered a brain haemorrhage while filming a coaching video at Clyde's Broadwood Stadium.
Sieb recalled: "He became my best friend. Davie and I and the wives would go out privately, to movies, theatre shows and concerts.
"Davie became a really close friend to me. I was at QPR when it (the brain haemorrhage) happened to him on the pitch.
"It was my hardest time in football trying to cope with that.
"He was a true gentleman. Amazing player. I still think about Davie all the time.
"It's the same as Phil O'Donnell who I had a great relationship with. It's really, really sad.
"We also lost Jamie Dolan who I played with (at Motherwell and Dundee United) and Paul McGrillen, and Alan McDonald from QPR as well. He died on the golf course (in 2012).
"With Davie, we just clicked. In the first week they (the players) came to me and helped me settle in.
"It was helpful I lived two doors down from Davie. We were a lot in contact in those early weeks.
"It was instant – he was a nice, friendly man."
Dijkstra is still in contact with some of his old Well and United team-mates through social media and has watched with intrigue as several of them embarked on coaching and management careers.
Helping the next generation was always on his mind during his playing days. He said: "I wanted to give my experience to other young goalkeepers and I started my own goalkeeping academy in 2007.
"We had 80 at my school and some of them I helped go to professional clubs."
None of the cult hero's four daughters decided to try to follow in their father's footsteps.
He added: "They are not into football unfortunately, but I don't really mind.
"They have to do what they want to do – football, handball, volleyball…it doesn't matter, I am happy."
The arrival of his oldest girl, Alysia, at Ninewells Hospital in October 1997 came in the same week the Tangerines beat Aberdeen 3-1 to reach the Coca Cola Cup final.
"Two nice presents," he says. "The win and the birth of my daughter."
Ex-Dundee United man John Rankin says harsh David Beckham lesson was beginning of the end for Man United dream as he reveals incredible Sir Alex Ferguson phone call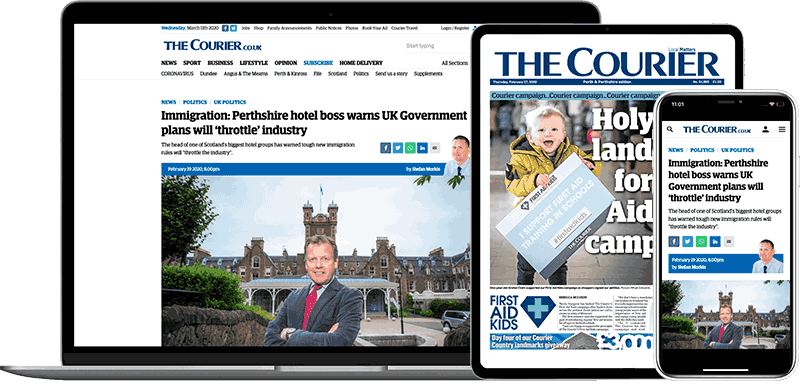 Help support quality local journalism … become a digital subscriber to The Courier
For as little as £5.99 a month you can access all of our content, including Premium articles.
Subscribe