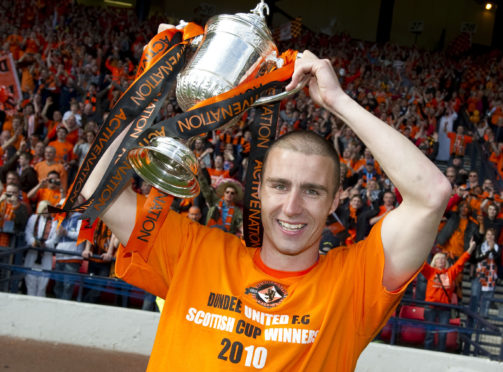 The celebrations were in full swing as Dundee United's triumphant players and coaching staff partied on the team bus back to the City of Discovery.
They had just won the Scottish Cup on this day in 2010, beating Ross County 3-0 at Hampden thanks to a David Goodwillie strike and a Craig Conway double.
There was just one thing missing – a proper carry-out for the bus – so the driver was asked to stop off after leaving Glasgow at the Westerwood Hotel in Cumbernauld.
Skipper, Andy Webster, striker, Jon Daly, and defender, Sean Dillon, were dispatched to buy the bevvy but it was at this point that the wide smiles were wiped from their faces.
Dillon, who's now 36, recalled: "I don't drink so it was a little bit different for me. I was in charge of the bottle opener on the bus back to Dundee.
"For some reason we didn't stop off at a supermarket for a carry-out. Instead, we went to a hotel that we knew in Cumbernauld.
"The boys were still all bouncing around so myself, Dinty (Daly) and Webby got off the bus and went inside with the kitty money to get some drink.
"But as soon as we got into reception, we discovered Ross County were also there.
"Their players and staff were having a few drinks with what looked like their directors.
"So we quickly had to tuck our medals under our shirts, go to the bar for the drink and then make a swift exit.
"It was a bit awkward to say the least but I think they realised it was a genuine mistake.
"The rest of the journey was great and I even did an interview on the bus with Talksport amid all the singing. It was just amazing."
That coach trip was the start of an unforgettable series of celebrations to mark United's triumph at the national stadium in 2010.
Ten years on, Irishman Dillon who was awarded a testimonial by the club before joining Montrose in 2017, admits he is still proud to have been part of something so special – although he recalled that the long road to Hampden started with more than a hint of good fortune.
United were drawn against Partick Thistle in the fourth round and made it through with the help of a hand-ball goal by Damian Casalinouvo.
Dillon said: "I was on the bench that day and had a very good view of Damian's goal.
"How the lino didn't see it, I have no idea. It was so clear!
"We were in shock that no-one had seen it but there wasn't much in that game and then David Goodwillie scored the second. It was a great goal but probably overshadowed by what happened with Damian's.
"It was just good to be through into the next round against St Johnstone.
"As ever it was a tough game there but we managed to get the result and then it was Rangers in the quarter-final."
Peter Houston had taken over as manager of United that season after Craig Levein left to become Scotland boss.
However, when Housty was still in interim charge of the team, they had been thumped 7-1 at Ibrox at the end of December.
So United were mightily relieved to secure a 3-3 draw in the quarter-final of the cup in Govan after bravely battling back from 3-1 down to set up a mouthwatering replay at Tannadice.
The tie was on a knife edge until David Robertson proved the last-gasp hero when the ball broke off his backside and into the back of the net following a 50-50 challenge with Rangers keeper Allan McGregor.
The result took United through to the semis and denied the Glasgow side the chance of a historic treble.
Dillon added: "We were probably coming out of that first game at Ibrox relieved we had got a replay considering what had happened.
"Rangers were a strong team – they won the league and the League Cup that year – so David Robertson takes a lot of stick for being the treble buster!
"I didn't really have a good view of his goal, I just remember there was a bit of a coming together, Robbo falling over and then running away like he had scored a 40-yarder in the top corner.
"There was a cracking atmosphere at Tannadice and the place erupted when that goal went in.
"I do remember that Kris Boyd came off the bench late on. He had a really good record against us and you are thinking: 'Oh, no.'
"He was the last person you wanted to see coming on so we were delighted to hold on and know we were into the semi-final."
United were drawn against Raith Rovers with their game taking place 24 hours after firm favourites Celtic met Ross County.
However, the First Division Staggies pulled off a huge upset to make it through to the final with the result being all the warning United needed to ensure they did not treat John McGlynn's side lightly.
Dillon said: "We knew that Raith, Ross County and Celtic were also through so no prizes for guessing who we didn't want in the semi-final draw.
"When we got Raith, people might have started thinking it was going to be our year but personally I wasn't thinking like that.
"The day before the semi we had trained at Tannadice. Afterwards we went to have lunch and were watching the end of the Celtic v Ross County game.
"At the time, County were a First Division team. So we were getting on the bus going to Glasgow to stay overnight in a hotel knowing that if we could beat Raith, then we would face another First Division side in the final.
"That's when I probably started thinking this is a great opportunity.
"By the same token, the Celtic result would have been battered into us going into the Raith game to show what could happen.
"We had to be wary and we certainly didn't think we had two easy games to win the cup, far from it.
"The game against Raith was tough but I don't think they had too many chances.
"I think we were a bit nervy and edgy, I remember Andy Webster had a bit of a pop at Danny Cadamateri afterwards but we were just all delighted to get the job done.
"You just want to come off the pitch knowing that you have a final to look forward to."
The build-up to the showpiece game was a bit of a blur for everyone connected with the club, especially Dillon whose wife, Michelle, was pregnant with their son, Shea, at the time.
Dillon said: "It was enjoyable to have that buzz about the place.
"You have been measured for your suits and there are lots of interviews and stuff but there is still a lot to concentrate on as well.
"There is a bit of madness the week before with photographers wanting you to pose with a golf club at the Old Course, things like that, but you have to prepare for the game properly.
"Michelle was also pregnant with Shea so there was a lot going on."
On the day of the final itself, Houston should have led his team out at Hampden but instead, he knocked back the chance to do so to allow club captain, Lee Wilkie, who was facing retirement from the game because of knee problems, the honour.
Dillon admits that selfless gesture sums up exactly the sort of person his former manager is.
He said: "Housty handled everything really well and he deserves a lot of credit for that.
"I had a great time working under him and he was very good to me.
"I was delighted for everyone at the club when we won the cup but especially so for him.
"He had a tough start with that heavy defeat to Rangers. He wasn't happy with me in that game – and I'll leave it at that!
"But things worked out for him and he did a fantastic job. I still get a good buzz when I see him now.
"Streaky (Wilkie) was the club captain but had a tough time preparing for retirement because of injury.
"The fact that Housty let him lead the team out shows you what sort of fella he is."
Michelle was watching in the stands as the final kicked off but Dillon's dad, Michael, missed the game because he was serving overseas with the Irish Army as a United Nations peacekeeper while his mum, Linda, was back home in Ireland with his sister, Niamh, who was about to give birth.
United were firm favourites but Dillon admitted the first half was a nervy affair.
He said: "It wasn't like we were going, we are the favourites and we are going to win this – there was still an edginess to the game.
"Ross County had beaten Celtic and they had a lot of good players.
"It was a tight game in the first half but the opening goal obviously settled us and the second was brilliant but personally it wasn't until the third went in that I was able to relax, so to speak.
"I have been lucky enough to win a couple of things in Scotland and back home but that was the first time I had a few minutes to enjoy it on the pitch.
"I won the league in Ireland on goal difference, a couple of cup finals winning by one goal and you can't enjoy it.
"Even with Montrose, we won the league with a draw and there is no enjoyment in it until it is over so to be involved in winning the Scottish Cup and to actually have a few minutes to soak it in and take it all in was just amazing."
After the players all lifted the cup and were awarded their medals, the celebrations could begin in earnest.
Dillon recalled: "The important thing about them was to make everyone feel part of them and I think we did.
"We had a great time out on the pitch and then back in the dressing-room.
"Things eventually settle for a bit so you can have a shower without having to worry about getting covered in champagne!
"We eventually arrived back at Tannadice, spent some time at the club and then I walked into town with Danny Grainger who had come up for the game.
"We spent some time in a pub and then a nightclub. It was absolutely nuts and the whole place was just bouncing.
"The next day, I had to get up, find a clean shirt and then back up to Tannadice for the open-top bus journey to the city centre.
"The whole experience was just class and it was great to see the joy on all the fans' faces.
"United have won five major honours – two league cups, two Scottish Cups and the league – so to be part of that is brilliant and a great honour.
"I don't think it was a case of it sunk in on the Monday or the next week, or month. It probably took the likes of the anniversary dinner in January.
"It was 10 years on and that was the last time the club had won a trophy. I will probably appreciate it more when I have finished playing and I can look back on it more."
As for that medal which Dillon had to tuck under his shirt a decade ago in Cumbernauld . . . well perhaps surprisingly it does not occupy pride of place in his house.
He added: "My medal is in a drawer in my bedroom. To be honest, I don't really have anywhere in the house that I would put it up.
"I do though get a buzz out of seeing the medal every now and then.
"Last year I took it to a show-and-tell at Shea's school but before then I can't remember the last time I'd had it out.
"Maybe one day I'll have it up on the wall."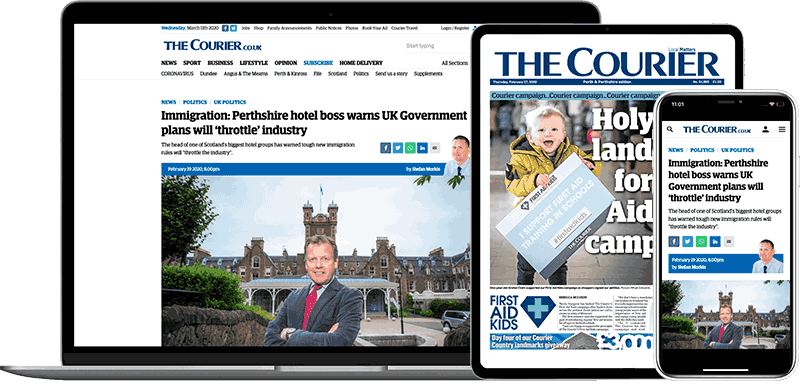 Help support quality local journalism … become a digital subscriber to The Courier
For as little as £5.99 a month you can access all of our content, including Premium articles.
Subscribe