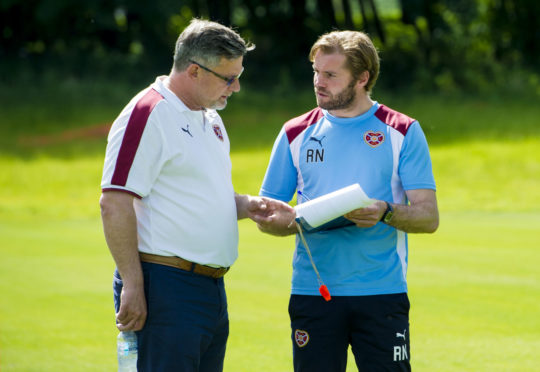 Craig Levein has revealed that Robbie Neilson was contemplating a return to Tynecastle as far back as November.
Neilson, who left Premiership newcomers Dundee United to rejoin the relegated Jam Tarts on Sunday night, left many Tangerines fans stunned. It was widely viewed as a move that came out of the blue.
However, the ex-Tannadice manager and former Hearts director of football disclosed that Neilson's itchy feet were a factor as long ago as last autumn.
Asked if the news of Neilson's exit from United came as a surprise to him, Levein responded: "No. I had a long conversation with Robbie in November.
"At that point he intimated that he would he like to come back to Hearts at some point. I didn't think it would be as soon as this, obviously.
"I'm not one to put words in his mouth but I think he regretted leaving (Tynecastle) when he did," added the former Scotland national coach, who was speaking to the BBC's Sportsound podcast.
"He went to Hearts as a 15-year-old kid so he's got a really strong connection.
"He did say to me at some point he would like to come back. I'm not surprised he's gone back."
Levein stressed that Neilson didn't reveal to him any unhappiness at being at United but that it was more a desire to take care of unfinished business.
He said: "He didn't intimate anything like that to me.
"I speak to Robbie quite often.
"I had a two-hour conversation with him in November and it wasn't (about) anything that was going on at United, it was just him saying that he'd left Hearts too early and that he had unfinished business at Hearts and wanted to come back."
There have been suggestions that there was a problem between Neilson and United's sporting director Tony Asghar, while it has also been claimed that the head coach didn't feel he had good enough access to American-based owner Mark Ogren.
However, Levein said: "I don't know what Robbie's relationship is like with Tony at United.
"That relationship between the manager and having direct access to the owner is hugely important.
"One of the things that I put in place at Hearts was every Friday that (Hearts owner) Ann Budge and Robbie get together without me and can speak about what happened through the week and Robbie can speak about his game plan for the next game.
"What that did was alleviate any fears that the message coming through the director of football was (not) the same one that arrived at the owner's door.
"It was transparent. Sometimes as a manager you feel isolated and need the support of the owner, and it was really important, especially as a young manager, to have that feeling that Ann had his back, and she did."
Former United defender Steven Pressley, meanwhile, expressed concerns about United's financial health in the wake of Neilson's departure.
Pressley, who had a chat with the now former Tannadice boss after the Sunday switch was confirmed, said: "I spoke to him last night to congratulate him.
"I think there were a number of factors.
"The first thing is the financial factor.
"When you look at Dundee United's recent returns they made a £3 million loss, which is quite worrying. It's unsustainable.
"What you've got is Hearts coming through this pandemic and demonstrating that they are not in financial trouble."
Pressley added: "In the last few weeks they (United) have lost their CEO (managing director Mal Brannigan) and lost Robbie now to one of their rivals so not all can be right at Dundee United. That's a grave concern for the club."
Pressley also argued that Neilson was concerned that he didn't have the access to Ogren that he would have liked.
"One of the difficulties that he probably found was that he wasn't getting direct access to the chairman and owner, who makes the decisions," he claimed.
"Although at Hearts he worked with Craig (Levein) he had a very strong relationship with Craig and worked with him as a player and manager.
"He trusted Craig so that when he had discussions with Craig he was very confident that what was liaised back to Ann (Budge) was exactly what they spoke about.
"But he didn't have such a strong relationship with the director of football (Asghar) in there. Sometimes that can take time but I think, for him, clarity and knowing the right things are being said are important because of the type of person he is. He is a very straightforward person."
IAN ROACHE: Dundee United will be feeling like a rejected lover but they can still find Mr Wright