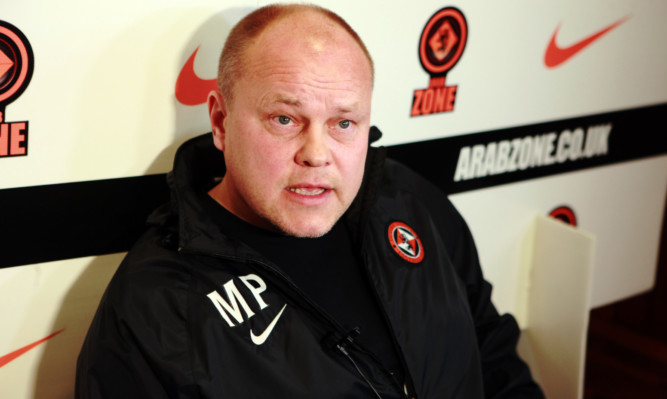 Dundee United manager Mixu Paatelainen has stressed that his players are desperate to avoid a relegation derby disaster.
The prospect of the club being sent down to the Championship by city rivals Dundee at Dens Park on May 2 is one that fills fans, players, coaches and directors alike with horror.
At the moment it remains a matter of ifs and buts but should the Tangerines fail to beat Hamilton Accies at home in their first post-split fixture on Sunday then they will find themselves in severe danger of being sent down by the Dark Blues eight days later.
They sit eight points adrift of second-bottom Kilmarnock with 15 points to play for.
Killie go to Inverness on Sunday in the early kick-off so by the time United take to the Tannadice pitch to play Accies at 3pm they will know whether the gap has stayed the same or widened.
The pressure is right on the United players, perhaps more so than at any time in the season.
Even without the derby cloud hanging over them they would still be expected to come out fighting after the disappointment of Saturday's penalty shootout loss to Hibs in the William Hill Scottish Cup semi-final.
Paatelainen claimed they know the score as regards the significance of the Dundee game and are determined to get the victory they need against Hamilton.
The United boss said: "Every match is win at all costs for us – it's as simple as that.
"The situation is not rosy.
"It is very serious and difficult, so we will go out to win every game.
"You never want to lose at Dens Park, or at Tannadice against Dundee.
"The players know this – they are not stupid – and they don't want it to happen either.
"I'm sure Dundee would love it but it's up to us to prevent it.
"We don't want to lose any game – that's the motivation.
"We believe we can win matches.
"If someone tells me we can't beat Hamilton, Dundee, Inverness Caley Thistle, Partick Thistle and Kilmarnock I will disagree with them.
"It's very unlikely we will win all the matches, but we can win them.
"I don't know how many we need to win, I really don't.
"All we can do is our best and whether we're good enough or not we will just have to see."
Paatelainen ordered his players to dig deep and show that they have the strength of character to put the Hibs defeat behind them.
He added: "Everyone is disappointed after last weekend but we have to lift the spirits again.
"It will be difficult to do for the people who are weak because they will see the pressure that's on them.
"But it's so motivating to the strong ones because they will want to get to Sunday, win the match and give ourselves a chance."
Paatelainen was asked, bluntly, whether the players were up to the job.
He replied: "Do we have the dressing-room to handle that?
"We'll see, but so far the lads have shown great character and spirit.
"They have confidence and determination, they have shown that in certain matches.
"In other games they haven't taken that chance, like when we had the opportunity to get to within two points of Kilmarnock, we didn't take it.
"Whether it's a mental thing or whether it just didn't happen, I don't know.
"It might be that just on the pitch we're not good enough.
"The Partick Thistle game is one where  we should have scored four goals in the first half but we didn't take our chances.
"Last weekend at Hampden we had chances to score but didn't take them either.
"The same things happen all the time, it's not just those two matches, but it has happened.
"You shouldn't need better opportunities than we have created to score goals. But it is what it is.
"Whether it's a case of we're simply not good enough or whether it's mentality, it's difficult to pinpoint.
"You need both of those things and at times we have shown we have them, but on too many occasions we haven't."
United have found themselves courting controversy of late, be it the resignation of Justine Mitchell from the board, the bizarre Coll Donaldson substituion row between manager and player or even the decision to allow Gavin Gunning to leave the club before the semi-final.
However, Paatelainen insisted that the players' morale has not been affected.
He said: "The boys are fantastic and we all realise that we're in it together, the harmony is there.
"We win, lose or draw together and there have been no problems in the dressing-room at all."
Meanwhile, Paatelainen was asked to address one of the major talking points to come out of the semi-final – the position that Guy Demel should be playing.
Demel came on to replace the injured Donaldson and was a stand-out at centre-half despite not being used there by Paatelainen until then.
He said: "Guy has played as a centre-back before and you are aware of how well he played there on Saturday.
"He reads the game well and is a powerful unit.
"His awareness is good and his passing is solid.
"Defensively he's solid, so he can play in many positions.
"He's played a lot as a right back or a defensive midfielder, so he can play in several positions.
"I have not played him as a striker yet!"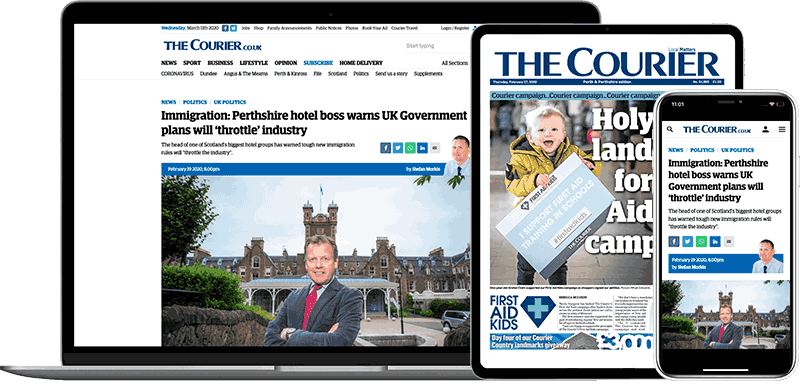 Help support quality local journalism … become a digital subscriber to The Courier
For as little as £5.99 a month you can access all of our content, including Premium articles.
Subscribe