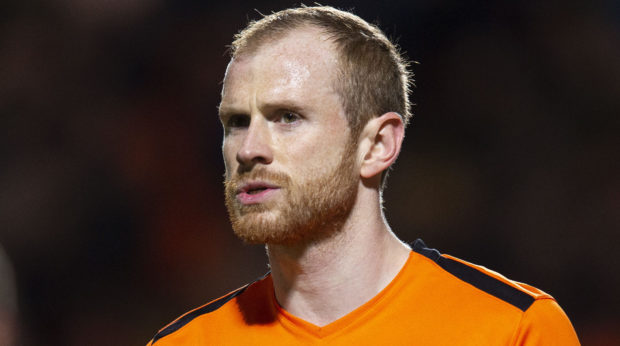 Dundee United captain Mark Reynolds admits Robbie Neilson's exit came as a shock but is confident the club can prosper without him.
The Tangerines are in the midst of a search to find a new boss to replace Neilson, with former England manager Steve McClaren interviewed yesterday by Tannadice sporting director Tony Asghar.
Whoever the new man is, Reynolds believes the United players will quickly get over the absence of the man who helped win them the Championship title.
Neilson's news may have been a Sunday night surprise for the central defender but he is convinced the club will cope.
"The whole squad were disappointed, without a doubt," said Reynolds.
"I think it was timing of it, more than anything else.
"It came completely out of the blue to me and I know it was the same for the other lads.
"I have, though, spoken to Robbie since he left and he explained his thinking.
"He is a Hearts man and that was always going to be the club where he ended up if an opportunity arose.
"He told me that it was still a really hard decision for him because of the squad of players he has put together at United. I know he genuinely wants us to do well next season.
"Also, Robbie's big job here was to get the team promoted and he achieved that. We will always appreciate what he did to help us win the title."
United have been through the mill this summer, not just because of the loss of their manager but also the court action being taken by Hearts and Partick Thistle that threatens their hard-earned promotion.
However, Reynolds is still looking ahead with optimism.
He said: "As a player you do what you have to do.
"United are still in a good place as a club and there is a lot to be excited about.
"Robbie helped Tony Asghar lay the foundation for the build-up to the new season so most of the groundwork was done before he left.
"All the plans are still in place.
"There is never a good time to lose a manager, that's for sure.
"An exception is probably if you are in a relegation fight and need a lift that a change would bring.
"However, Robbie has left us when we are on the up.
"We are in a good place, with all the excitement of a new season in the Premiership awaiting us.
"Now there is a great opportunity for a new manager to come in and do well here.
"We could be just a month before the start of the Premiership so there is a lot to look forward to."
Reynolds is more interested than most in finding out who his new boss will be but he thinks the Tangerines can afford to take their time in order to make the right decision.
"We will have to just see how it goes and it could be that there is someone appointed by next week," he added.
"I know there is a lot of work going on in order to choose the right person, which is the important thing of course.
"When a manager leaves a club and a new guy comes in what you get is a level playing field for every player.
"It can be a new start and a great opportunity for those who maybe are younger or who didn't feature as often as they would have liked last season.
"With the pandemic happening, clubs are maybe not looking to bring in 10-12 players over the summer. It could be two, three or four.
"Clubs will be going with a tighter first-team squad so that opens up opportunities for young players to come through."
At times like this, people look to experienced campaigners like the 33-year-old for assurance that all will be well.
Reynolds is happy to step up if required.
He said: "As one of the senior players, I was part of the leadership group over the summer to help us get through the lockdown.
"That has been a really positive thing and there is a huge responsibility on senior guys at times like this when you don't have a manager.
"We have a relatively young dressing room.
"There is certainly no panic among the group, worrying about what is going to happen.
"In a funny way, I think the way we have been training has helped soften the blow of losing the manager.
"Due to the distancing constraints, it hasn't really felt like we were back for pre-season as usual.
"The lads have instead been working in small groups to get their fitness up.
"The players have had a lot to get used to, with the distanced training and now the start of full contact.
"We started the contact training today and it was great to get something more like football because we can now play matches against each other."
Former Dundee United boss Craig Levein speculates that managerial candidate Malky Mackay may struggle to shake off his past