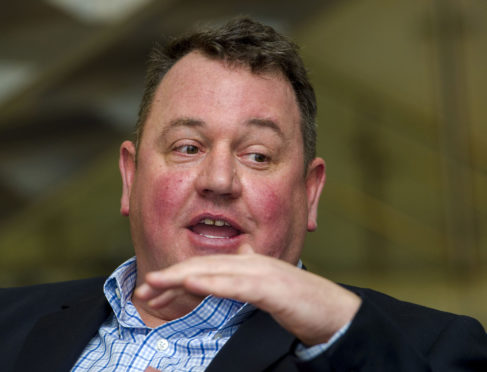 Ayr United chairman Lachlan Cameron has revealed his club's directors are willing to contribute financially to Dundee United, Raith Rovers and Cove Rangers' legal fight.
United, Rovers and Cove face legal costs of up to £150,000 to defend themselves against Hearts and Partick Thistle's attempt to prevent them being promoted.
The case has been sent to arbitration by the Court of Session and the promoted trio have appealed for help from their fans and fellow SPFL clubs.
Speaking on BBC Scotland's Sportsound podcast, Ayr chief, Cameron, insisted the Honest Men are ready to chip in.
He said: "We discussed it at a board meeting the other day and we, if asked, will participate, but it wouldn't be with Ayr United funds, it would be directors' funds.
Asked why, he explained: "I just think it's the right thing to do.
"[The vote to end the season on is something] we voted on, we got it passed through and I think it's important to support the clubs that are, in my opinion, being unfairly persecuted here, which are the three promoted clubs.
"I have a lot of empathy for [Hearts and Partick Thistle's] position. I just have more empathy for theose who were successful on the park.
"You need to go into every season knowing – and you need to prepare for – the possibility you may get relegated.
"At the start of every season, we do our budgeting, and you budget to go out in the first round of every cup.
"All this talk about: 'Hearts are going to be unfairly harmed because they're going to have to reduce some positions at the club,' any club going down would have to do that and every year there's at least one club that gets relegated from the premiership.
"Some club was definitely going to be unfairly treated in this. But for the good of the overall league structure. It was almost a necessary evil."
Cowdenbeath chairman Donald Findlay QC was also a guest on the Sportsound podcast, but he insisted he had received no contract from the promoted clubs.
"I haven't been directly asked for any financial assistance from either of the three clubs," Findlay said.
"I have heard that there was some media coverage, but not being an avid reader of the Scottish newspapers, I don't know much of the detail.
"I have not been asked. If I was asked what I do is: 'My money is my business.'"
Meanwhile, United sporting director Tony Asghar has hailed Tangerines fans Paul McNicoll and Andy Crichton, who have raised almost £40,000 to back the club's legal fight by walking from Tynecastle to Tannadice on Saturday.
He said: "What the boys have done has been absolutely brilliant.
"The two guys and our supporters who have backed them and the club have shown the importance of a loyal fanbase. It really does mean a lot.
"The support of other clubs has also been fantastic."