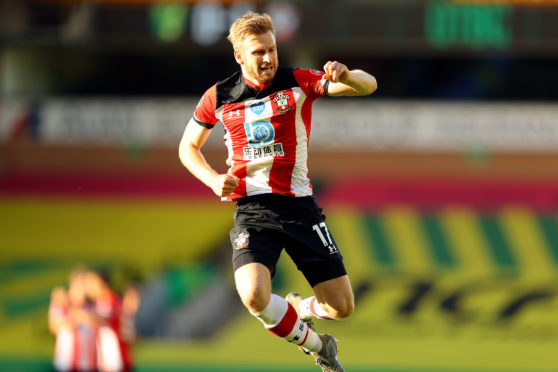 Scotland star Stuart Armstrong reckons confronting Southampton manager Ralph Hasenhuttl and demanding to know why he wasn't getting a game was the catalyst for a great season.
The ex-Dundee United and Celtic midfielder was widely praised for enjoying an excellent end to the season with Saints and he became a key man for them.
But that was in contrast to the start of the season, where he struggled for game time, prompting speculation about his future.
Armstrong demanded answers from St Mary's boss Hasenhuttl about what he had to do to get into his side and he responded by getting an extended run in the team.
He told the Daily Echo: "I think on a personal note it was very frustrating at the start of the season. You want to play, so you have to wait and stay patient which can be very frustrating.
"I think understanding what the manager wants from me and being able to give that and help the team and chip in with a few goals has been the most pleasing part for me.
"Once you get into the team, you want to stay there.
"I've been able to do that with a few goals and a few assists, so that's been a great turnaround for me personally and I'm very happy to have done that.
"I hope there is more to come because I think there is always something to learn and improve on and I will keep trying to do that.
"I love attacking and helping with goals and assists and if I can improve that side of it by increasing those numbers then that would be fantastic going into next season."
And Armstrong is convinced Southampton will improve next term.
He said: "We had a run of games where we let ourselves down a bit and you think 'What if?'.
"But I'm sure all the teams look at themselves in that way. I think we have to deal with reality and know where we can improve.
"Getting off to a good start is important and that's a high priority for us next season. But we don't want to get too far ahead of ourselves and start targeting final positions when the league hasn't even started."
LONG READ: The evolution of Stuart Armstrong as ex-Dundee United star's mentor, a Southampton legend and a former coach discuss his extraordinary rise