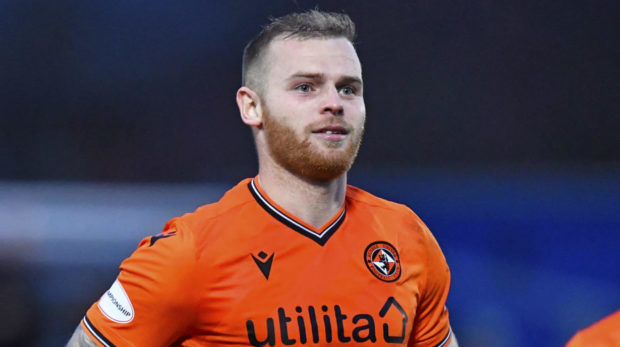 Just shy of three weeks ago, Dundee United manager Micky Mellon offered some advice to his players aimed at keeping them on the right side of football's Covid-19 regulations.
"Don't go doing anything that you think might be in a wee bit of a dodgy area," said Mellon.
"Ask the question and if we don't know then we will go and try to find the answers for you. But common sense must prevail.
"If you don't want sunburn, you don't go out in the sun too much."
Dundee's Balcony Bar isn't exactly the Costa del Sol but, as United's Mark Connolly is now aware, it turns out a red face is just as likely to result from a visit to either.
Dundee United manager Micky Mellon orders his players to ask the question if they are unsure about coronavirus rules
To be fair to the Balcony, what happened after Connolly vacated the premises and flagged down a taxi is not in any way their responsibility.
That lies with the player himself – and perhaps he will have something to say in his own defence in the coming days.
But the question United fans will, at this stage, be entitled to ask themselves is whether Connolly was abiding by the guidance his manager laid out in mid-August?
It's certainly one Mellon – and United sporting director Tony Asghar – will be contemplating today.
EXCLUSIVE: Dundee United player accused of Covid-19 breach in taxi bust-up
Scottish football has not had its problems to seek in relation to player-behaviour in recent times.
The actions of the so-called "Aberdeen Eight", quickly followed by Celtic man Boli Bolingoli's secret trip to Spain, put the game firmly in the Scottish Government's crosshairs.
Having been given special dispensation to resume work, players were first told of their obligations, then warned of them, then informed directly by First Minister Nicola Sturgeon – in a state of palpable anger – that further breaches could result in the national sport's suspension.
Have Scottish football's Covid-19 rules been breached by Mark Connolly? Time – and one suspects it will be in short order – will tell.
But what we can say is that the common sense Micky Mellon called for from his players did not prevail on this occasion.
That's something the United man will have to answer for.