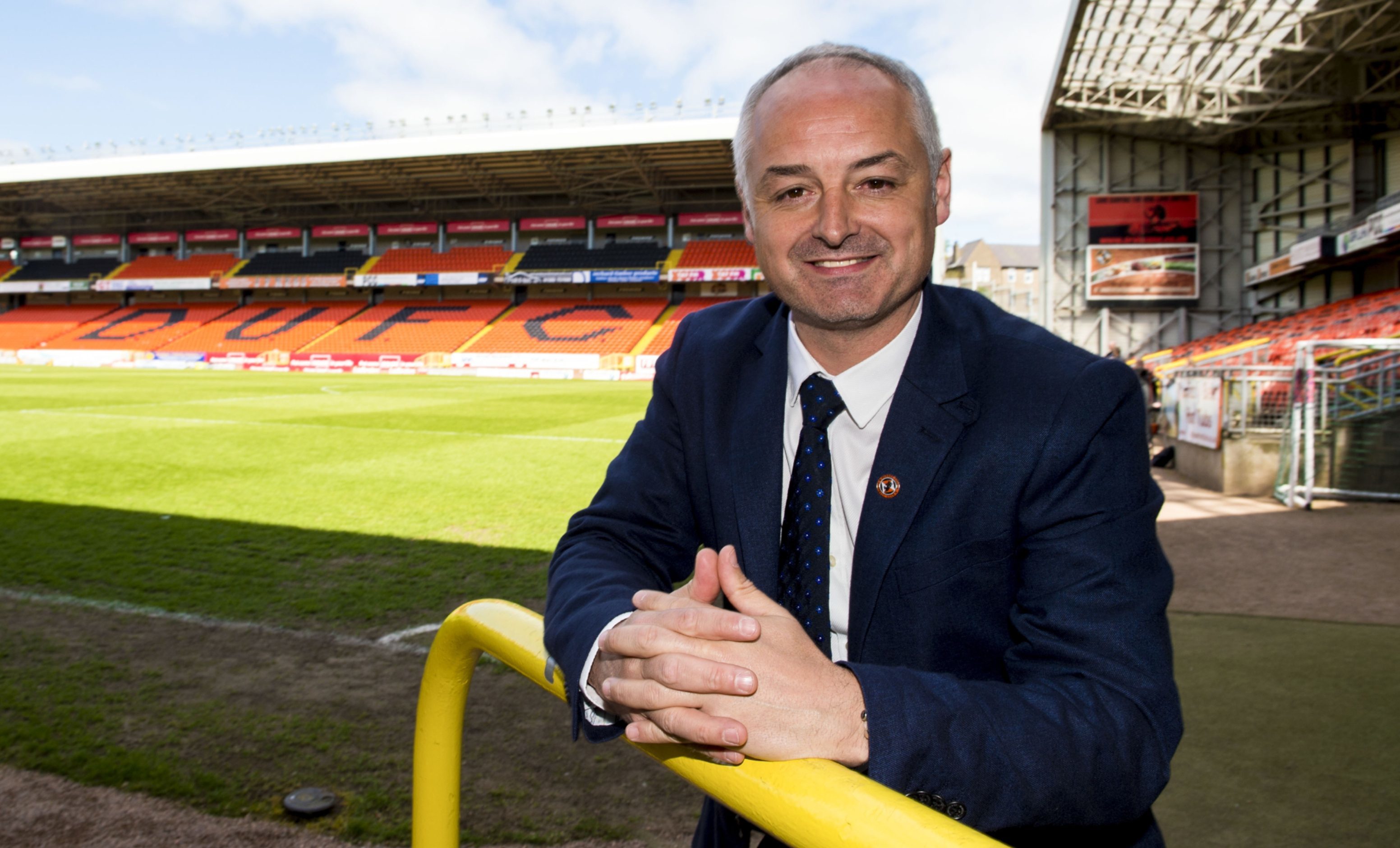 New manager Ray McKinnon has declared himself ready to change Dundee United for the better.
The Tangerines boss, who admitted it is only now sinking in that he is in charge of the club he supported and played for, knows he faces a huge challenge to rebuild the relegated side.
McKinnon is fully aware of how bad things have been for United, both on and off the park.
He is taking over at a time when some fans want Stephen Thompson to quit and the chairman himself has said he willing to sell his shares if a credible buyer comes forward.
All but five of the regular first-team squad have been told they can leave, albeit McKinnon hinted he may keep some of those who are under contract.
Also, life in the Championship will be tough with sides like Hibs, Dunfermline and his old side Raith just some of the competition they will face next season.
However, McKinnon is genuinely excited about meeting those challenges as he ushers in a new era at United.
"The club needs a freshness about it and hopefully I can do that," said the former Brechin and Raith Rovers gaffer.
"It's absolutely got to happen.
"At training, we want to create an atmosphere where every player comes in and enjoys coming to work in the morning where they can showcase their talents.
"We will give them that platform. We will get out and work with them and educate them. Ultimately, if they want to buy into that, they will do well.
"At the same time, if there are players who don't buy into that, we'll move them on.
"Things will be changing right throughout the club but that's something we can look at further down the line.
"All we need to do right now is make sure we get a really competitive team on the park.
"This is a great opportunity for United to go in a different direction.
"I want to create something different and it's something I think I've done at my other clubs.
"Everybody wants to come and play and they are happy. It's how I treat people.
"Right around the whole club, I want to bring something completely different."
McKinnon was asked, bluntly, that considering how bad things have been at United if it was a case of letting his heart rule his head.
He replied: "No, it wasn't.
"I have to be honest, it was actually the head ruling the heart this time.
"Over the years, I have realised that you have to make your own decisions and I have certainly done that.
"I weighed it up, gave it a lot of thought, looked at the pros and cons.
"I made the right decision. I know I did because since I made it I have had such an incredible feeling.
"I'm really, really excited to be here.
"It was just a list of my pros and cons that I looked at, my outlook on the job, where I was in my career – everything.
"I had to consider what my next move was but, listen, Dundee United is Dundee United.
"It's a big club and a big job in Scotland.
"Now that I think about it, it's a privilege to be the manager.
"The timing feels absolutely right and the job just feels right for me.
"I don't know if I'm explaining it very well but I feel so comfortable here, I really do."
He is well aware, though, that there will be tough times ahead given United's ability to do themselves damage, whether that be protesting fans, poor play on the park or bad decisions in the boardroom.
"It is true that you almost never take over a team on the up," said McKinnon.
"United are a big club who have had a disappointing season.
"We need to regroup, get the players together and get the team right on the park.
"That will be my only focus.
"If we can do that, then we will be doing something right and hopefully we can get United back where they belong."
Asked if he felt he could bring a traumatised support with him as he strives to make a new beginning at United, he replied: "Yes – absolutely.
"The fans are fantastic here and they back the team.
"They've had a tough year.
"They've watched the team being relegated.
"I'm sure every United fan realises there is a big challenge ahead.
"It's my job to get the team right on the park.
"It's going to be a big rebuild and it's going to be a big challenge.
"If we can get it right on the park, though, then I'm sure the fans will be very appreciative."
Getting in right on the park will mean having a successful recruitment drive over the summer.
As well as bringing new faces in, McKinnon also hinted that the door may still be open to those who are under contract but who have been told they can move on.
"We are going to have to bring players in, no doubt about it," he added.
"How many depends what I can get out of the players here.
"It depends if I want to keep these players here.
"What the chairman did was to say that there is no money to offer you (the players) contracts.
"There was no manager in place then but if I want to go back to any of these players and chat to them or bring them back to the club, it will be my decision.
"The players are all under contract unless I say so.
"There are some talented people but we're going to have to recruit and we're going to have to recruit well.
"I'm also going to have to recruit within a boundary.
"There's no way I'm going to be spending the money that's been spent recently but there is a budget there and hopefully I can go and recruit the right people."