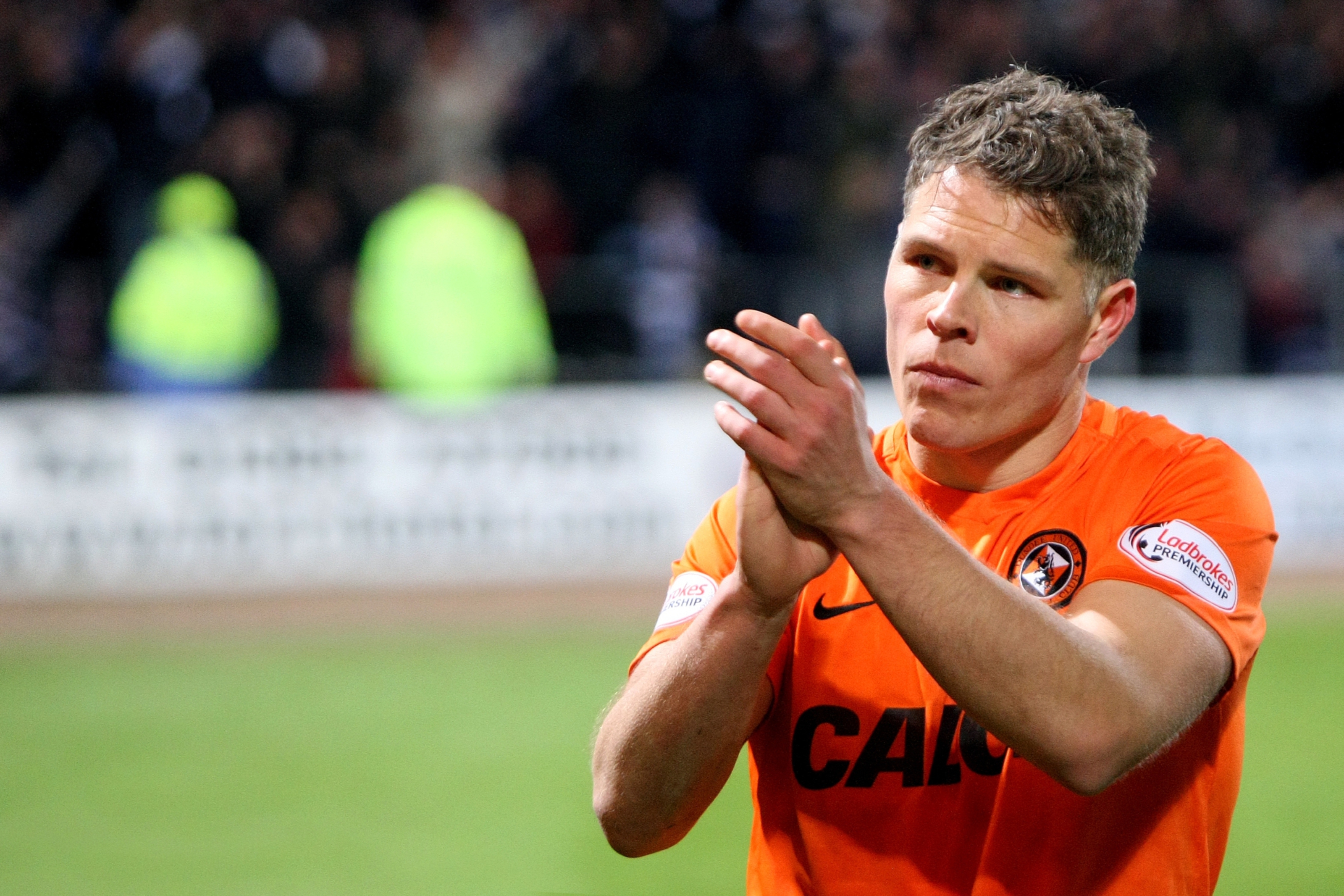 John Rankin has come to the defence of former Dundee United boss Mixu Paatelainen now that the dust has settled on the club's relegation season.
Paatelainen was sacked by the Tangerines after their demotion to the Championship was confirmed by a 2-1 defeat to city rivals Dundee at Dens Park on May 2.
The Finn failed in his prime objective as manager and the news that he was being let go was welcomed by United fans, many of whom had been left bewildered and frustrated by team selections and tactics.
However, the midfielder who captained the Tannadice men in the final match of their miserable campaign – a victory at Kilmarnock under the charge of Paateleinen's assistant boss Gordon Young – has spoken up for the man who took over from Jackie McNamara in mid-October.
"I don't think Mixu was the wrong man," claimed Rankin.
"He was the right man at the time because he is a motivator.
"The way he spoke when he first came in he got boys believing and on the training ground went into a lot of detail.
"It was incredible.
"He went into detail on each player's position, the video analysis. It was across the board.
"Jackie McNamara was more about freedom – go out, express yourself and do what you're good at.
"Mixu came in and changed it because, ultimately, he saw Jackie wasn't successful for that first eight or nine games (of the season).
"So he gave everyone their own role. This was your job and this was what you do so you can point fingers at who was letting us down.
"But ultimately it wasn't (about) one person – it was everyone.
"We all made mistakes."
Rankin recalled the time of the game at St Johnstone on April 2 when Paatelainen suddenly changed his defence from a back three to a four and they ended up beating their bogey team 1-0.
That result looked like being a turning point but it wasn't to be.
Rankin added: "There became a time when he scrapped his plans, got rid of the back three and it worked.
"Nobody knew before that game what he was going to do, although we had a feeling there was a surprise coming.
"He named the team at quarter to two and asked the players who were not playing to leave, then whipped the sheet over.
"It wasn't the 3-5-2 but it was four at the back.
"We went out and won the game.
"It was against St Johnstone and I can remember the puzzled look on (Saints boss) Tommy Wright and (assistant) Callum Davidson's faces at the start of the game.
"After that everyone was tipping us to stay up.
"We believed we were getting out of it and when we heard the pundits get on our side we thought everyone was starting to believe.
"But we let ourselves down against Partick Thistle on the Tuesday night, dominating for 45 minutes and then getting caught with a sucker punch (they lost 1-0).
"I still believed we could get out of it right up until the last minute – I genuinely did.
"I know people will think 'he's just saying that' but I really did.
"I thought we'd go out, work hard, be organised and we'd dig ourselves out of it.
"But we kept shooting ourselves in the foot. We lost too many matches from winning positions and that can't happen."
Rankin has now said his own goodbyes to the Tangerines and has warned his now ex-club that they face a real challenge to get straight back up to the Premiership.
He said: "I loved my time at United.
"It is a great club and I really hope they come back.
"But I do worry about the future and I told the chairman (Stephen Thompson) that when I met him.
"United need to bounce back at the first time of asking because we have seen Hibs now be in the Championship for a third season.
"It's going to be very difficult because they have to reduce the wage bill and change the squad.
"But one big plus for the club is that the new manager Ray McKinnon knows the division.
"He knows how to get a team to the play-offs.
"He has experienced that and that's going to be a massive thing.
"I really hope they get back up quickly because United's a fantastic club."