 Anyone being critical of Tony Andreu's work for Dundee United since joining up on loan from Norwich City in August would be guilty of splitting hairs — big time.
Eleven goals in 14 games and a hand in much of what's been good about the Tangerines' attacking play means surely no one could be critical of the Frenchman's work for his temporary employers.
There will, of course, always be exceptions. Moaners who are never satisfied however well a player has been doing.
The Tele has found one — the 28-year-old himself.
Like the rest of Ray McKinnon's squad, Andreu was left frustrated when Saturday's goalless draw at fellow-Championship challengers Morton brought to an end a seven-game winning run.
Rather than accept with a Gallic shrug that all good things must come to an end, Andreu has been keen to analyse the reasons why one point wasn't three.
And, if his name crops up as one of them, he won't hide from that.
"It should have been a victory and I should have scored," he states bluntly.
"I had chances and I didn't take them. There were two clear chances for me and I didn't do well enough."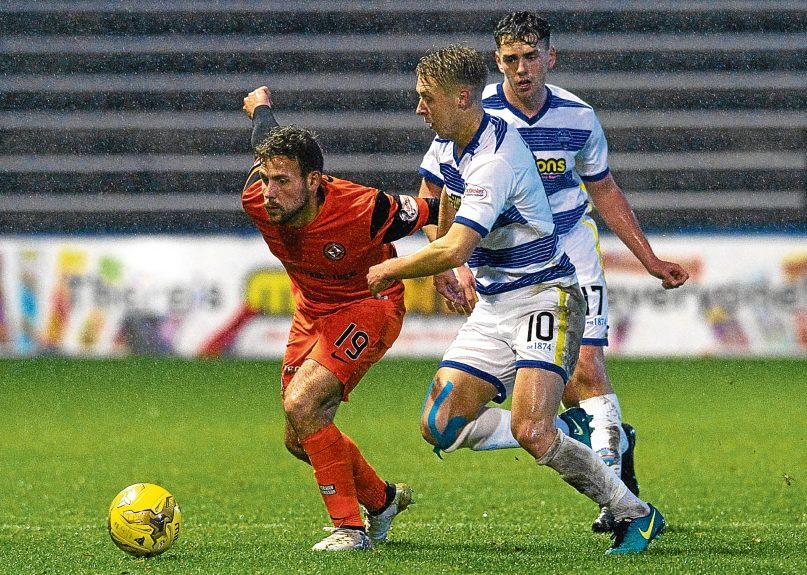 Given the quality of his work so far, it's safe to say United fans will be more than willing to forgive those lapses. Andreu is not.
"I have scored other goals and that is good but, on each day when the chances come, you want to score and I know I should have done better with the ones at Morton.
"It was a difficult game. I thought they closed the game very well, they are a good team. They had counter attacks that were dangerous, so we had to defend properly and we did.
"For our part, though, I thought it was kind of 'who is going to score?' We didn't, so we are disappointed.
"And in my opinion I should have scored at least two goals. I didn't, so it was a bit frustrating.
"We wanted to keep the winning run going because we had won six or seven games in a row going into this one and we were feeling good."
United fans shouldn't worry one of their star men is beating himself up a little too much and, when he looks at the bigger picture, he remains very much of the opinion things are looking good at Tannadice.
"It was important we didn't lose and you must make sure of that on the days when you do not win.
"I did not think we looked like losing the game, we do take that positive.
"It is a bitter-sweet feeling but we move forward to Hibs next week.
"If we win this game we join them at the top and, to tell you the truth, I think two months ago nobody would have seen us there.
"Now we look at the top of the league and know we can be there and that is good.
"If we are after this game, we can be there for the rest of the season. We are looking forward to it. We want to win it and go forward from there."
With no game this Saturday because others in the Championship are on Scottish Cup duty, United will have plenty of time to prepare for the top-of-the-table clash.
Andreu likes that but stresses had the game come this weekend United would have been just as ready.
"I think we have a fit team. I think you saw the last 20 minutes against Morton we were still going forward trying to win the game because we want to win every game, we will not settle for a draw."