 Willo Flood owes Peter Houston big time and, on top of that, he regards his former boss at Dundee United as a friend.
Apart from the standard of Houstie's golf, which the Irishman describes in a less-than-complementary way, he doesn't have a bad word to say about him.
All that, though, will count for nothing when Flood lines up against Houston's Falkirk at tea-time on Saturday.
Because whatever his debt to him is, the tenacious midfielder is determined to take three points from the Bairns.
Houston would expect no less from him. It's why he pushed the boat out to bring him back to Tannadice in 2011.
And his own circumstances at that time are why Flood will always be grateful.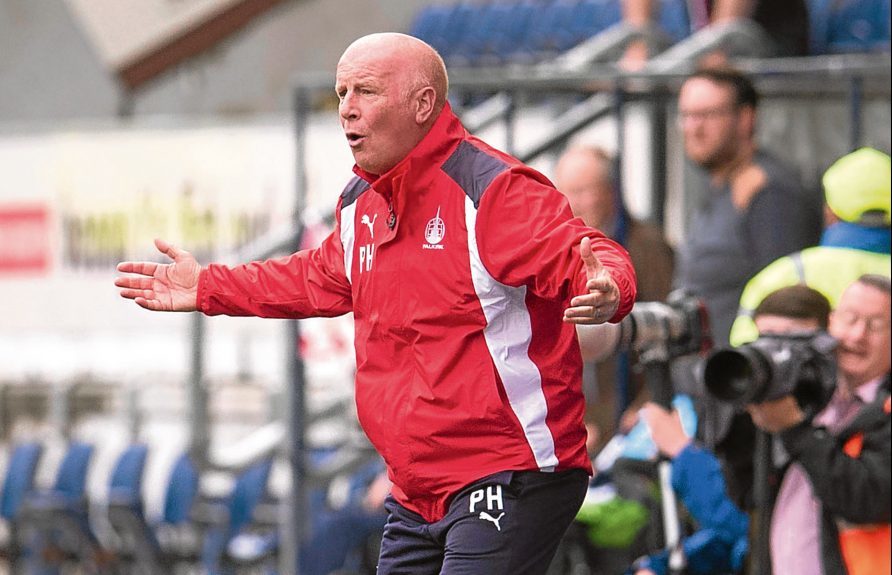 "Peter Houston got my career back on track and I have a lot to thank him for," he said.
"He brought me back to Tannadice when I'd done my posterior cruciate ligament down at Middlesbrough and things were not going well for me.
"He got me playing well again and I'll never forget that. He showed a bit of faith in me and, for me, he's not just a very good manager to play for, he's a personal friend.
"He is a rubbish golfer, though!"
"On Saturday that won't matter because we want the win to be climbing up that table. I know Houstie will feel exactly the same way."
Flood has no doubts whatsoever getting those three points will not be easy. His old boss will come up with a set of tactics that will pose problems for United.
And Houstie will set up his team to win the game because it's the only way he thinks.
"He will be looking to come up with a way of making things very difficult for us and we have to be ready for that.
"Houstie will go all out for the win, he always does. He's never been a defensive manager and, especially at home, he will go for it.
"I remember a game at Tannadice when I was in midfield and he ended up with Rudi Skacel and Jon Daly all in front of me. It meant a lot of work for me but all Houstie was thinking about was winning, that's the way he is."
Candid as ever, Flood also admits his old gaffer will have studied last Saturday's display at Dunfermline and will have seen things he feels his Bairns can exploit.
The 3-1 win, of course, was marked by keeper Cammy Bell saving three first-half penalties.
Like everyone else at East End Park, that took his breath away.
"Cammy saves the first one and I think 'we've got out of jail here'. He saves the second and I think 'we've definitely got out of jail here'. Then he saves the third and I think 'what's going on here?'
"He was brilliant, it was ridiculous. He put a lot of pressure on the kickers and I think the third one was a bit tentative.
"They were so close together, I couldn't believe it. I still think we gave away too many chances on Saturday and we can't forget that.
"I did feel we showed a lot of character to get the win when things didn't go all our way.
"People have said we are a team that lacks character but we had plenty on Saturday and we have to keep showing that.
"We also have to work on giving up fewer chance because we shouldn't be giving teams like Dunfermline the opportunities we did."