 Dundee United's younger generation will get their chance when Ray McKinnon takes his squad to Station Park for tonight's friendly with Forfar.
The weekend saw the majority of the Tangerines kids sent west to represent their club in what is now a well- established annual participation in the Oban Tournament.
Ray has stressed that had to do with making sure that between the round-robin event there and the closed-door friendly against Cove Rangers at United's St Andrew's training base, as many players as possible got as much game time as possible.
He regards several of his youngsters as first-team squad members and will highlight that by handing a few starting places against the Sky Blues.
"I'm going to mix it up. Harry Souttar and a few others will play in this one," he said.
"They went away to Oban at the weekend because I wanted them to be getting game-time and there was only so many I could play against Cove.
"The down side was I couldn't watch them, so I want to see Harry and others in a game situation.
"I want them to get games and feel part of the first-team squad. They will have a part to play next season so it is important they are with us."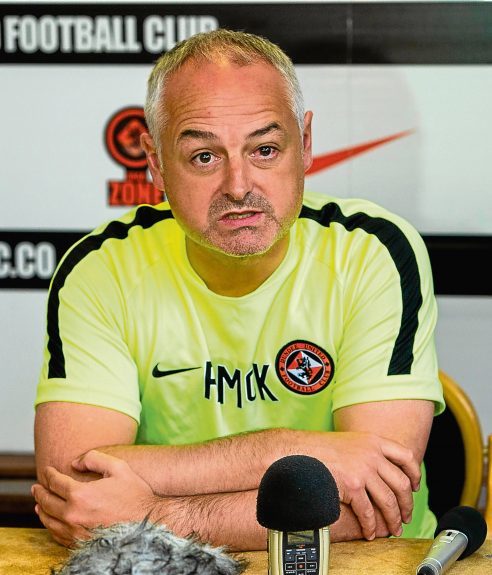 The fact his former United team-mate and opposite number in the technical areas tonight, Gary Bollan, has been adding plenty experience to his squad at Forfar means Ray expects a good workout.
"It will be a physical test against Forfar. Gary has signed some big strong pros, so it will be a tough night for our boys.
"That's good because it will let the ones who are stepping up to the squad know what to expect."
Among the more experienced men likely to play is Slovenian trialist Alen Ploj.
The 23-year-old got two goals against Cove but it will be this weekend at the earliest before the gaffer decides if he should be handed the chance to make his stay at Tannadice permanent.
"He had two good chances on Saturday and scored two good goals so he did well in terms of that," added Ray.
"I'm going to wait and see with him, I'm not sure yet he is what we need.
"He did fine, it a case where there are things we'll need to check on about his game to see if he's the kind of player who can fit in with what we need."
Fellow-trialist Lewis Hornby may also play some part, though the priority for him is to work on his fitness as he's a week or so behind most of the players when it comes to pre-season work.
That said, the coaching staff were impressed with his display at the weekend and he will be given more time to impress.
West Brom kid Joe Ward has returned south, with Ray stressing he'd performed well but ultimately was no better than some of the emerging talent already on the books.
Stephane Zubar has also headed back to England, though the centre-half is expected back to take part in closed-door clash with Blackpool at St Andrews a week tonight.
"Big Zubar did well. I have to say he wasn't really tested in the game but he looked good. He has other offers, Blackpool being one, but we'll have to have a look at him again next week."
New signing Tope Obadeyi is expected to be left out. He is another who hasn't done as much training as the majority of the squad and will spend the next few days concentrating on building up his fitness.
Young German goalkeeper Lewis Zwick is set to play after Cammy Bell got the full 90 minutes against Cove.