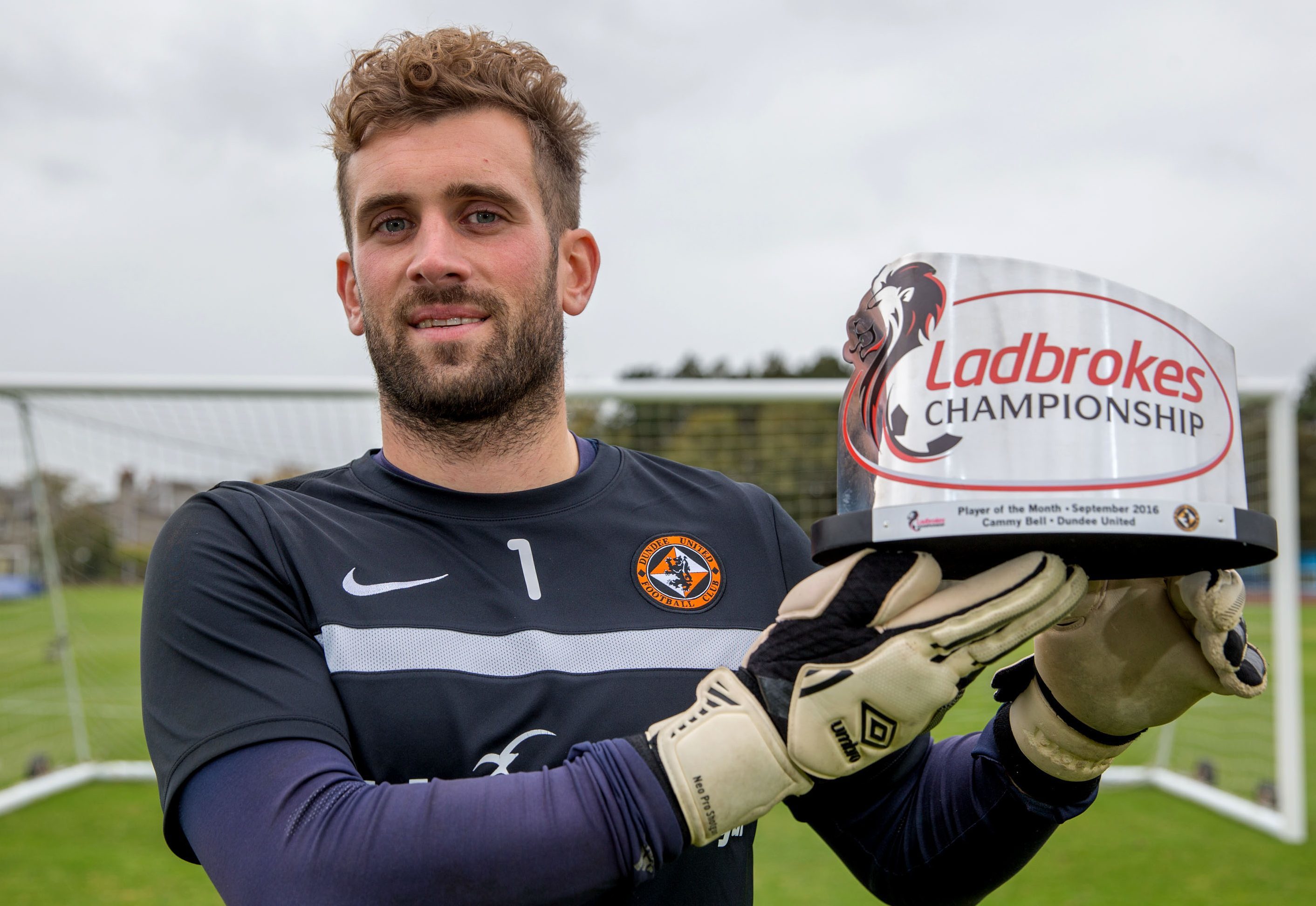 Cammy Bell believes winning the Ladbrokes Championship Player of the Month award for September was a reflection of the progress the entire team are making on the park.
The 30-year-old goalie received the recognition yesterday due in no small part to the fact that he saved three first-half penalties against Dunfermline at East End Park on September 10.
However, former Kilmarnock and Rangers keeper Bell insists the whole United squad deserve credit for the way they are starting to gel as a unit after a big summer of change.
He said: "I didn't expect the award and I only found out about it this morning.
"I was surprised but delighted as well. It is great for me personally and for the club as well.
"I think it shows we are moving forward as a team.
"It generally goes to strikers, the guys who score the most in a month so it is special for me.
"It was a special month. The penalty saves were great but hopefully it wasn't based just on that.
"I think we moved forward as a team last month which was massive for me and the club.
"There is a new staff and something like 11 new players so it has been a huge turnaround for the club.
"It was always going to take time to gel and nothing was going to happen overnight.
"I think we are starting to click as a team and get used to each other as players.
"The last few weeks have been really positive. After a couple of disappointing results, we have shown we have character.
"I have to give a lot of credit to the gaffer as well. He has shown great faith in me, bringing me here. He has worked hard with me this season."
While delighted to receive his award, Bell was less than pleased that the Guinness Book of Records refused to recognise his triple penalty-save achievement as it had taken place outwith the top tier of the game in this country.
He said: "I was really disappointed, to be honest.
"I think it is a strange rule because that's like saying the Championship in England is void as well, which I don't understand.
"I think if you are a professional footballer, then it should be in the Guinness Book of Records.
"I don't understand why it has to be the top league but that's their choice.
"I am not going to dwell on it too much. I know I did it and it will always be in my memories. Hopefully my family will look back and be proud of that moment."
Bell had surgery last week in Leicester to cure a groin problem but incredibly he returned to training yesterday and there is a chance he might be fit to play against St Mirren this weekend.
He added: "The op went well. It was one of those things that I had been playing with for about four weeks.
"Every time I kicked a ball, I was in real pain. We knew what the problem was and that I needed an operation. It was a good window of opportunity for me to have it done.
"I spoke to a surgeon down south and he was confident I would be back in two weeks.
"I did a bit of light training this morning so hopefully I won't be too long.
"I am fairly confident I will be available for selection but it is up to the gaffer and the rest of the coaching staff if they think I'm ready.
"They'll make the decision and I am sure they will protect me.
"I am eager as always to play football, especially after last year when I didn't get many games. I will be desperate to play.
"I do feel better but obviously I have a bit of scar tissue and that will be worked on. I am sure as the week progresses, I'll hopefully feel better."