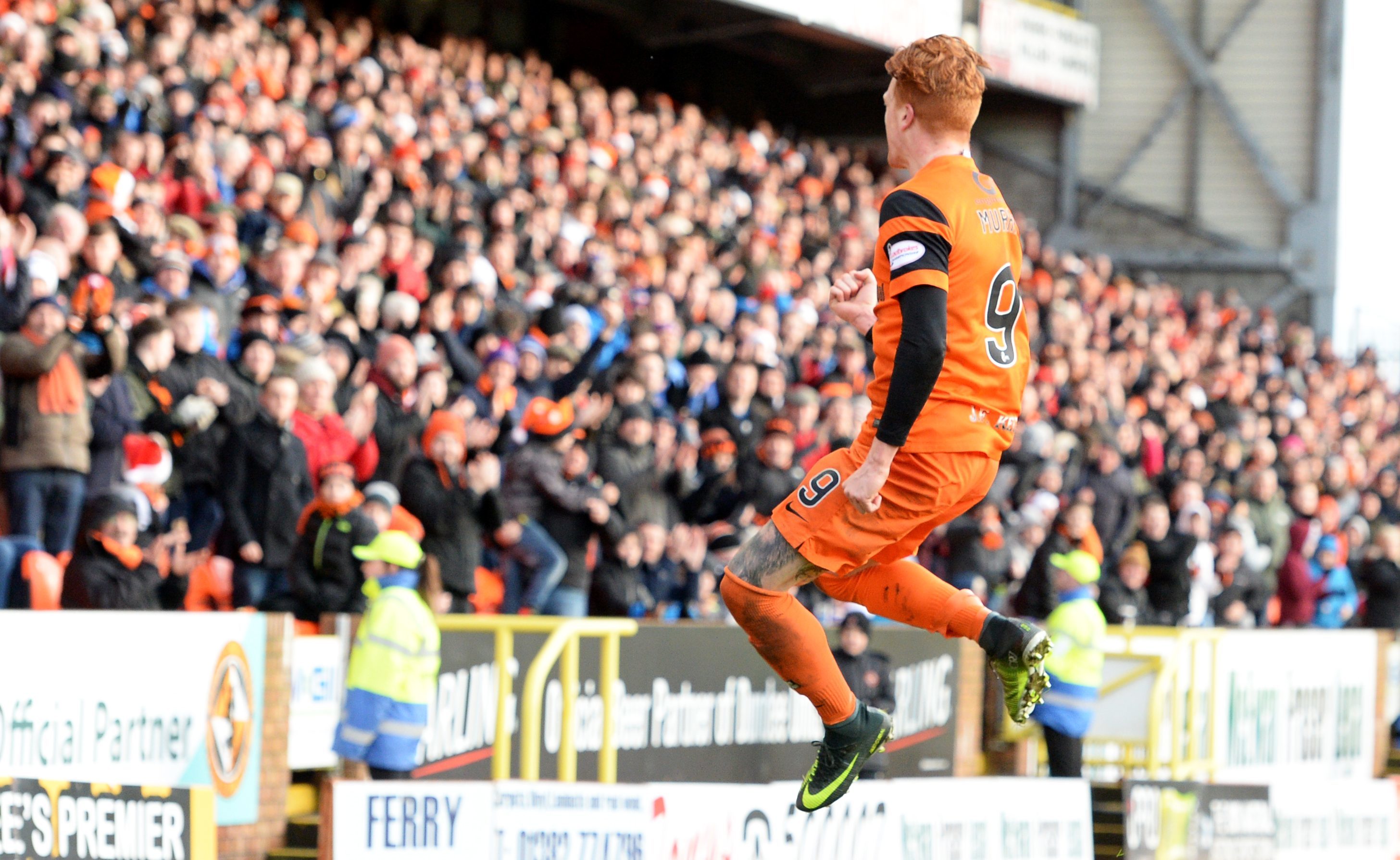 Dundee United's Simon Murray has revealed how extra boxing training helped him deliver the knock-out blow against St Mirren on Saturday.
The 24-year-old striker netted what proved to be the winner against the Buddies at Tannadice with the victory propelling the Tangerines to the top of the Championship table.
Murray's sharpness in front of goal has been honed training with local boxer Paul Kean at the Skyaxe Gym.
Kean, who has won his first two fights as a professional, is also United boss Ray McKinnon's nephew and he has been putting Murray through his paces like he did with the Raith Rovers players last season.
Murray said: "Paul Kean is my mate. I maybe go down there once a week, sometimes twice on a Monday and a Wednesday.
"It is a different type of training but it definitely helps trying to get stronger and fitter. If you've got that edge on your opponent, you've always got that chance.
"It's just a one on one with Paul. He's really good. He's the manager's nephew so I tell him to tell the gaffer I'm doing well!
"I was through at his last fight in Paisley. He's doing really well. That was his second professional bout and the boy he was fighting was quite tough but he did well.
"The boxing training works on your short bursts and that's what you're doing in football – you're stopping and starting.
"Especially as a striker, the ball's not always up your end. You've got to be alert as a striker when it comes to you. It's definitely helped me so long may it continue.
"I've asked a few of the boys to come along and they're definitely up for it.
"Actually, the club chef was wanting to come – I think that was so he could get his omelettes done quicker!
"Paul was in at Raith with the gaffer before so I'm not sure, maybe something will happen there."
Murray's headed goal was his ninth of the season so far and the former Arbroath striker revealed he is looking likely to hit the target he set himself at the start of the season.
He said: "It was a tough game but we knew it was going to be like that.
"They are not nice games a lot of them. There are physical teams in this league and they tried to find John Sutton up top a lot.
"We obviously went a goal behind so we showed a lot of character to score two goals before half-time.
"To be fair, I have not scored many goals like that. I just thought I would take a wee gamble running to the front and I have managed to flick it in so it was a good goal and I am pleased with it.
"That's me up to nine goals for the season. I have set myself a target and I am maybe halfway there.
"I have had chances to score a few more but if I go on a run I know I can hit that target."
St Mirren were forced to make an early change in the 19th minute after Gary McKenzie was injured in an accidental clash of heads with the home side's Mark Durnan.
After treatment, the groggy McKenzie was led from the field to be replaced by Jack Baird.
Six minutes later, Durnan also had to call it quits with Coll Donaldson coming on to take his place in defence.
However, it was quickly a disaster for Donaldson in the 27th minute. Dixon sent a throw-in towards him inside the United box but Donaldson slipped up with St Mirren's John Sutton being handed a gift-wrapped early Christmas present and he calmly shot past home keeper Cammy Bell.
The Tangerines made an instant response just a minute later when Tony Andreu sent a low ball in from the left all the way through to Scott Fraser and he made no mistake drilling past Scott Gallacher.
United then had a big let-off when the Buddies' Jason Naismith latched on to a Kyle McAllister ball from the right but his effort hit Bell's post.
Then in the 45th minute, United took the lead when Fraser flighted a tempting free-kick in from the right with Murray sending a glancing header past Gallacher.
Just before the hour mark, United had a great chance to make it three from a close-range Murray header but Gallacher pulled off a fine diving save to deny the striker.
McKinnon's men went close again when Charlie Telfer flicked on a Fraser free-kick towards Donaldson with the defender heading just inches wide.