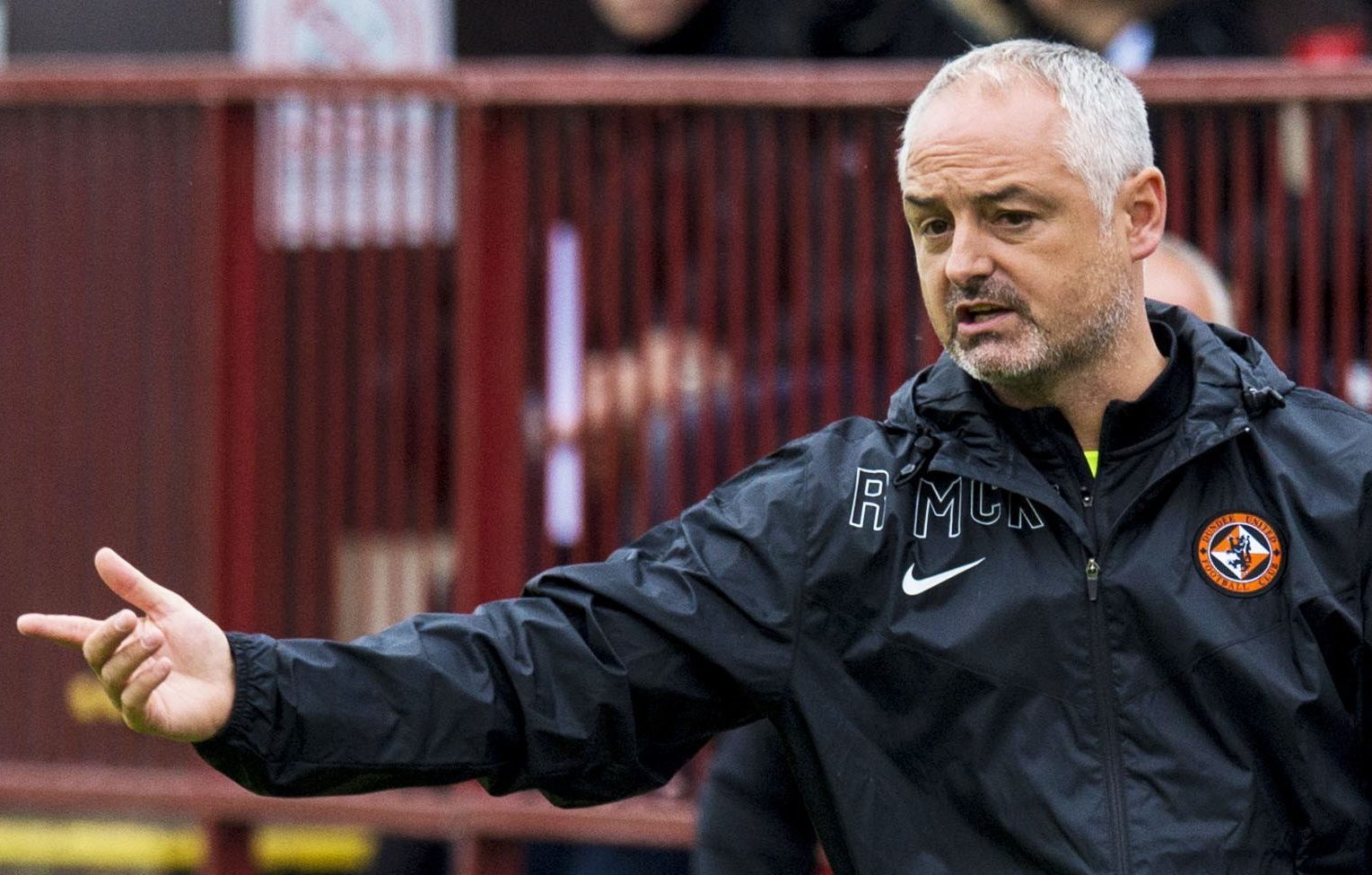 Ray McKinnon admits he has endured Scottish Cup pain as a punter and a player.
For years, Dundee United had suffered nothing but heartache at Hampden with the 46-year-old being at the National Stadium in 1988 to see the Tangerines lose to Celtic.
He was then a player as United lost 4-3 three years later to Motherwell in an unforgettable final that saw brothers Jim and Tommy McLean in opposite dug-outs.
Incredibly, when United did finally end their long wait to win the famous old trophy in 1994 against Rangers, McKinnon missed the game as he was on the other side of the Atlantic at the time.
Now, as Tannadice boss, he is hoping he can finally witness cup glory first-hand as the Tangerines take what they hope is the opening step on the road to Hampden against Ross County in Dingwall on Saturday.
McKinnon said: "I was at the 1988 final when Frank McAvennie scored two late goals for Celtic and that was a real sickener.
"And then I obviously played myself a few years later in the Motherwell game.
"There are good and bad memories from that game in 1991 because it was horrific to lose it.
"We went into that final thinking we'd win it comfortably so it was a total sickener.
"When it went 3-3 late in the game I felt we were a total certainty, I couldn't believe we lost it.
"But it was a great game, one of the iconic Scottish Cup matches and people still talk about that to this day.
"With the McLean brothers being in opposition as managers, it was a great story.
"It's just a pity it didn't have the outcome we wanted.
"My medal is still in the house in a box somewhere."
McKinnon added: "In 1994 when United finally did win it I actually missed the game because we were on an end-of-season tour in Canada with Aberdeen.
"We were in Vancouver and the first I knew about it was when Alex McLeish came up to me in a bar and said, 'United have won the cup. Craig Brewster scored'.
"I didn't believe him at first but soon found out that it was true.
"We were in the same hotel as a few other Scottish clubs, I think Celtic were there as well as Hearts.
"So after being to a few of the finals and playing in one, I missed the one we actually won.
"I also went to the final in 2014 against St Johnstone – but we lost that one as well.
"It would be great to take United on a run this season but I'm sure (Ross County boss) Jim McIntyre is saying the same about his team.
"If we play to our best we'll have a chance but it will be tough up there."
United will travel to Dingwall determined to bounce back after what was a disappointing draw at home in the league to Queen of the South on Saturday.
However, while not making excuses for the result, McKinnon revealed that several players had been affected by illness.
The manager added: "Everyone is fit and training so we should have a strong squad for the weekend.
"It turns out we had a few players under the weather last weekend. Some of them have been laid low with a bug.
"Willo Flood we knew about because he took tablets to play but William Edjenguele and Tony Andreu have since been off with sickness.
"We didn't find out about the other two until after the game and Tony actually came to me this week and apologised.
"He didn't mention it and has said that during the game his head was spinning because he was feeling so unwell.
"It's not an excuse because we shouldn't have been 3-1 down and scrapping to get back into the game.
"But it maybe explains a couple of things."
Meanwhile, McKinnon revealed that former United player Edward Ofere is back at the club but only to train.
He added: "Edward's agent asked if we could give him training facilities because he's looking for a club.
"He's not on trial, he was here last year so we thought we'd give him the chance to come back in with the lads and do some work.
"He's not one we're looking at, we have just signed Thomas Mikkelsen for that role.
"What we're looking for is someone in other areas of the pitch, but Edward is welcome to train with us."