From a 100% league record to the crushing disappointment of a comprehensive defeat in Paisley. The Courier's sports writers discuss the changing mood at Dundee United.
Dundee United have only lost one game in the league. Has the reaction to that defeat against St Mirren been out of proportion?
Neil Robertson: I was at the game in Paisley on Saturday and there is no way to sugar coat the desperately-disappointing nature of the defeat. To be fair to United boss Ray McKinnon and the club captain Willo Flood they certainly did not attempt to make excuses. It is the nature of the beast nowadays that a defeat can attract a disproportionate reaction from fans but they had travelled in big numbers and deserved much better from their team on the day.
Eric Nicolson: United fans had to endure many truly awful away performances two seasons ago, and a fair few last year as well. So you have to forgive them their fury when they see their side fold in the first meaningful test they've had on the road. Restoring faith is no easy task and it will take a long run of consistently good performances to do it.
Ian Roache: That was exactly the kind of scoreline that can send jitters through an entire club, especially with United so desperate to win the title. The only cure will be vastly improved performances and results when the league restarts after the international break.
What are the biggest issues for Ray McKinnon to address?
NR: Where to start? No-one in tangerine covered themselves in glory with their manager telling them they all needed to have a long, hard look in the mirror. United were second best all over the park but it is important to keep a sense of perspective – yes, it was an incredibly bad day at the office but it is still early in the season and hopefully McKinnon's men will take the harsh lesson on board that you simply cannot afford to take your foot off the gas in the Championship.
EN: Midfield. The blend isn't right yet. Fyvie and Flood doesn't look like a combination to last.
IR: I have been a bit worried about the lack of height from middle to front. Also, when you have young players in key positions like goalkeeper then they are going to have off days. I would expect Harry Lewis to make way for Deniz.
Would you play the kids against Alloa?
NR: I would be tempted to send the same XI that failed so miserably against St Mirren to go out and make amends in the Irn Bru Challenge Cup tie. Realistically though, the manager is more likely to give youngsters their chance again.
EN: The youngsters should be played no matter the opposition for as long as United are in this cup.
IR: Sorry for being a killjoy but this tournament should be wound up so, yes, I would just play a young side.
Top of the table Dunfermline. Discuss.
NR: The Pars are flying that's for sure. In the last three league games they have scored 12 goals and conceded just two, taking maximum points to storm to the top of the Championship. Allan Johnston has put together a formidable-looking squad with plenty of firepower – Nicky Clark and marquee signing Andy Ryan had to be content with places on the bench at Dumbarton but both came on to score. I know the season is still in its infancy but Dunfermline have built up a fair head of steam and they look like being genuine title challengers.
EN: The win at Dumbarton was a bigger statement than beating Falkirk the week before (and the type of result United need). You could see this snow-balling for the Pars, with confidence growing and fans returning.
IR: By all accounts, they made a sticky start to the campaign at Livingston so the players deserve tremendous credit for upping their standard considerably.
Dundee are off the mark. I don't suppose any of you will argue against it being a good point against Hibs?
NR: It was absolutely vital that Neil McCann's men took something from the game. Dundee played well against Aberdeen the week previously but still left Pittodrie empty handed. So even although they did not hit those heights of performance against Hibs, it was important to get something on the board before the international break.
EN: It stops the bleeding. With a bit of luck Neil McCann will have a couple of injured players back by the time the Premiership resumes and a new striker on the books. You have to keep the points tally ticking over even when things are going against you.
IR: It was a decent point but my concern is that it might not look that decent if it's their only one after the next couple of matches against Rangers away and St Johnstone at home. Hibs should have won on Sunday but, then again, the Dark Blues deserved more from Aberdeen, as Neil rightly pointed out.
Scott Bain's been talking about getting back into the Scotland squad. Realistic?
NR: Bain seems revitalised under McCann's management and was back to his best against Hibs. National manager Gordon Strachan was in the main stand at Dens watching and must have been impressed. However, Bain will know himself that he has to produce those sorts of performances on a regular basis if he hopes to win a Scotland recall.
EN: Not under Gordon Strachan, it's not. I would imagine Gordon, McGregor, Marshall, Hamilton and now Archer are all ahead of him. When Zander Clark is back in the Saints team he's another one to throw in the mix.
IR: Personally, I was annoyed that Bain didn't get a cap when called up by Scotland previously and, as he showed against Hibs, he is good enough to be involved at international level. Like Eric, though, I fear he looks to be down the pecking order under Strachan.
Paul McGowan won't be Dundee's long-term answer to their centre-forward crisis, will he?
NR: No. It was definitely a case of needs must with McCann pressing the midfielder into service up front. The manager will no doubt continue to cast an eye over trialists during the international break while hoping that Sofien Moussa can recover from injury and be fit for the next league game against Rangers at Ibrox.
EN: Dundee getting a centre-forward is the biggest transfer window issue in this part of the world. Mind you, McGowan would give centre-half a go if you asked him to.
IR: No and it is a bit of a shame on the player to put him there, although McGowan is the type to do anything asked of him to help his team.
St Johnstone were 10 minutes or so away from ending Celtic's unbeaten run. Are we already at the stage when anything less than sixth would be a disappointment for them?
NR: Absolutely. Tommy Wright has always stressed the importance of getting 10 points on the board as quickly as possible then taking things from there. However, even he must be surprised that his side have done so before the international break.
EN: Splitting the Edinburgh clubs is a realistic goal for Saints, which would probably mean fifth.
IR: It is a magnificent points total at this early stage and that draw at Celtic Park will probably give them more of a confidence boost than all the other wins put together.
Craig Levein is back in the dugout at Hearts. Are you surprised?
NR: I am as Levein has been fairly constant in stating he had no intention of doing that. However, I can understand why Ann Budge felt he was the right man to steady the ship rather than take another risk with a rookie in the shape of Jon Daly.
EN: He's one of the game's big personalities – and an excellent club manager – so it's good to have him back. I would question his genuine desire to be at the sharp end again, though, given the time it has taken to get to this conclusion.
IR: I'm not sure how the candidates who were interviewed for the post will feel at hearing the news but Levein in charge will make Hearts stronger.
Ian's on his travels to Vilnius. Will he be reporting on a fine Scottish win against Lithuania or the end of the World Cup road?
NR: I hope so but I just have a bad feeling about this game. Scotland are making all the right noises about taking the artificial surface in their stride but I am not so sure.
EN: Ian will certainly enjoy Vilnius (and the price of beer). My trip with Saints a couple of months ago was most agreeable. I'm confident he'll be documenting a Scottish win as well.
IR: Tai bus šlovinga pergalė Škotijai ir Ianui… (translation: It will be a glorious victory for Scotland and Ian).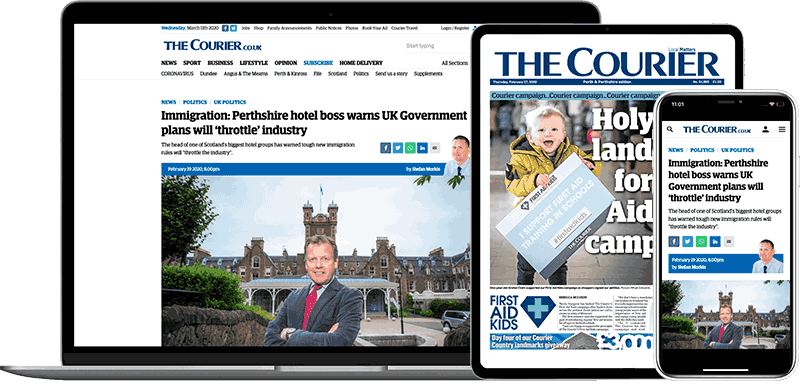 Help support quality local journalism … become a digital subscriber to The Courier
For as little as £5.99 a month you can access all of our content, including Premium articles.
Subscribe