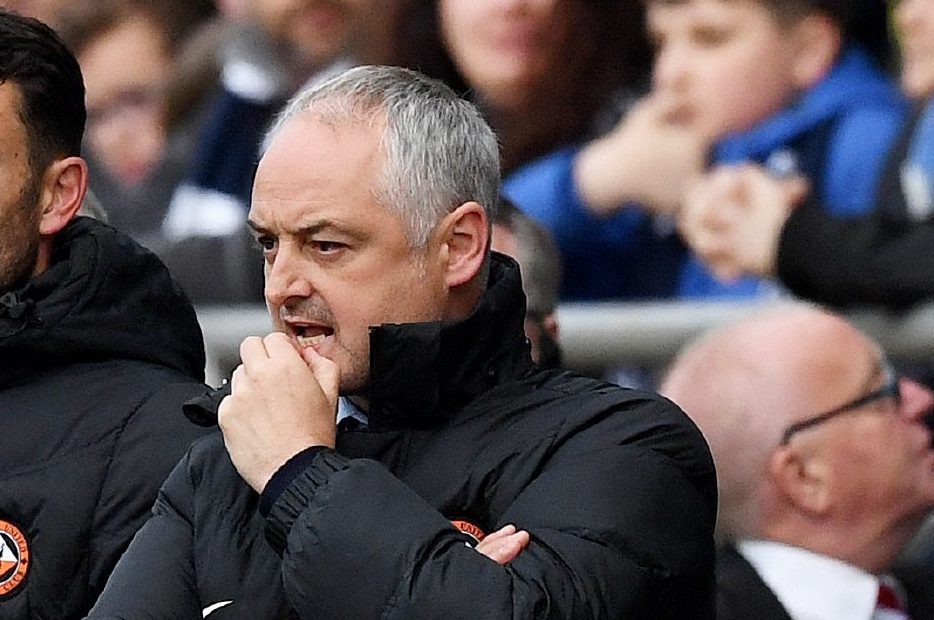 Dundee United manager Ray McKinnon insists he can live with the pressure being piled on him and his players as they strive for promotion.
A dismal display as they drew at home to Dumbarton on Saturday left many fans concerned about a season that really needs to end in the Tangerines' winning the Championship.
That leaves precious little room for error for McKinnon or his team in the weeks and months ahead.
By his own admission, they are "stuttering along" just now and there was a dark cloud hanging over Tannadice following that 1-1 draw against the Sons.
However, they still sit just two points adrift of leaders St Mirren.
Indeed, victory at struggling Falkirk this weekend, accompanied by favourable results elsewhere, could see them climb back to the top of the table.
McKinnon is certainly up for the fight but he also appreciates what is expected of him and his players.
He insists he and they can cope.
Asked if the reaction to the Dumbarton game had been overly-negative, he replied: "It is just the pressure of being at Dundee United and you have to live with it.
"It has been there since last year.
"It is something we have to deal with as a team and we will do so.
"We are not going to beat every team and not every side is going to come and play an open game of football.
"We said that last year and people bought into it but they are not buying into it this year. They just think we should be winning 6-0.
"I try to explain that teams will sit in but we still should have won the game on Saturday because we had plenty of chances in the second half.
"We didn't do so and we are stuttering along at the minute.
"However, we will improve.
"I think we are in a better position now than we were in last season at this point.
"I do understand that people are frustrated but we are ahead of the game points-wise compared to this time last season (10 compared to eight points after five matches).
"Also, let's remember that we have 14 new players.
"We had an overhaul of the squad last year and it's been the same this year.
"So it's going to take time.
"Once we get everybody fit and up to speed then we will be all right.
"It is just getting to that point and we have to come through this.
"Listen, I understand that there is pressure at this club because everybody wants the same thing.
"There are always reasons why you win, lose or draw.
"I am not here to make excuses but anyone with an educated mind can see we have 14 new players and are not bang at it.
"We have not hit top form and there is pressure on us but it is no different to how it was last season."
As McKinnon pointed out, he is used to the heat being on him as Tannadice gaffer.
He added: "See when I got the job last year, there was pressure on me from day one.
"It has never changed.
"In every game there is pressure on United. That is the case no matter who we are playing or whether we are on the up or down.
"We all know the ultimate goal is to get promoted and that is what we are striving to achieve here.
"But you are not going to win promotion in the first few games of the season, especially with those 14 new players coming into the squad.
"We are not just going to somehow be the best team in the league by a mile right away.
"We need to work hard, get everybody up to speed fitness-wise and find consistency of team selection.
"I would love to go out and buy another striker but we can't do it – we don't have those kind of resources.
"We still have a good squad there and when James Keatings and Scott McDonald are fit and gelling together then that will be good.
"Would I like to have a recognised two playing up front every week? Of course I would but it has been stop-start.
"We have not had the midfield sorted either, although I do feel Fraser Fyvie and Jordie Briels will be a good partnership.
"That should all improve the team.
"So there are a lot of positives moving forward. We just need to get make sure we grind it out over the next few weeks."
McKinnon revealed that William Edjenguele, Billy King, Jordie Briels and Patrick N'Koyi all sat out training yesterday but added: "They should all be fine for the weekend."