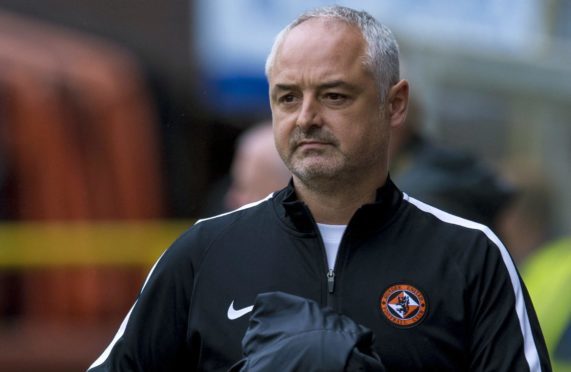 Dundee United boss Ray McKinnon will give the club's youngsters the opportunity to shine against Northern Irish side Linfield at Tannadice tomorrow in the Irn-Bru Cup.
The manager selected a mixture of senior pros and kids in the last round of the competition against Alloa.
However, with a whole host of first-team regulars either out or doubtful through injury or illness, he admits the average age of the team to face David Healy's side will be even lower this time.
Paul Quinn will be absent following his heart scare caused by an infected tooth, Lewis Toshney is still recovering from ankle ligament damage, Tam Scobbie has had a setback after overcoming his groin injury while Scott Fraser is once again suffering pain in his foot.
And with a crunch Championship fixture at Livingston coming up next week, McKinnon insisted he simply cannot take any chances.
He said: "Those four will definitely miss Saturday's game.
"I was hoping this would be Tam's comeback match but he has hurt his calf.
"Quinny has come back in today but he hasn't trained and we still don't know exactly how he is but he is looking terrible. We are waiting for his cardiologist to get in touch so we can't take any chances with him.
"Tosher's ankle is looking a lot better. The bruising has gone but he is not ready and Scott Fraser is still struggling with the foot problem that he has had for six months.
"We need to get to the bottom of that. It seems that when they put the screw into the bone it didn't go all the way in and it is now hitting another bone."
McKinnon added: "He is in constant pain so we will have to make a decision.
"It has been a terrible time for him as you can imagine every time that bone hits the screw he is in agony.
"I feel for him as he is fit but the pain has become unbearable so they might have to take it out – I just want to have him back fit.
"So with these lads missing, the team will maybe be even younger than the last time when we played Alloa.
"We can't take any chances so it will be a mixture of youngsters and people needing games.
"Stewart Murdoch lost five kilos last week because of the sickness bug that went through the team but he might play against Linfield as will Sam Stanton and Patrick N'Koyi.
"Overall it will be a fairly young team especially at the back but it gives them all a chance to impress."
Linfield may be part-time but they have already played Celtic this season in a Champions League qualifier and McKinnon admitted they will provide a stern test for his youthful side.
He said: "Linfield have had a good season.
"I know they have a big game next Saturday against Coleraine but they are going to be a decent, outfit.
"Ideally we want a really good performance against them on Saturday and it will be good to give some of the kids a taste of playing against an experienced side.
"It is important to see them at that level to gauge where they are."