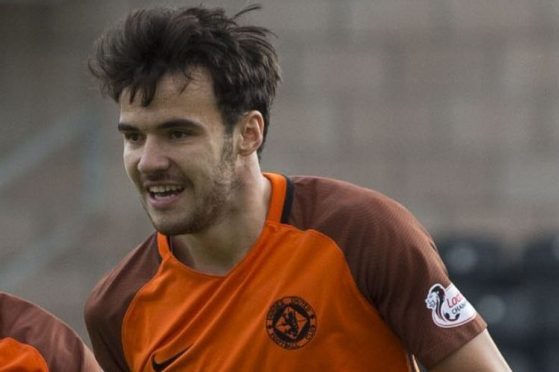 Dundee United midfielder Scott Fraser is praying that he has finally given pain the boot.
When you listen to the talented 22-year-old describe the extent of his foot injury, it is enough to make you wince.
It would be challenging enough to cope with such agony while working in an office, never mind as an athlete on a football park performing in front of thousands of people.
You see, during games Fraser has had a screw in his foot scraping against the exact area where he broke his metatarsal bone last season.
Adding insult to injury, the Dundonian's modus operandi involves more twisting and turning than the average player.
A clearly exasperated Fraser revealed that he even considered having more surgery to get the screw taken out, only to receive medical advice that to do so would put him at greater risk of another break.
Instead, he was told to rest and cross his fingers – and toes – that the pain disappears.
Now Fraser, who last played for the Tangerines in the home draw against Dumbarton on September 9, is ready to return to action for Ray McKinnon's men against Inverness at Tannadice on Saturday and hope for the best.
He said: "What has been wrong is that every time I was twisting the foot the screw head was rubbing against the bone, just where the break is.
"That is why I have been in so much pain.
"It hurt on the outside of my right foot when I moved and obviously my game is about twisting and turning.
"So it is case of really just hoping that it will stop happening.
"I was thinking about getting the screw out of my foot but I spoke to the surgeon who did the operation and he said that if I were to get it out that would put me at greater risk of breaking it again.
"So it's just a matter of taking it day by day and hoping that the pain will stop.
"I started training again on Monday and everything, touch wood, is going all right.
"That has been the case before but this is probably the best I have felt, even including coming back for pre-season.
"I knew then that something wasn't right but I played through it.
"I got to the stage where I wasn't doing myself any favours by trying to do that.
"So I spoke to the doctor who did my operation, our physio Jeff Clarke and the gaffer.
"They all agreed that it was for the best that I took a wee break.
"That has lasted a month now and it is feeling a lot better.
"So I started back the other day there and hopefully I will get through the full week's training and then be available for Saturday."
Like every player, Fraser has been desperate to get back but also knew he couldn't afford to rush.
Asked if he has learned not to put pressure on himself to make a quick comeback, he said: "Yes, I think so.
"I think we have a good enough squad there to give me time to rest.
"The recovery time I have had will have done me the world of good and now I hope to be back involved for the Inverness match.
"It has been frustrating to be watching from the sidelines and not to be able to do anything to help the team.
"There have been times when I have thought that I would have been able to affect what was happening on the park but was unable to do so."
Fraser's spell out has been a bit of a roller-coaster for United, with the high of the commanding win over Dunfermline followed by a poor performance in defeat at Livingston on Saturday.
Asked how he would assess how the campaign has gone so far, he said: "We have been a bit inconsistent.
"You look at the performance in the Dunfermline game, where we battered them for the full 90 minutes. They were flying at the time.
"We then went to Livingston at the weekend there and, for whatever reason, we didn't have the same appetite and hunger to go and win the game.
"We spoke about that this week when we went through the video of the game.
"We have a lot of experienced senior players who can put their points across, especially to the younger players. It's not just the older boys who talk – we all have our say.
"Listen, the boys know that it wasn't good enough and we are looking to put it right this Saturday.
"It is hard to explain why the two performances were so different and if we knew the answer then it wouldn't happen.
"I think it is about finding consistency in our play.
"Get consistent and we are a right good team in this league."
Meanwhile, United manager McKinnon is heading to Belfast next Monday to spy on Irn-Bru Cup quarter-final opponents Crusaders.
The Hatchetmen are visiting Windsor Park to take on a Linfield side that United put out in the last round.
McKinnon said: "It is a good opportunity to see Crusaders in action.
"They have played Motherwell's under-20 side and Cove Rangers so far and that only tells you a limited amount.
"Seeing them in action against a side I already know will tell me a lot."