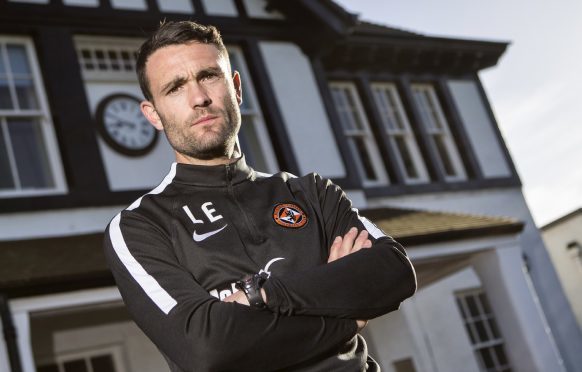 Dundee United caretaker coach Laurie Ellis is confident the "sombre" mood that has engulfed the club will lift in time for the Dumbarton game.
Ellis has been handed the challenging task of picking the Tangerines up off the floor following his boss – and great friend – Ray McKinnon's departure from Tannadice.
The home loss to Inverness Caley Thistle last Saturday persuaded United chairman Stephen Thompson and his board that they needed a change of manager and the search for a successor is now well under way.
In the meantime, Ellis – with McKinnon's blessing – has been placed in temporary charge and will be in the dugout for the trip to face the Sons tomorrow.
Not only has he had to take training, work on tactics and think about picking the side, Ellis has also been an amateur psychologist as he has attempted to get the United squad mentally able to deal with the situation they find themselves in.
Asked to sum up the past few days, Ellis said: "It has been a really difficult week.
"Obviously, things unfolded after the game on Saturday through to now.
"It has been a little bit of a dizzy spell, really, getting everything back on track and thinking about the game because it has been hard to think about football.
"The match, though, is our main focus now.
"That is what we are paid to do.
"Everyone will know there was a very low atmosphere in the dressing room and we had to have a meeting to discuss that disappointment and address what had happened.
"I think, in a situation like this, everyone appreciates their accountability in terms of improving and turning things around for the sake of the supporters and everyone at the club.
"We have had difficult periods before that we have dealt with and we will deal with this.
"I feel the players have been professional so far.
"While the mood has been slightly sombre they have been professional.
"I have certainly been encouraging them to be positive going forward."
Ellis confirmed he was given McKinnon's full support to step into the breach.
He said: "Obviously, Ray and I are very good friends and I am very grateful for everything he has done for me in the game.
"It was a very sombre few days and it still is a bit difficult.
"I am here now to take the first team this week and on Saturday because the chairman has asked me to do that.
"It is with his (McKinnon's) blessing that I do so.
"That is a credit to him and a testament of his integrity.
"It was really important to me that Ray encouraged me to take the team.
"He knows I am professional – he also knows I am hurting – but it is a fantastic football club and I love working here.
"I really enjoy my job and he knows that as well.
"He has wished me all the best as I get the lads focused for the game."
The Tangerines yesterday revealed that they have had over 50 applications for the managerial vacancy but it looks unlikely that Ellis will be one of them.
He said: "I am not looking beyond this weekend.
"It is a hard enough task just now to make sure we don't have any issues and are ready for Saturday."
Ellis is adamant there is still enough quality on United's books to get their promotion challenge on track again after those costly back-to-back defeats to Livingston and Inverness Caley Thistle.
He declared: "Ray has assembled a fantastic squad here.
"There are good players, with a mix of experience and youth.
"There is pace in the team and a real hunger to succeed.
"Every one of the players that was brought to the club was done so for the sole purpose of getting Dundee United back up to the Premiership.
"That was there from the first day of the season and it is absolutely still there.
"Now we need to make sure it stays there every week until the end of the season.
"The intensity has been there in training every week.
"That is because we demanded that of the players and would not accept sloppiness or a lack of effort.
"There is absolutely no way you could fault the players in that respect.
"We are also in a position where we are a couple of games away from a position in the table that we would be happy with.
"So there is no panic.
"We haven't picked up results recently but we have a game on Saturday that could give us three points and that's we what we are concentrating on."
United midfielder Fraser Fyvie, who came off injured against ICT,  has done some light training and could be fit for Dumbarton.