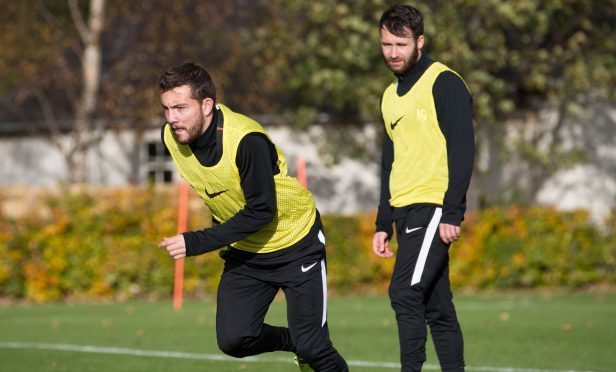 A new Dundee United era starts today, with the Tangerines hoping to pick up where they left off at the end of the old one.
Csaba Laszlo's first game in charge against Crusaders in the Irn-Bru Cup quarter-final follows on from back-to-back victories in the Championship that have them to joint top.
The ex-Hearts boss doesn't have to generate a feel-good factor at Tannadice. He has to keep it going.
Winger Paul McMullan, who is set to be recalled for today's lunchtime match, said: "The manager has told us that he wants to build on what we've been doing in the last two weeks and that over the next few weeks he'll put his own stamp on things."
Having dropped out of the starting line-up under caretaker manager Laurie Ellis, the former Celtic and Dunfermline man is hoping to seize his opportunity to impress if, as expected, he gets the selection nod today.
"When a new manager comes in it's a fresh start and a clean slate for everybody," he said.
"It all starts at the weekend.
"I hadn't been playing that well leading up to that (being taken out of the starting XI).
"Laurie had a chat with me and said that maybe a spell out of the team would do me good then I could come back fresh and hit it hard again.
"Hopefully when I get back in I'll take my chance and kick on.
"I had a really good start and tailed off a bit when the team's performances were tailing off as well.
"While I've been out of the team the boys have won both games so you just have to wait for your chance.
"Anybody who gets the chance to play will have to take it."
First impressions of his new manager have been positive for McMullan.
"We (the squad) sat for 10 to 15 minutes and had a chat," he said. "It was good.
"He was really open and told us that if any of us have any questions they can chat to him at any time.
"I'm a wee bit young to remember him at Hearts
"Obviously when he was linked with the job a few boys looked online to see where he'd been, and things like that.
"By all accounts he did really well at the team he was with last year.
"He's got a wealth of experience that hopefully he can pass on. We've got quite a young squad.
"Hopefully that experience can help us and we can get promoted."
McMullan added: "We always train hard and it wasn't any different with a fresh set of eyes watching us.
"If anything we might have been a wee bit more concentrated but there wasn't much difference.
"The boys have got two wins out of two while Laurie has been in charge and we've enjoyed working under him.
"For him and Stuart (Garden) to stay on is a positive."
United have used this competition to give fringe players and youngsters an opportunity but, with it being Laszlo's first game and the prospect of a final starting to loom large, it may be different for today's last eight encounter.
"We played a younger side against Linfield but I'm sure the manager will use this game to get a couple of his ideas across and build towards the Falkirk game next week," said McMullan.
"I don't know a lot about Crusaders but I know that they're doing well in their own league.
"They'll have some good players and it will be a tough game.
"Obviously getting up to the Premiership is the top priority and if boys are carrying knocks they'll get a rest probably.
"But the deeper you get into a competition the more you want to win it.
"Another win would make it three on the bounce."