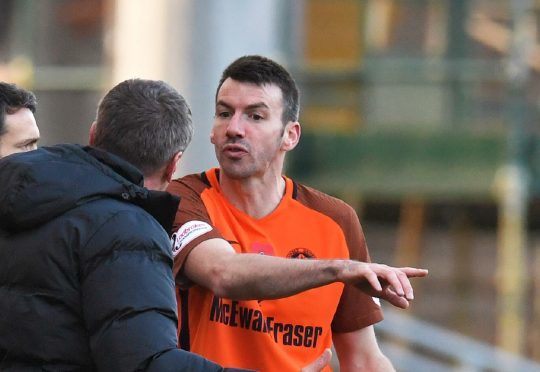 Dundee United defender Paul Quinn has revealed he feared his career could be over as he battled to recover from a heart scare.
Quinn returned to the Tannadice team for the first time in two months and, although the 2-1 loss to Northern Irish side Crusaders in the Irn-Bru Cup came as a blow, the game was actually a remarkable personal victory for the former Ross County captain.
The 32-year-old's troubles started when he was substituted early in the Tangerines' goalless draw at Falkirk on September 16 after appearing to suffer the effects of a dental infection.
The diagnosis quickly got worse, however, and Quinn ended up in hospital with an irregular heartbeat.
As he lay in bed, he had to await the results of scans which showed up a heart murmur.
Finally able to return home, Quinn had a monitor fitted as he slowly but surely returned to health.
So he took a huge step on Saturday, regardless of the result.
"It has been a long two months," said Quinn
"I had felt comfortable when I was in the team and I was enjoying my football again.
"I couldn't foresee having an illness like that.
"It has been difficult to get back fit so this game was perfect for me to get 90 minutes in.
"On an individual basis, it was good to be back out there again.
"I am trying to get as close to full fitness as I can."
Asked if there times when he thought his career might be over, Quinn replied: "Yes, because if I didn't get the right (scan) result then I would have had to retire. It was as plain as day.
"It was worrying but God must have been on my side.
"I got looked after and everybody around about me was there for me.
"It was then a matter of building myself back up.
"Normally, as a player, if you are injured or ill you have something to work on. You can usually work on strengthening some parts of your body.
"However, I was sitting at home with a heart monitor on. I couldn't do anything.
"So it was about getting everything moving again, not just returning to training.
"It has taken time but I have had a lot of support from the people around about me and the staff here have understood when I have been ready to be pushed and when not.
"Now I feel that, with the new manager coming in, I can really push on so I can get to where I want to be."
Quinn's return was certainly timely, coinciding as it did with the arrival of new boss Csaba Laszlo.
He added: "I haven't sat down with the manager yet but I'm pretty sure he is aware of my situation over the last seven or eight weeks.
"Timing is important in football and we are coming up to Christmas, when the games are going to come along thick and fast.
"First and foremost I need to be available to help the squad.
"I don't think any team could get promoted out of this league with 11 players.
"We have some great players who will need a helping hand, be that from the bench or wherever.
"We will all have to work together to get that goal of promotion at the end of the season."
While Quinn won his own particular battle by merely being on the park, he was still disappointed with the failure to book a place in the Irn-Bru Cup semi-finals.
"Nobody wants to get beaten like that but we need to move on quickly and look at the bigger picture," he said.
"There is no excuse because we are professionals and we have our pride. That is hurting at the minute.
"The club won that cup last season but didn't make the Premiership so we know our aim.
"It is sore just now and it will take a few days before we can put it as bluntly as that but, seeing the bigger picture, the focus always has been on the league.
"We used the game for players coming back for fitness, boys who have been out injured and maybe not been playing.
"It looks as if most of us managed to get a game and now we will start preparing for the business end of the season.
"It looks as if we could have a fully-fit squad so that could be more important than, possibly, being in the next round of the Challenge Cup."