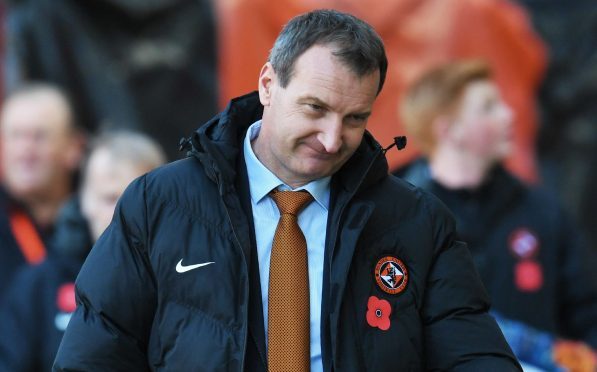 As the old Broadway song made clear, it's not where you start it's where you finish.
Hopefully as far as new Dundee United manager Csaba Laszlo is concerned, the Tangerines are going to finish this season on top of the Championship.
If that happens – and it is a big if – then this embarrassing defeat in his first game in charge will not merit a second thought.
Just a couple of days on from Saturday's 2-1 loss to Northern Irish side Crusaders, though, United's exit from the Irn-Bru Cup at the quarter-final stage has to be considered as an absolute shocker.
This terrible result came as yet another slap in the face – or a "splash in the face" to use Laszlo's words – for the long-suffering fans who turned out on a bitterly cold day.
Of course, this United side bore little resemblance to the team that will line up against Falkirk in the Championship next Sunday.
Indeed, it was all change from the St Mirren game as a mixture of youngsters and those on the way back from injury or illness were given the chance to show they deserved a chance in the first team.
Nevertheless, the defeat still left a lot of United faces as red as the crosses on the Crusaders players' jerseys.
Also, it was only after the match that most of us discovered, via opposition boss Stephen Baxter, that the Ulstermen had rested half of their first team as they have a big cup clash against Linfield coming up on Wednesday night.
The Tangerines were poor in the first half and not much better in the second.
They took the lead on 55 minutes thanks to a great 25-yard strike from captain Fraser Fyvie.
Crusaders, though, levelled on 68 minutes when Dave Cushley – probably the smallest player on the pitch – scored with a header before sub Gavin Whyte drilled the winner home two minutes into stoppage-time.
You got the impression from Laszlo that there will be few if any players from this match that make it into his side to face the Bairns.
He said: "I think this was the first time, more or less, that this team played together as a starting 11.
"I definitely want to see more competition, especially from the players who are coming from injury or haven't been playing.
"I hoped from this game that I would have seen more competition for next weekend.
"I think that the players who are more or less the second choice should use this kind of game.
"Some maybe yes, some maybe not.
"Maybe they thought this game was not so important.
"I think it is better to lose this match and that you win next Sunday against Falkirk but it is a mistake to say that this competition is not important and put it aside like a friendly game.
"For me, it was not a friendly.
"But it was nice to see who is capable to maybe help the team in future. It is very clear.
"We created chances and also had a fantastic goal but if you have chances then you have to score.
"After that, I was a little bit angry and disappointed that we did not close down this game.
"You need better concentration.
"Listen, we got this splash in the face at the right time.
"It is better here than against Falkirk next Sunday.
"It is better to lose this game than lose the next one, an important league game."
How the visitors felt about winning this match was made clear by the headline on their club website report that read: "What can we say but brilliant!"
Crusaders boss Baxter added: "We are delighted to be through.
"We rested five or six of our top players because we have a huge game against Linfield coming up, and I think looking at the United team they made a lot of changes too.
"But the game was there to be won and we felt we had to go for it – and injury-time is always a great time to score!"