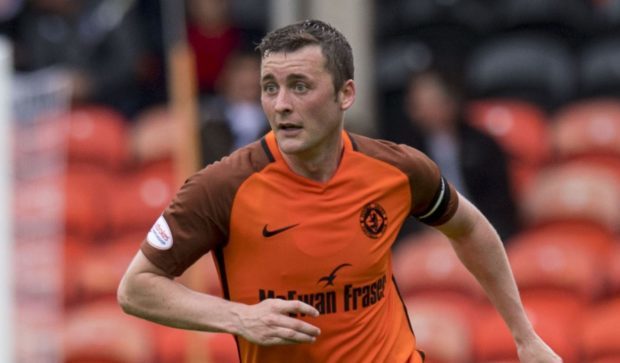 A former team-mate and a Queen of the South legend are the attackers Tam Scobbie will be trying to contain in Dumfries this afternoon.
The Dundee United defender needs no warning about what to expect from veteran forward Stephen Dobbie or his on-loan strike partner Chris Kane, who shared five goals at East End Park last weekend.
"I've played against Dobbie a few times," said Scobbie. "He loves it there and the fans love him as well.
"He's obviously enjoying his football and banging goals in.
"He fits in well at Queens. He's back having been there before and has a good rapport with everyone at the club.
"I think that was Kano's first two goals since going on loan to Queens from St Johnstone.
"That will do him the world of good and they do have good attacking players.
"I'm not too fussed about how he's going to play and I don't think he will be too fussed about how I'm going to play either.
"I don't think it will really come down to individuals on the day.
"If we play like we can, I don't think anyone can really match us.
"We've got players who can set a game on fire at point – from Scott Fraser to Sam Stanton and Billy King.
"They can all do the business."
Scobbie has a high opinion of another player farmed out by Saints for the first half of this season, Scotland under-21 centre-back Jason Kerr.
"I think he's been excellent," said Scobbie, himself a former international at that age-group.
"On the back of me leaving, I thought he would be the one to come in and fill the void.
"He's been out on loan at East Fife before and done really well, so the manager there was happy with him."
United have fought their way to the top of the Championship but Scobbie believes they are not yet hitting their peak.
"I think there is more to come," he pointed out. "We will get better as the weeks go by the more we work with the manager and the more he demands from us.
"In the games that we've played against Falkirk and Dunfermline recently, we've looked a real threat going forward.
"That's been the case since the manager came in.
"Right now – with the players we've got – they just seem to be ticking all the boxes.
"Once you're in the team, you need to perform at a high level to stay there
"There's competition for places, especially in that forward line.
"So there's a real hunger to go and do well and that is being reflected on the park.
"We've got some fantastic football players and that's the way we want to play and it's the way the manager wants us to play."
United's home form has rarely dipped over the last couple of seasons but if they can follow up last Saturday's win at Morton with another on the road against Queens, it will send out a signal to the rest of the league.
"It's not just about putting down a statement in these next two games," said Scobbie.
"It's about trying to do the business all over the Christmas period.
"We've got some tough games coming up against teams in the top four or five.
"It's going to be hard for us but we can take positives from the likes of last Saturday down at Morton.
"We came away with a another clean sheet and I think our record in that regard has been pretty good so far this season, especially since the manager came in.
"It will be good to go again away to Queens who picked up a brilliant result beating Dunfermline 5-2 last weekend.
"Queens have got some good players. Dobbie scores goals wherever he goes. It will be difficult trying to contain him but it's something we'll look to do.
"Hopefully, though, we can go there and implement our game plan on them."
He added: "It was a massive win at Morton.
"If we were clinical, we might have scored another two or three.
"Something the manager has been speaking about since he came to the club is the number of chances we've been creating, without taking them.
"It's something I'm sure he'll be working on and we'll get better at it in the weeks ahead."