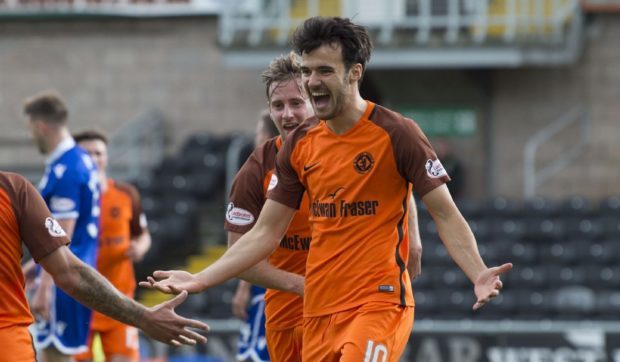 Scott McDonald has pinpointed the form of Scott Fraser as the most important factor in Dundee's United's improved form.
The Tangerines may have been replaced at the top of the table by St Mirren after the disappointment of an abandonment at Queen of the South on Saturday but that hasn't dented their confidence.
Indeed, McDonald and his teammates are looking to be leading the league again sooner rather than later.
They host Livingston at Tannadice on Saturday then travel to Paisley to play the Buddies next Friday so two wins and they will get their wish.
The feelgood factor is certainly coursing through the club just now and, McDonald argues, that is largely down to the new Ladbrokes Championship player-of-the-month Fraser.
The Australian striker said: "Our form has been really good and the individual performances have been excellent as well.
"Many of our players seem to be hitting form just now, which wasn't so much the case at the start of the season.
"We had too many of us not quite there but there seems to be a lot more confidence within the squad.
"The new manager has come in and pleasantly surprised in terms of how he has changed it as regards the style of play and shape.
"I think when (assistant boss) Laurie Ellis took the team for a couple of games you could see how much influence Scott Fraser was having.
"We never really had Scott for the first three months of the season and that hurt us.
"I think we also wanted to play a certain style of 4-4-2 and that was letting a lot of teams go like for like and match up with us.
"That made the game to and fro, whereas now I think we are controlling matches from start to finish in terms of keeping the ball and making the other team chase the game.
"Scott is an excellent footballer and someone who I think – as long as he keeps fit, touch wood, and plays as many games as he can – is going to play at a higher level.
"I have told him all that – 100%.
"There is no doubt about it, for me.
"He has been dogged by injuries throughout his career and it was unfortunate that we didn't have him in the side.
"We then lost Ray (McKinnon) as a manager and that was disappointing for all of us.
"Obviously, he signed me so I was hugely disappointed.
"I told Scott straight away after that (McKinnon departure) because I knew how Laurie wanted to play and the manager (Laszlo)  came in and saw how pivotal he was to United being successful as a team.
"He connects us from middle to front and does so excellently.
"There are still some improvements he can make but it is just nice to see him hitting some really good form and getting player of the month.
"I think that will give him the world of confidence and he can go from strength to strength."
McDonald is sure the Tangerines would have beaten third-placed Queens in Dumfries last weekend had the "all-weather" surface not iced up.
Now he is looking to take out that frustration on fourth-placed Livi when they visit on Saturday.
"If the game had been completed I'm pretty confident we would have won it and still been top," he added.
"Now we want to beat Livingston on Saturday and then look forward to the St Mirren match."
* Scott McDonald was speaking at yesterday's launch of new Neapolitan pizza restaurant Mozza in Dundee's Whitehall Street, where he was also joined by Dundee FC club captain Darren O'Dea.