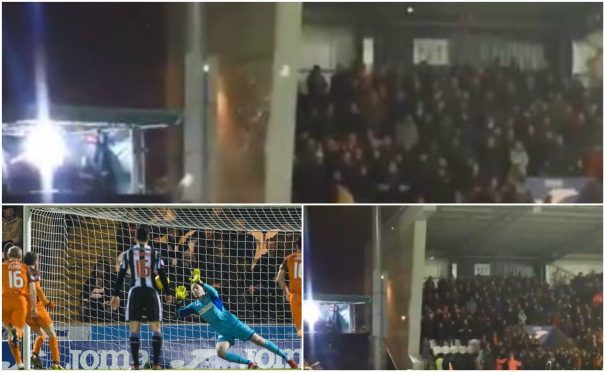 Footage of Dundee United and St Mirren fans taking part in a snowball fight during Friday night's Championship clash has gone viral.
The game came close to being called off after blizzard conditions hit the West Coast, with the Paisley 2021 Stadium affected  by snowfall.
Buddies fans and the club worked to ensure the game went ahead, with supporters even looking out their shovels to clear the pavement around the grounds.
St Mirren won the match 2-0, however footage of both sets of fans chucking snowballs at each other has been widely shared across social media.
Ross MacDonald uploaded this clip to Twitter.
❄️ Snowball fight now between St Mirren and Dundee United fans 😂😂😂 pic.twitter.com/uWnW6vYoEC

— 𝗥𝗼𝘀𝘀 𝗠𝗮𝗰𝗗𝗼𝗻𝗮𝗹𝗱 (@RossMixDonald) December 29, 2017
Supporters have even been earning praise for the "well contested" snowball fight.
Good to see that the fun hasn't been totally sooked oot o the game

— Ross Mable (@OutlandishRoss) December 29, 2017
Fair play to Dundee United fans tonight. Joined in the minutes applause, engaged with us in a well contested snowball fight, joined forces in giving Alex Rae pelters, made a lot of noise and travelled in numbers exceeding 1,200 👏🏻👍🏻
Safe journey home @CeresArabs

— smactive (@stmirrenactive) December 29, 2017
The football family at its very best 🤙🏻 #StMirren #DundeeUnited #FootballLovesUs https://t.co/FJWQoTIZgx

— 🦉 Aaron Hinton 🦉 (@hinster86) December 29, 2017
Snowball fight between Scottish football fans 🙈😂 Football fans at their funniest

— Emma Stone PT Arsenal 🇸🇦🇬🇧 (@EmmaStonePT) December 30, 2017
⚽️ Love that there were 6,214 at St Mirren v Dundee United. Over 1,000 away fans. This time of year. Second tier. Weather conditions. Brilliant 👍🏻

— Kenny Crawford (@KennyCrawford_) December 29, 2017
It's nice to see something nice happening at a football match rather than something that makes the news because of violence,well done i say!

— Frank (@frank_brisbane) December 30, 2017
@FootballRamble after a drab first half this was a magnificent battle to watch. Ally McCoist in the BT sport box came under fire too.

— Graham Jones (@GrahamJones88) December 30, 2017
Better than the game

— Stevie Fraser ⭐️⭐️ (@Frazie1903) December 29, 2017
Sub this guy in pic.twitter.com/f6F1vrhfIY

— 🚅TOMKOW💨 (@AdamTomkow) December 30, 2017
St Mirren 2 Dundee United 0: Tangerines pay penalty as they slip five points behind Championship leaders
Another video showing football pundit and former Rangers manager Ally McCoist being struck by a snowball was also uploaded to Twitter.
https://twitter.com/liamclarke999/status/946845767003762689