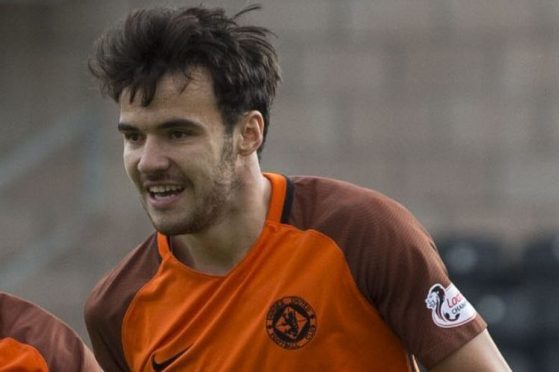 Dundee United face the tantalising prospect of having playmaker Scott Fraser back for the Championship title run-in.
Tangerines boss Csaba Laszlo has revealed that rather than lose Fraser for the remainder of the promotion campaign – the regular league season ends on April 28 – he could be on the park as early as March.
The 22-year-old had surgery on his re-fractured foot earlier this month and he has also been linked with a move away from Tannadice in the summer, with Hearts reportedly keen to get him.
Whether he stays or goes when his contract expires, if Fraser can make such a rapid return to action for United then he will be welcomed with open arms by both his teammates and his manager.
Laszlo said: "I am very happy about this because we have taken a step forward with Scott.
"We hope that, if we are lucky, we can have him on the field for the last two months of the season.
"This is really good news.
"We have spoken to the doctors and Scott is really moving forward in his recovery.
"He has also been here with us a couple of times a week so that's good too."
"We have cautious optimism."
The news regarding Tam Scobbie was also better than expected, with the experienced defender's calf problem only likely to rule him out for another seven days or so.
"I think it will be only one week before he is back," said Laszlo.
"He had some pain in the muscle at the back of his leg but it is not so bad."
Also, William Edjenguele, who has missed training in order to attend the birth of his child, will be fit and available for Saturday's home league match against Morton.
In an upbeat interview, Laszlo also revealed that the club's transfer business does not appear to be over, despite the arrival of Thomas Mikkelsen, Emil Lyng, Craig Slater, Brandon Mason, Iddris Keddad and Logan Martin this month.
He said: "The transfer window is still open and while it is not easy to find the kind of players you want I am still trying.
"You have a budget and I am balancing things.
"At the moment, I have three very good players in mind but one is too expensive for us. For someone of his quality he is not expensive but we have to think we can't step over the budget.
"When you are in the Championship it is not easy because you have to convince people that they can move forward if you come to us but we are still working hard."