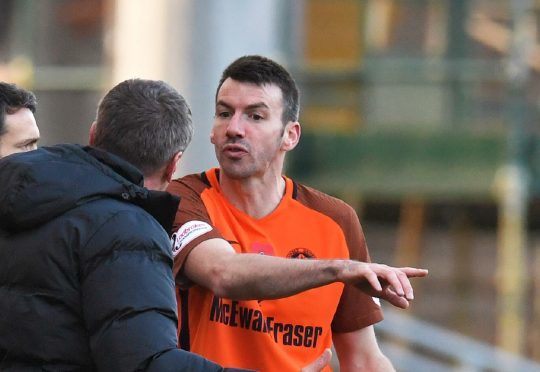 Dundee United's Paul Quinn insists the team are determined to prove the doubters wrong after Saturday's devastating 3-0 defeat against Morton at Tannadice.
Prior to kick-off, all the pressure was on the home players after league leaders St Mirren beat Dunfermline at East End Park on Friday night to open up an 11-point gap at the top.
Quinn admitted that result possibly led to the United players focusing too much on the big picture rather than concentrating on the immediate task in hand with dire consequences.
When asked if there was an added burden on the team after the Buddies' victory against the Pars, the defender said: "If you had asked me that on the morning of the game, I would have said no.
"But it's evident there's been something in it if we're being brutally honest.
"St Mirren went and did their job on Friday night to put extra pressure on us and the teams below us, and it certainly didn't end up with a positive effect.
"So I don't say it was in our mind too much but looking at it maybe we were thinking too much about everything else and forgetting the immediate and the present.
"It's not about last week and next week. In football, you need to focus on the moment that you're in."
Quinn added: "Sadly, we let ourselves down. The most important thing is it's us who have to pick ourselves back up.
"We need to find that drive, go again, and prove people wrong.
"We have to prove the doubters wrong and, of course, the people who pay our wages, the club, the supporters, because we let them all down.
"It's not a nice thing to say but we've all had it in football.
"These days do come around but fortunately in my career I've not had too many.
"The times I have had such days it's been disappointing and the mirror is not a nice place to look when you've had a game like that."