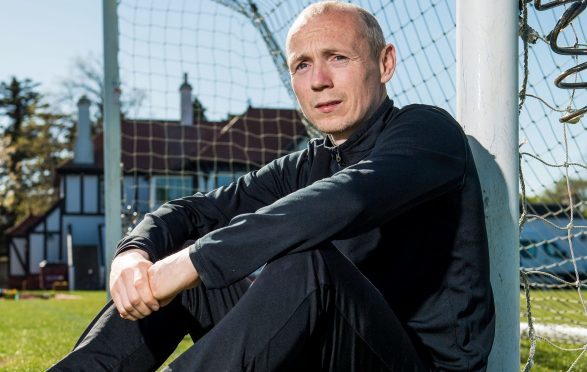 Willo Flood admits Dundee United will revel in the role of underdog when they face Aberdeen in the William Hill Scottish Cup at Pittodrie on Sunday.
The Dons currently sit second in the Premiership table and have won their last three games, rattling in 10 goals in the process.
In contrast, the Tangerines are still licking their wounds after a devastating 3-0 home defeat in the league two Saturdays ago to Morton with St Mirren now 14 points clear at the top of the Championship table.
The league is still very much United's priority this season but Flood admits the game against Derek McInnes's side will be a welcome distraction.
And as a former Aberdeen player himself, the Irish midfielder knows only too well that the underdogs could take advantage if the home side do not quickly live up to their tag of firm favourites with the Dons fans desperate for their first Scottish Cup success since 1990.
The 32-year-old United club captain said: "This game has come at a good time for us because it has been horrific lately, especially when you consider how well we played in November and December.
"Things can't be worse for us – we need to get better for this football club.
"It's a free shot for us up there and the pressure is all on Aberdeen. It has been a long time since they won the Scottish Cup.
"It's going to be a big challenge for us – other than Celtic Park this is the biggest test you could face.
"We are the underdogs, we know that, but we have a chance to go up there and express ourselves.
"If we keep it tight the first 20 or 30 minutes, then we will have a chance to put them under pressure on the ball.
"The Aberdeen fans are demanding at Pittodrie – I know that – and they want to see goals.
"So we know if we go there and keep them quiet then the fans might turn on them a bit and give them a hard time.
"We need to have the confidence we can do that because even though we have not been playing well in the league, there is no pressure on us.
"Every week in our league we are the team with the pressure to win – this week it's different and hopefully we can use that to our advantage."
If United are to have a chance in the Granite City, Flood knows they must attempt to curtail the threat of the Dons danger men including his former Tannadice team-mate Gary Mackay-Steven.
He added: "Gaz is a massive confidence player and he looks like he's got that back now.
"I remember when Peter Houston brought him to United he was only on about £200 a week and he was struggling to get him in the door at first.
"But he just went from strength from strength, got his move to Celtic and is now doing well for Aberdeen.
"He's one of those players who is hard to stop and if you let him get going then he'll cause you problems.
"So this weekend we will have to make sure he isn't allowed the time and space to do that."
Another Aberdeen player Flood knows well is 21-year-old Scott McKenna.
The Kirriemuir-born defender spent last season on loan at Ayr United but has made a huge impact for the Dons during this campaign and was the subject of three failed bids from English Championship side Hull during the recent transfer window.
However, if McKenna does get a big-money move one day, Flood will be ready and waiting with a bill for unpaid rent and petrol money.
He said: "I used to look after Scott. I picked him up in Kirriemuir to drive to Aberdeen.
"He's a great lad and I'm delighted to see him do so well.
"But he will need that £1 million move to England because he still owes me loads of petrol money.
"I don't think he put his hand in his pocket once for it, or for rent actually, so when he does get his big deal I'll be on with the backdated invoice.
"I was having a bit of banter with him a few weeks ago saying he couldn't get a game at Ayr United this time last season and now he's worth a million.
"It just shows how quickly things can turn around in football. It was always going to go in his favour because of the work ethic he's got.
"I think he has a big future ahead of him but I just hope he doesn't show it this weekend."
Flood added: "I have also had a few text messages from Graeme Shinnie and Kenny McLean telling me to get the shin pads on.
"This will be the first time I have played against Aberdeen since I left so I'm looking forward to it.
"Ideally I would like to get one of that pair in a tackle and smash Tony Doc (Dons assistant boss Docherty) with the follow through – that would be perfect.
"That might shut him up for a few minutes.
"I can't wait. I had three good years at Aberdeen, it's a well-run club with good people working there and a top manager.
"For me, that's where Dundee United need to get to in the next few years."
Willo Flood was speaking as the SPFL Trust & Scottish Book Trust launched the 4-4-2 Reading Challenge which aims to encourage children aged five to 12 years to read four books after which they will receive a free child ticket to attend an SPFL match at participating clubs and a discounted adult ticket. The project is being funded by the SPFL.