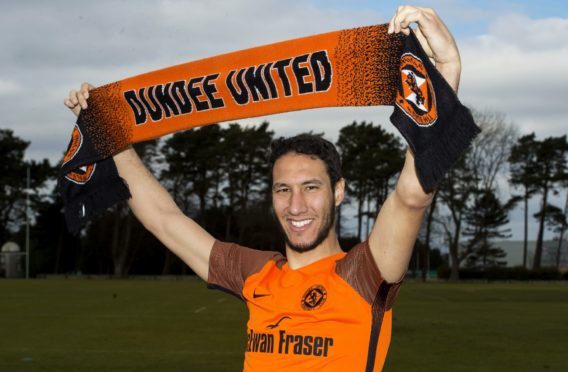 Bilel Mohsni has harboured a sense of injustice ever since his moment of madness at Motherwell.
It has left him all the more determined to succeed at Dundee United.
The French-born Tunisian international became infamous for retaliating against opposition striker Lee Erwin following the Steelmen's 6-1 aggregate victory over his side Rangers in the play-off final at Fir Park on May 31, 2015.
As a crest-fallen Mohsni made his way to the dressing-room after missing out on promotion to the Premiership with the Ibrox men, Erwin pushed him in the back in an unprovoked attack.
Mohsni responded with a kick and a punch, all played out in front of the TV cameras.
The SFA subsequently threw the book at him, handing out a seven-match suspension that he would go on to serve in France with Angers.
Mohsni thought then that the sentence was harsh and feared his career could be over as a result.
He has made it back, though, not just to playing again but also to a country he never imagined he would see again.
The 30-year-old central defender said: "Since that day I have had no luck at all in football – everything has gone wrong.
"What happened in the past was a mistake and I was heavily punished for it.
"I got seven matches and that really affected my career because I went to a team in France and seven games there is almost three months.
"So I was missing for a lot of time, and I look back and realise it cost me so much.
"Three or four games would have been OK, but seven? And the Motherwell player got nothing.
"All of the players who were involved in that got nothing apart from me.
"It has hung over me since," he added.
"I went to France and that prevented me from playing.
"I was training every Saturday on my own because I couldn't play and because of it I lost my place in the (Tunisian) national team.
"Then because I wasn't playing I didn't get to play in the African Nations Cup.
"What happened was a mistake and I know it was wrong but they nearly banned me from football over it.
"I have never forgotten and it has always been on my mind."
Mohsni's bad memories from that episode include how he was treated by then Ibrox boss Stuart McCall.
He recalled: "The manager at Rangers said he was sacking me but I was out of contract anyway.
"He didn't help me.
"When he joined he put me straight out of the team and when I came back from international duty I missed the first leg of the play-off.
"I was frustrated and then he put me on with 10 minutes to go when we were 6-1 down.
"What was I going to do? Am I Superman who was going to score six goals?"
As for his nemesis Erwin, Mohsni added: "At the end, Motherwell won so they should have celebrated with their fans but instead he came at me, swore at me and told me to shake hands.
"I wanted to go to the changing room to speak to the (Rangers) manager and the chairman to see if I was getting another contract.
"But he pushed me and hit me, so I reacted.
"I didn't think properly, I know that, and all the way from Glasgow to Paris in my car as I drove home I knew I had made a big mistake.
"I thought to myself: 'Maybe football is over for me.'
"People don't know that I had teams in the English Premier League wanting me but after what happened at Motherwell that was finished."
As it turned out, football didn't close the door on him but there also weren't many warm welcomes for Mohsni as he tried to rebuild career.
He said: "I was lucky to find a club in France but then they gave me the big ban and I couldn't play.
"After that the international manager told me I had to play so I went on loan to get games but my fitness was miles away.
"I have spent the last two years training because I couldn't play.
"I signed for a team in Tunisia, Etoile Du Sahel, but they didn't pay me and I never knew why.
"The rest of the team got their money but I didn't get a single pound.
"This is my luck in football!
"So because they didn't pay me I took them to Fifa and that just made it worse.
"I was dropped from the team, then the squad and then from the stand," he added.
"They even closed the gym so I couldn't go in there to train. They locked the door!
"The chairman there is a politician so when I went to Fifa it wasn't good for him, so he wasn't happy.
"I told them to cancel my contract, don't pay me and I will just leave. But they said no.
"They have blocked me moving to another team and told me that if I wanted to sign the club would have to pay £5 million.
"So they didn't pay me and then asked for all that money for me.
"But finally Fifa got it sorted out and now I have been able to sign here for Dundee United, but it has taken a long time."
With such such troubles weighing him down over the years, Mohsni is seriously determined to make the most of the chance given him by United.
"I didn't ever think I would be back in Scottish football but I am happy to be here and I want to take this opportunity," said Mohsni.
"It is a few years on from the incident and I want to show everyone I have grown up.
"I want to show the people in Scotland I am a good player and they shouldn't just remember me for what happened in a few seconds that day at Motherwell.
"I will be aggressive but it will be controlled – I won't be fighting with anyone!
"I am a winner. I give everything in games and hopefully I can do well for Dundee United."
Laszlo looks certain to throw Mohsni in against the Pars.
The Tannadice boss said: "He is fit and free for selection.
"His experience will be a plus for us – definitely.
"We also have to blend him into the team.
"He has been aggressive, especially in this one game against Motherwell that everybody remembers.
"You need some aggression in football but it must be controlled aggression and not earn red cards.
"You must be strong and use your experience and I think we will get both of those things from Bilel."
Asked if he was taking a gamble by signing Mohsni, Laszlo replied: "Every single game you take risks.
"We were not stable in those last two games and lost too many goals so I have to take the risk."