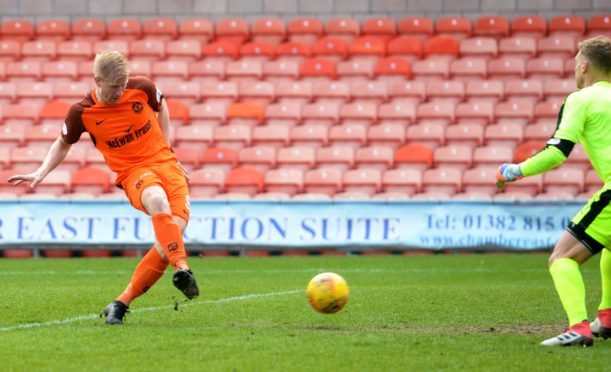 Dundee United fans heading up to Brechin will be disappointed to hear that they won't be watching Lionel Messi or Diego Maradona in action.
Sadly, there will be no world superstars gracing Glebe Park. That was confirmed by Tangerines boss Csaba Laszlo.
What they will see, though, is a team that is threatening to finish the Championship season with a flourish.
United saw off Falkirk 1-0 at Tannadice on Saturday on the back of their battling single-goal success over new league champions St Mirren the previous Tuesday.
That made it successive victories for the first time since December 23 and now they head to Brechin tomorrow night looking to keep the momentum going.
If they can then they will find themselves just a point behind second-placed Livi, albeit having played a game more by the time the final whistle blows in Angus.
Beating the Bairns, of course, earned them some revenge for the 6-1 thumping they received at the Falkirk Stadium on January 6 but, more importantly, it pushed them closer to play-off qualification and kept them in with a chance of finishing runners-up.
The winning goal came early – the seventh minute – just as it did against the Buddies and it arrived courtesy of striker Thomas Mikkelsen, the man Laszlo pointed out is not exactly world class.
What the on-loan Ross County man is, though, is a hard-working, important player for United going into the crucial final few weeks of the campaign.
He was in the right place to sidefoot the ball over the line after Willo Flood had crossed from the right and Laszlo said of the Danish frontman: "Thomas is a very honest player.
"He is not Messi or Maradona.
"He is not fantastic with the ball but he fights hard and I like someone who is a real team player.
"I think he's been so good for us in the past week.
"He's a great target man and won a lot of headers yet again and held the ball up well for his teammates.
"I am very pleased with the result and to get two good wins on the trot can only be a positive thing," added the Tannadice boss.
"I'm disappointed a bit not to have scored more goals but the lads played well and now we can to Brechin next with confidence.
"We had a bad experience there earlier (a 1-1 draw on November 25) in the season but hopefully this time will be better."
Just beating Mikklesen to the man-of-the-match award was central defender Bilel Mohsni, who strolled through the game.
Mohsni was delighted with a second consecutive clean sheet as well as another victory.
The Tunisian international said: "I think after the Dumbarton game (they lost 3-2 away) I was very upset because I wanted to win but I think the boys are together and have showed on the pitch that we have desire to get the three points.
"However, those are two good teams we have played against and beaten them so I'm happy.
"We got our confidence back by beating St Mirren. All of the lads felt very good about that result.
"We went for it on Tuesday and it was the same again against Falkirk. It was a fantastic win.
"I think most of the time teams have been thinking that they can come here and it will be easy to beat Dundee United.
"Now, though, we have shown that we can be a strong team and that it will be tough to score against us.
"As a defender, you have to try to keep a clean sheet.
"If you do then you know the team will at least get a point.
"That is two in a row for us now so that's great.
"I think we have managed to cover our mistakes and we are all working for each other to defend. This is very good."
Mohsni, who can look a class act at times, is also pleased with his own form now that he is match fit.
""I think I can improve still and I will be trying all the time to keep a clean sheet," he said.
"It is a team game, though, so you don't play on your own.
"It is always nice to help your teammates as much as they help you.
"So far, I am very happy.
"This was my seventh game and my legs are getting stronger.
"I feel fresher and my body is back used to playing games.
"When you don't play for a year it is very difficult.
"Also, we have been playing Tuesday-Saturday, which is tough.
"People think playing centre-back is easy but you have to run when the striker runs!
"I think my game is getting there and I am moving towards being 100%."