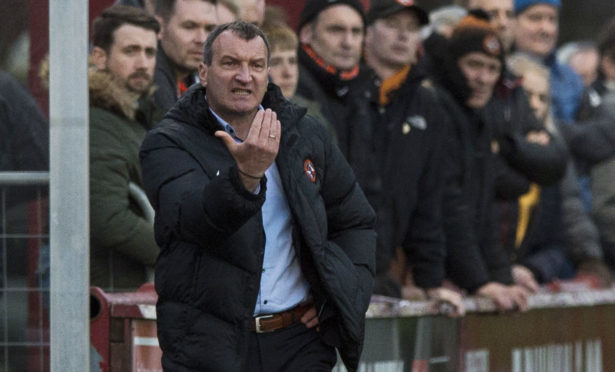 Dundee United manager Csaba Laszlo congratulated Scott McDonald on making all the difference at Glebe Park last night.
When the Australian ran on to the pitch at half-time, the game against a battling Brechin side was goalless.
Then on came the former Celtic striker, a replacement for Grant Gillespie.
McDonald kicked it all off on 51 minutes with a tap-in goal before Billy King, McDonald (again), Scott Fraser and Bilel Mohsni made it 5-0 to the Tangerines.
Laszlo said: "In the first half we took the game too easily and we had luck.
"We were very passive and moved very slowly.
"I think all season we have had problems with the smaller teams who are playing for pride, like Brechin or Dumbarton.
"After that, though, we controlled the game and saw some good goals in the second half.
"I talked to the players at half-time and made the change.
"It was not just because Grant Gillespie was on a yellow card. I thought we had to do a bit more with the ball and for this reason I put on Scott.
"You saw the real Scott McDonald.
"I am very positive about that because you saw that we need him and he transformed the game completely in the second half.
"I think that we are now 99% qualified for the play-offs so I was very pleased with the result."
Brechin boss Darren Dods, who felt Gillespie could have been red-carded in the first half, thought the scoreline was harsh on his players, who were excellent before United scored.
"In the first half they gave everything they had," said Dods.
"There was then Isaac Layne's shot at the start of the second half that hit the post and went along the line.
"Then Scott McDonald came on and showed what a good player he is.
"He has Champions League experience while our lads have come up from the lower leagues."
As for Gillespie's challenge, Dods said: "I have seen it back and he definitely goes in with two feet and it's late.
"He then lies on the ground and rolls over. I wish I had done that in my career – I might have saved myself a few reds."
Laszlo, though, countered: "I saw everything. He played the ball clear(ly).
"It was with both legs and for this reason the yellow card was correct. He didn't touch anybody and he came from the side."